Jiuzhai valley, located in Jiuzhaigou county, Aba Tibetan and Qiang Autonomous Prefecture Sichuan province, is in the transition zone from Tibetan plateau, western sichuan plateau and mountainous areas to Sichuan basin. It is more than 400 kilometers to the south from Chengdu. Jiuzhai valley covers a total area of 74,132 hectares with a forest coverage rate of over 80%, and it is high in the south and low in the north with many deep valley and rivers. The main valley in Jiuzhai valley is about 30 kilometers long with the great difference of elevation. The elevation of the northern margin is only 2,000 meters, and the middle part of the mountain is more than 4,000 meters, and the south margin is more than 4500 meters.
Jiuzhaigou is a world natural heritage site, a national nature reserve and a famous national geopark. It is the first nature reserve in China with the primary purpose of protecting natural scenery. Nowadays, it has become a popular tourist destination attracting a great number of people to visit every year.
Basic Facts about the Jiuzhai Valley:
Jiuzhaivalley got its name from the nine Tibetan villages in the scenic area (shuzheng village, zechawa village, hejiao village, heyevillage, panya village, yala village, jianpan village, rexizhai village and guodu village) which are also known as "heyao jiuzhai". It is called Jiuzhai valley because these nine Tibetan villages have a long history.
"people don't desireto enjoy the beauty of other waterscape after payinga visit to charming Jiuzhai Valley" is the best praise and real interpretation of the scenery for Jiuzhai. Many springs, waterfalls, lakes and dense forests form a colorful wonderland on earth. The six main landscaps including Changhai, Jianyan, Nuorilang, Shuzheng, Zharu and Heihai are distributed in the Y-shaped. And the clear water, double waterfalls, density forests, snowy peak, Tibetan culture and frozen lake are regarded as the "six wonders" of Jiuzhai valley. With the abundant natural resource and breath-taking scenery, Jiuzhai valley is known as the "fairy tale world" and "the king of waterscape".
Jiuzhai Valley National Nature Reservemainly protects the giant panda, golden monkey, other rare animals and the natural ecological environment. There are more than 80 kinds ofrare plants, and more than 20 kinds of national protected animals as well as a great number of ancient fossils and ancient glacier landform.
Jiuzhaivalleyis a masterpiece of nature, which is surrounded by lofty snow peak, clear lake, cascading waterfalls and green trees. The blue sky, bright sunshine and fresh air, the ancient villages and charming natural scenery constitute a beautiful picture which has been regarded as "sacred mountain and holy water" by local Tibetan
Jiuzhai valley has a picturesque scene all the year round. In spring, Jiuzhai valley presents a vivifying scene of seasonal change. The snow on the mountainhave not yet thawed, but the flowers have bloomed and the trees have turn into green at that time.Summer in many places in China is sizzling hot, but the weather in Jiuzhai valley is cool and pleasant with the green shade and placid lake, where it is also a great summer resort. Autumn is the most romantic season in Jiuzhai valley. The forest not only turns into the golden, but also red, and when they reflect on the glistening water, the scenery looks like a classical oil-painting. In winter, almost everything in Jiuzhai valley is frozen, where it shows tranquility and purity of nature.
In Jiuzhai valley, people can not only enjoy the picturesque scenery and mysterious Tibetan culture, but also try some featured entertainment activities, such as visit a Tibetan family, taste roast sheep, dance with Tibetan people, eat Tibetan hotpot and so on. Visitors here can enjoy the beautiful scenery while experiencing interesting and unique activities which will surely leave a meaningful travel experience on you.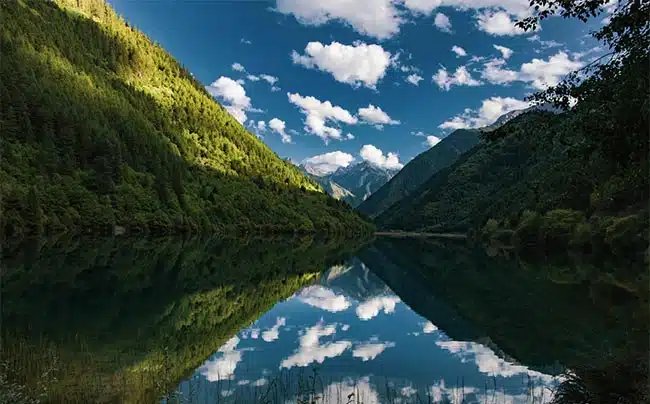 How to Buy Entrance Tickets:
Price of Entrance Tickets:
Peak Season(April 1st to November 15th )
Admission Fee: CNY 169;

Sightseeing Bus: CNY 90

Low Season(November 16th to March 31st )
Admission Fee:CNY 80;

Sightseeing Bus: CNY 80
When is the best time to visit?
Jiuzhai valley has a picturesque scene all year round, but the scenery in Autumn and Winter is most famous and charming. So, visiting Jiuzhai valley during these two seasons will definitely impress you a lot.
Tips: Visitors had better avoid the official holiday in China, because many Chinese citizens choose to travel on official holidays to ease the pressure of their work. As a result, many Chinese tourist attractions are overcrowded and traffic jams are common. Therefore, visiting China at this time will bring tourists a less pleasant travel experience.
Official Holidays in China
| | |
| --- | --- |
| Chinese New Year | Around January or February |
| Winter vacation | January-February |
| Labor Day | May1st -3rd |
| Summer vacation(for students) | July-August31st |
| Mid-Autumn Festival | Around mid-September |
| National Day | October 1st-7th |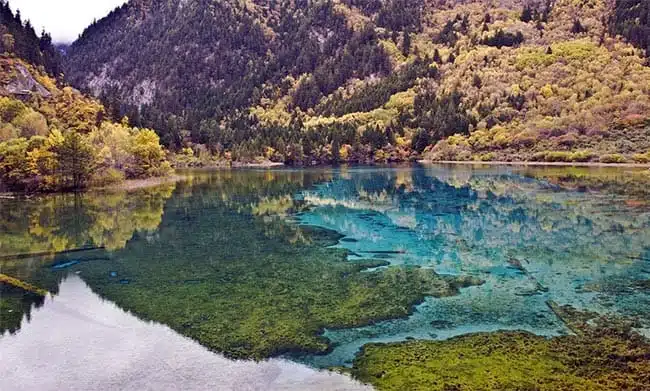 How to get to the Jiuzhai Valley?
From Chengdu
There are shuttle buses to Jiuzhai Valley from Chengdu, and the buses are available for visitors to take at the Chadianzi Bus Station and Xinnanmen Bus Station.
At Xinnanmen Bus Station: The bus will depart at 7:00 am, and it can directly get to the scenic area.
At Chadianzi Bus Station: The buses are available at 8:00, 8:05, and 8:20 in the morning, and they can get to Jiuzhaigou County.
Car/self-driving
There is an expressway to Jiuzhai Valley from Chengdu, which is about 440 kilometers and takes about 9 hours. It will pass Dujiangyan, Wenchuan, mao county, Songpan, and then get to Jiuzhai Valley.
You May Like:
10 Famous National Parks in China