Amazing Silo-Cave in Sanyuan
Terracotta Warriors tour usually is the top thing to do for tourits. And some people travel to Xian to look for some specail local things. They usually choose to do a Xian country tour. Nearby Xian a good place to see country scenery is Huxian County. Today China Xian Tour would like to introduce another village – Baishe Village.
Some About 1 hour's driving from Xian there is a county named Sanyuan, and in Sanyuan County there is a special village – Baishe Village. The village has a history of about 1600 years old and since its establishment the village is a typical Silo-cave village.
At present the village has 211 courtyard dwellings built in form of cilo-caves and among them 134 cilo-caves are well preserved.
Digging a large square shaped pit and excavating some caves on earth precipice will make up the draft of a silo-cave, and then after some professional construction work a silo-cave yard will be finished. If standing on ground and see in distance, one could only see the tree crowns. And standing in the courtyard they seem just like the normal quadrangle. These cilo-caves are either brick paved, bare earthed, or slimed ones. Most of the existed caves were built in the 1950s and others has a history of nearly 100 years. Normal depth of the cilo-caves are 7-8 meters. The deeper ones can be 12 meters. The whole village still remains the original appearance.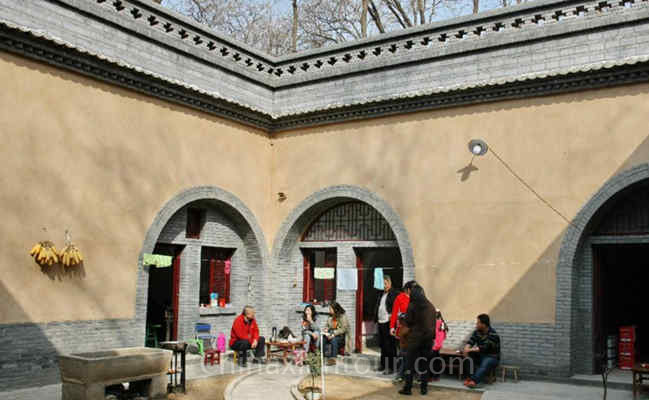 Local people dig a slope that stretches from ground to silo cave yards. And in central of most cilo-cave courtyards local people will plant a tree so to remind people take care when get close.
Taking a walk in the village one will see the leisurely life of villagers. Elder people get together to chat, children play in court yard and dogs play around their masters.
Besides the cilo-caves, apples and pears produced here are much welcomed in market due to unique natural condition.
Paying a visit to Baishe Village one will see old style cilo-cave courtyard, dwelling caves, feel country slow pace life, and may try the tasty fruit. The village has not been developed into a tourist spot so one will see the most authentic country village nearby Xian. If you are interested in a country tour, this village will be one of the places worthy visiting. Either rent a car or get a guide to escort you will be ok.