Aoshan and Taibai Mountain Trekking
Trekking is deeply loved by out door activity lovers. And it is a challenge for ones physical strength and will. The top challenging trekking may be the trekking to Mt. Everest. Nearby Xian there is a trekking itinerary that may help one with some preparation for the Mt. Everest Trekking. That trekking itinerary is Aotai Traversing.
Aoshan Mountain and Taibai Mountain is two major parts of Qingling Mountain Ranges. The trekking itinerary on the ridges of the two mountain is called Aotai Traversing. To finish the Aotai Traversing, one need to cover 10+ peaks higher than 3400 meters and trek in depopulated zone for quite some time. It is one of the top 10 tough trekking itineraries in China and has attracted lots of trekking lovers.
According to the covering distance and descending itinerary, Aotai Traversing falls into three itineraries: Short Aotai Traversing, Standard Aotai Traversing, and Long Aotai Traversing. The trekking can last from 3 days to 10 days for different itineraries. And along the trekking routes there are many good drinking water source. May to Oct is the most recommended time for trekking because during this time there are most trekkers so you can always have trekkers in your horizon. A Long Aotai Traversing will spend 10 days from starts to ends. The exact itinerary is: Tangkou Village – 2900 Base Camp – Guidance Signal Tower – Qiaomai Bridge – Shuiwozi Base Camp – Feiji Bridge – 2800 Base Camp – Pyramid Peak – Xiyuan Base Camp – Stone Sea – Taibai Bridge – Dongyuan Plate – Paoma Bridge – Baxian Plate – Daye Lake – Dawengong Temple – Pingan Temple – Yangpi Valley.
On the day before starting, trekkers usually choose to have a good rest in Meixian County where having a bath and eat some meat are the must-do things because in the following 7-10 days they will have no place to take shower or eat meat.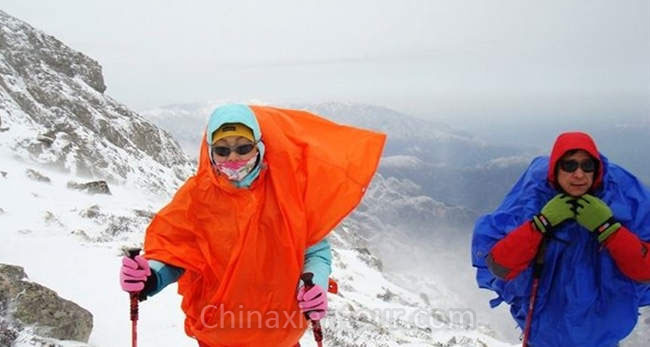 From Guidance Signal Tower the tough part of trekking will start. Temple of Medicine Master is actually a stone chamber built by local medicine herb collectors and trekkers. It is an ideal place to camp. If weather is good in the morning sun rise and cloud sea here are much attractive. The arduous Maijie Bridge often force trekkers give up their trekking plan. Stone sea is the relics of the Quaternary Glacier. Its also the toughest part of the trekking. Daye Lake is called "Eye of Aotai Traversing". When arriving here it means the trekking is basically finished. Some people think Aotai Traversing is a journey which can be either paradise or hell. No matter what you expect from the trekking, going home safely is the top priority.