Xi'an Food
Xian is one of the seven well-known cities in China, which boasts fruitful history deposits and plentiful delicious food, attracting people all over the world to visit. And a Xi'an food tour to Muslim Quarter or Yongxingfang Food culture square is popular among food lovers.
The Fried Cake with Many Tires is a special snack for the Han nationality in Shaanxi province with yellow and bright color and good to taste.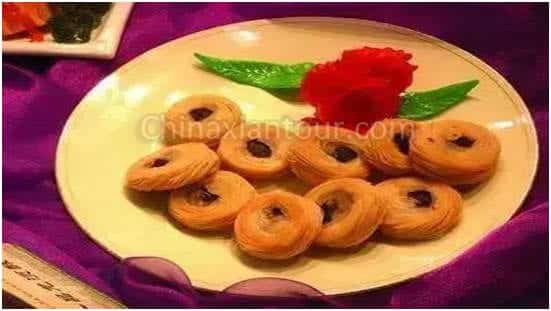 Paopao Oiled Cake is a kind of traditional food of Han nationality in Sanyuan County of Shaanxi province. With some stuffing such as the white sugar, rose and the peach kernel pulled in.
The Steamed Mutton or Beefs is one the most popular food in Xian, it is made up of boiled beefs or muttons and the bread, with some ingredients such as caraway, tomato, onions, vermicelli and so forth.
Qishan Noodles with ingredients is a special snack in the northwest of China. And some tofu, eggs, vegetables are put into as its ingredients.
Spicy Soup with Meat is a kind of halal snack of the Hui people in Xi'an city, which is regared as the most popular breakfast in Xi'an. Such ingredients as potatoes, carrots, cauliflowers are boiled together.
The Roujiamo actually means that putting the meat into the bread, it has a long tradition among the Han nationality in Shaanxi province.
Huimashi is a kind of bunsik in Shaanxi, it is boiled with variety kinds of vegetables.
Cold Noodle derived from the Cold Tao Noodles in the Tang Dynasty, it can be divided into three kinds of cold noodles, respectively, Qishan processed noodles, Hanzhong  Hot Noodles, and Qinzheng Rice Noodles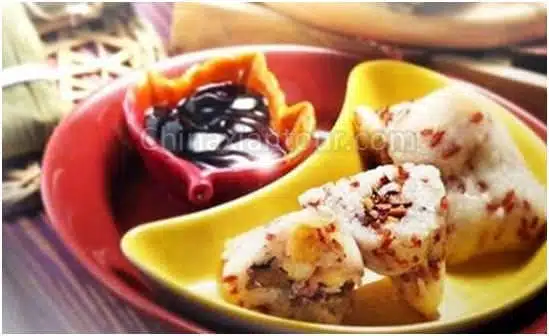 Zongzi with Honey is a traditional and popular food in the south of the Shaanxi province. People usually eat Zongzi at the Dragon Boat Festival.
Biangbiang Noodles is also a kind of snack of the Han nationality in Shaanxi, it is also called Yangling Noodles for Yangling is the deviation place of the noodle.