Muslim Quarter
Muslim Quarter, aka Huiminjie in Chinese, is a famous Muslim community with a population of about 300 thousand Muslims. Located behind the Drum Tower in the center of the city, it's also a well-known snack block in Xi'an. Since the end of the 1990s, some Muslims began to sell their food there, and later the place has been full of restaurants gradually. The Muslim Quarter consists of multiple streets, including North Guangji Street, Beiyuanmen, Xiyangshi, Dapiyuan, Huajue Lane, and Sajinqiao.
Quick Facts about Muslim Quarter
Type: Food quarter, Muslim cultural quarter History: Since the late 1990s Religion: Islam Food Style: Northwestern food in China, Halal food Opening hours: all-day Tickets: free Time Needed: within 5 hours Best Seasons: All seasons Commended for: food lovers Location: the center of Xi'an downtown
What to See in the Muslim Quarter
Special Muslim Buildings Muslim Quarter is pretty exotic in Xi'an, as the buildings there are in Islamic style. However, it may differ from what you see in other countries, combined with the traditional Chinese architectural style. This makes the buildings quite distinctive to see. In addition to Muslim restaurants and snack bars, these buildings are the shops of Hui ethnic costumes, handicrafts, etc. In the Muslim Quarter, there are also 10 large and small mosque built in different times. Great Mosque on Haujue Lane The Great Mosque is one of the two oldest mosques in Xi'an. It was firstly constructed in the middle period of Tang Dynasty (618-907 AD), and was repaired and expanded for several times in later dynasties. The architecture there was in traditional Chinese style, with the roofs were titled with glazed tiles, and most of the tiles are black. This is a masterpiece of ancient architecture, combined with Islamic style. If you are a Muslim, this is a must see in the Muslim Quarter. Dishes to Try in the Muslim Quarter What to do in Muslim Quarter? That's to eat definitely! You can taste almost all the snacks in Xi'an, including kebabs, steamed buns, spicy lamb trotters, Mutton and Bread Pieces in Soup, lamb in basin, fried rice with sauerkraut, cured beef and lamb, cold rice noodles, and lamb patties. After feeding yourselves up, you can also buy some local pastries, candied fruit and other snacks as souvenirs or gifts for relatives and friends. Crumbled Flatbread in Mutton Soup (羊肉泡馍) Speaking of Xi'an food, Crumbled Flatbread in Mutton Soup is the most famous dish. As the mutton pieces and small baked bread pieces are soaked in the thick mutton soup, it is delicious, in particular, in winter. If you like beef, the bread pieces can also be soaked in beef soup with beef pieces. The best restaurants for this dish are on North Guangji Street, including Lao Mi Jia and Lao Liu Jia. Cold Rice Noodles with Sesame Paste (麻酱凉皮) Liangpi, aka cold rice noodles, is one of specialty snacks in Shaanxi. It is refreshing and is rich in nutrients. The Liangpi with sesame paste is in a halal way, and it is common in Muslim Quarter. It is characterized by a large amount of sesame paste. Sheng Zhi Wang is the recommended restaurant at the T-junction of North Guangji Street and Dapiyuan. Soup Dumplings Although it is called as soup dumplings, it's a kind of steamed buns indeed. The thin wrappers are made of fine powder, and the stuffing are made of rib meat with fresh bone soup is also added. Just take a little bite, the soup would flow out which is oily but not greasy. Jia San Soup Bao is the best restaurant with a unique flavor in Muslim Quarter. One of its branch is on Beiyuanmen just behind the Drum Tower; the other is on Xiyangshi, which is near the crossroad of Xiyangshi and North Guangji Street. Beef Balls Spicy Soup Beef balls spicy soup is a distinctive halal food in Xi'an as well as in Muslim Quarter. It is one of the most popular breakfasts for people in Xi'an; of course, it is also served for lunch and dinner. It is like a stewed dish with vegetables and beef balls, and the soup is very thick. The vegetables include sliced potatoes, carrots, cauliflower, fungus, day lily, and white gourd. Lao Liu Jia Yi Wei Xiang on Dapiyuan and Ma Er Li on Sajinqiao are the recommended restaurants to try. Rice and Jujube Cake Rice and Jujube Cake is also called as Zeng cake in Chinese. It is a characteristic snack in Xi'an with a long history. The deep cauldron to steam the cakes was called Zeng in ancient times, hence the name. This dessert snack is sticky and sweet, being steamed of glutinous rice, kidney beans and red dates. The restaurant of Southeast Asian Zeng Cake at the northeast corner of the cross of North Guangji Street and Xiyangshi is recommended.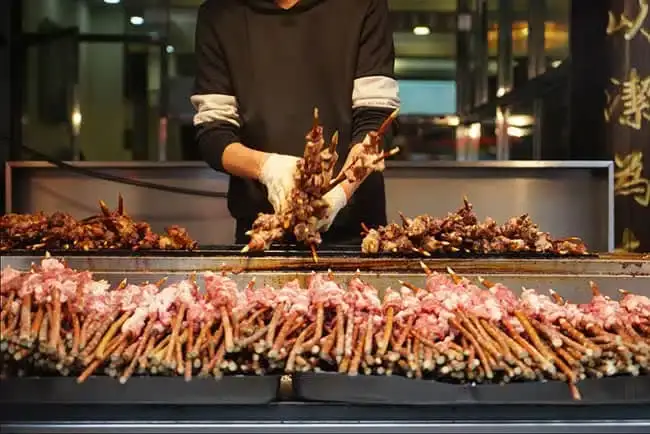 History of the Muslim Quarter
Muslim Quarter was a part of the imperial city in the Tang Dynasty. At that time, the Huihe Tribe helped the general Guo Ziyi quell the An Lushan Rebellion. When Guo Ziyi returned to the capital Chang'an (Xi'an today), more than 200 Huihe generals and entourages went to the city with him. They lived in this quarter, learning the laws of the Tang Dynasty and the culture of the Han people. The entire quarter expanded to become the Hui community of Xi'an gradually. It is also said that it used to be the settlement of foreign envoys and merchants who came to Chang'an for business, and most of the people there now are the descendants of these ancient immigrants. During the later dynasties in ancient time, the government had been all situated in this quarter or its surroundings. In 1900, the Empress Dowager Cixi and Emperor Guangxu fled to Xi'an, and tributes and slivers from various provinces gathered here. The old-style banks emerged and flourished there for a while. In the end of 1990s, the Muslims intended to live on selling special food, since then the food streets thrived and became famous.
How to get to Muslim Quarter?
You can take the city bus 15, 32, 43, 45, 201, 215, 218, 221, 222, 251, 252, 286, 300, 604, 611, 612, 618, 622, or Tourist Bus Line 8/610 to the Zhonglouxi (Bell Tower West) stop, which is just in front of the Drum Tower. Walk towards the Drum Tower and pass it, you would reach the Muslim Quarter.
Muslim Quarter Visiting Tips
This is a Muslims community. Please respect Muslim customs during your visit. For example, don't get intothe halal restaurant with non-halal food, especially those made of pork; and don't wear shorts and short skirts when you go to a
There would be crowded during Chinese holidays, such as Chinese New Year and National Day. In such a case, you may need to queue up to dinner there.
Some portionof the dishes in the restaurants in Muslim Quarter is in quite large amount. It is recommended to choose small portions when ordering, so that you can try more types of snacks as well.
If your hotel is nearby Bell Tower, we recommend you visit at night. When it is lesscrowded than day time. And the night view here is even better than day time.
Please try to bargain when buying handicrafts or tourist souvenirs. The labeled price is usually higher than exhaust price.
Nearby Attractions
Drum Tower: In the center of Xi'an downtown, it is one of the greatest drum towers in ancient China. On the west side of Bell Tower, it's also a landmark building of Xi'an. Bell Tower: Located in the center of Xi'an, it's at the intersection of East, West, South, and North four streets inside the City Wall. It is the largest and best-preserved bell tower in China, with a history of more than 600 years.
Tours including Muslim Quarter
Xian Highlight Day Tour 1 Day Xian Classic City Bus Tour Evening Muslim Walking Food Tour Xian Downtown and Muslim Quarter Food Tour Read more related tours by clicking here