Liangpi (cold noodles), together with Yangroupaomo (Mutton and Bread Pieces in Soup) and Roujiamo (Chinese Hamburger), is the symbol of Xian food. Originated in Guanzhong area of Shaanxi province, it is the traditional Han people cuisine which prevails in northern China. Due to different materials, production methods and regions, there are accordingly different types of Liangpi that can be made to Hot mipi, Gan mianpi, Mianpi, Mipi, Lao mianpi. And the flavor varies from spicy, sour, pungent and hot to the special taste with peanut sauce. Liangpi in northern part of Shannxi is made from flour, while in southern part rice is the main material.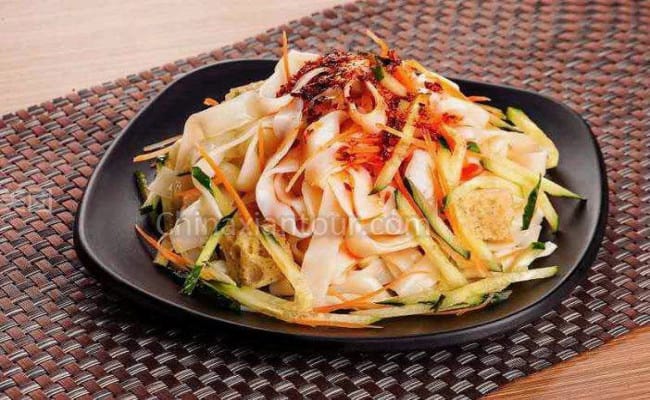 Liangpi has a long history tracing back to the Emperor Qin period, that is more than 2000 years ago. It is said that Emperor Qin once greatly applauded the taste of Liangpi, and then appointed it as royal tribute. The main ingredients to make Liangpi are flour(or rice), water, salt, MSG (monosodium glutamate), sugar, pepper, cucumber, vinegar, bean sprouts, garlic, soy sauce. As people can see, the ingredients are simple and common, yet the production method is not as simple as much. Usually the eateries selling Liangpi will prepare a large quantity, putting them in a container. They just need to add some seasonings to meak the final delicious sapor when customers come.
The most popular way of eating Liangpi in Xian is to order Sanqin Set Meal, which is inclusive of Liangpi, Roujiamo and Bingfeng(bottled beverage like Fanta). Seeing that Liangpi is widely favored, the good taste is definitely an indispensable cause. Besides, another important factor is the convenience. Being as Chinese fast food, it can be made and finished eating in 5~10 minutes. No matter if you are a foodie or not, you should never miss Liangpi when you visit Xian during your China holiday.