The Forest of Stone Steles was originally built in 1087 in the Song Dynasty (960-1279). In the following dynasties more Steles were selected and preserved there. In 1944, Xian city enlarged the Confucius Temple into today's Forest of Stone Steles Museum which focuses on collecting, preserving and studying of stone Steles of different dynasties. The museum consists of three parts: Confucius Temple, Forest of Steles, and stone inscription. The museum has a collection of over 11000 pieces which are displayed in 11 exhibition halls. The museum is highly recommended to tourists who has some knowledge on Chinese literature culture and history before visiting. There are four exhibition sections in the museum.
Exhibition Hall One
Exhibition Hall One was built exclusively for exhibiting of the 12 must study books for intellectuals in feudal society. That hall houses the largest Stele of the museum, the Book of Filial Piety carved in 745 in Middle Tang Dynasty (618-907). The theme of Book of Filial Piety is to spread virtue of Filial Piety and it was wrote by Cen Shen, one of the students of Confucius. The content of the book was carved on four Steles and each Stele has a stone base. So that book is known as Book of Filial Piety on Stone Base (Shi Tai Xiao Jing). The Steles on display in Exhibition Hall One are: Book of Changes (Zhouyi), Book of Documents (Shangshu), Book of Odes (Shijing), The Chou Rituals (Zhouli), Book of Rites (Liji), Historical Record of Spring and Autumn Period (Chunqiu Zuoshi Zhuan & Chunqiu Gongyang Zhuan), Analects of Confucius (Lunyu), and so on. There are totally 114 Steles with inscription on both sides in the hall. Content of the twelve books in that hall was the must know for intellectuals in feudal society. Why they were inscribed on Steles? Because in ancient time printing technology was quite underdeveloped. To avoid mistake when copying books and to preserve the book content for long time those must know knowledge were carved on Steles and set the Steles in the highest study institute in Chang'an to help with intellectuals' studying.
Xian Forest of Stone Steles
Exhibition Hall Two
Exhibition Hall Two houses many Steles which could function as historical documents. Steles of Islam Spread in China (Daqin Jingjiao Liuxing Zhongguo Bei) was carved in 781 in the Tang Dynasty. The Steles records the prosperity of Islam when it was introduced to China from Rome. On the Steles inscribed names of 70 Muslim people in Syriac. And the historical facts recorded on the Steles can not be found in any other documents home and abroad. So that Stele is of much historical value. A column style Stele records in Both Chinese and Nepalese characters the Buddhist culture exchange between China and Nepal. The Bukong Heshang Stele records the spread of Buddhism from ancient India to China. And the Mingde Shouji Stele records the peasant uprising and the temporary government Dashun Kingdom by peasant leader Li Zicheng in end of the Ming Dynasty (1368-1644) when Shaanxi Province suffered a lot from natural and man-made calamities. The Caoquan Steles records suppression of peasant uprising in end of East Han Dynasty (25-220). Studying contacts on other Steles one will find more historical events and facts.
Exhibition Hall Three
In Exhibition Hall Three visitors will see handwriting of calligraphers in past feudal dynasties. Calligraphy lovers could buy rubbings from the inscriptions. The representative ones are: seal character of Li Si (secretary of the state in the Qin Dynasty) on Yishan Stele, clerical scrip of the Han Dynasty on Caoquan Stele, handwriting of Wang Xizhi in the East Jin Period on Datang Sanzang Shengjiao Stele, regular scrip of Yan Zhenqin in the Tang Dynasty on Tang Duobaota Ganying Stele, cursive hand (Caoshu) of Zhangxu in the Tang Dynasty on Pan Qianjia Ziwen Stele. Handwriting of calligraphers from the Song, the Yuan, the Ming and the Qing Dynasties are also on display here. from the different styled characters we could see development of Chinese character.
Exhibition Hall of Steles Carved with Patterns
That hall and its corridor preserves essence of stone inscriptions and stone carvings found in Shaanxi Province. Such as the stone animal figures, stone relief from the East Han Dynasty, Squatting lions and rhinoceroses from the Tang Dynasty. And four of the six relief inscriptions in tomb of the Emperor Taizong are on display here. The nine-layer stone lantern is much eye-catching. The model and patterns of are both much delicate. Besides, visitors could also see the carved stone door of tomb from the East Han Dynasty and the stone inner coffin from the Tang Dynasty. The 2.5 meters high and 6 tons heavy Yunjing Bell is one more highlight of that hall.
Collected in the Museum of Stone Steles are some 2300 pieces of carved stone pieces that ,over a long period of the Han, Wei, Tang, Song, Yuan, Ming and Qing dynasties. So the museum is a place where assembles many famous calligraphic models and art works. To cater to the needs of expels, artists and calligraphers, the administrative department for cultural relics of Shaanxi Province organized some experts and technicians in rubbing rubbed part of the famous stone tablets. Seen among them are the "Tang Tablet in Response to Buddha of the Past" written by Yen Zhenqiag in regular script. Structured regularly the strokes of the calligraphy are virile and forceful. The "Tablet of Xuan Mi Ta Model Calligraphy" was written by Liu Gongquan, another great calligrapher of the Tang Dynasty, which features a combination of regular strokes with a fluent style. The calligraphic works written by Monk Huaisu featured a wild cursive hand, a fluent hand as if the characters were zigzagging snakes and dancing dragons. They prove to be a very good model for those who take a liking in practicing cursive hand. Besides, there are still rubbings from the works of Ouyang Xun and Zhu Suiliang who were also noted calligraphers in history. Aside from all those mentioned above many celebrities, painters and calligraphers from the Eastern Han, the Three Kingdoms down to the Ming and Qing dynasties also left over in the making the rubbings of poem and painting tablets of the province a superb collection of things beautiful, varied and colorful. No visitor to Shaanxi. especially those calligraphy lovers, will fail tn choose a few pieces and bring them home, Getting them mounted they hang the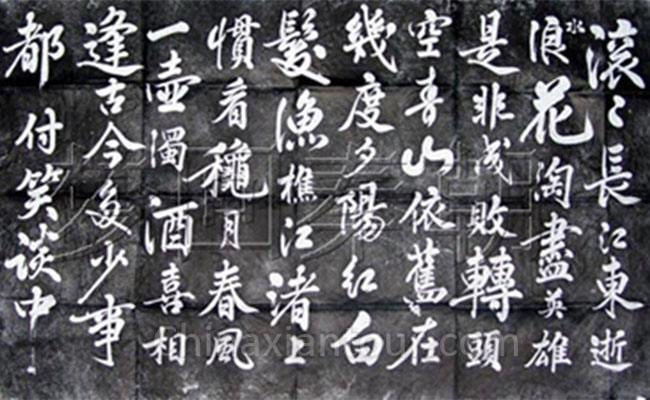 Xian Forest of Stone Steles
Entrance fee: March 1st-November 30th: RMB75 per person; December 1st -February 28th/29th: RMB50 per person
Advised visiting duration: 2 hours
Opening hours:
March 1st-April 30th, After National Day Holiday-November 30th: 08:00-18:15. Ticket issuing stops at 17:30.
May 1st-National Day Holiday: 08:00-18:45.Ticket issuing stops at 18:00
December 1st-Feburaty 28th/29th: 08:00-18:00. Ticket issuing stops at 17:15
TEL: +86 29 872107649
Public Transportation: Bus No 14, 23, 40, 118, 208, 214, 221, etc.
Ticket policy for Children: Under 1.2 meters: free of charge; 1.2-1.4 meters: half price