Bell Tower and Drum Tower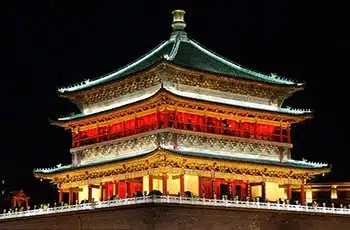 〉Geographic landmarks of Xi'an
Serving as timekeeping signals, the bell on the Bell Tower and the drum on the Drum Tower were stuck in every life of ancient people in Xi'an. That is a so-called bell at drawn and drum at dusk. Located in the intersection of East, West, South, and North Street, although not being timekeepers any longer now, the Bell Tower and Drum Tower are still geographic landmarks of Xi'an in people's hearts. During the day, they are standing there with solemnity; at night, their magnificence is illuminated by colorful lights, seeming that they come here throughout history.
〉When and Why were Bell Tower and Drum Tower Built?
Bell Tower
Bell Tower was first built in the Ming dynasty. At that time, the Capital city is Nanjing. Emperor Zhuyuanzhang was suggested to move capital from Nanjing to Xi'an. He assigned his son, who was the prince to Xi'an to inspect. Soon later he went back to Nanjing and reported the superiority of Xi'an to his father, supporting the advice to move capital. Unfortunately, the prince died soon. Emperor Zhu was too mournful to move capital, but the Bell Tower was finished as an imperial building for royal members already.
Drum Tower
In ancient time, there were no clock or alter, so people were scheduled by the sound of bell or drum. That why bell towers and drum towers were built. Ancient Xi'an city in the Ming dynasty was 11.9 in length with a covering area of 87000 square km. To make sound spread as wide as possible, a tower should be tall and a drum should be large. Therefore the Drum Tower was built. It was restored for two times in 1699 and 1740. Drum Tower is the largest-sized and completest-preserved one of China's drum towers.
〉Distinctive architectural Styles of Bell Tower & Drum Tower
Bell Tower
The Bell Tower is a pavilion-like square building with a pyramidal roof wrapped with gold. It has triple-layered eaves covered with dark green glazed tiles. When it rains, the water will drop from one layer to another, perfectly buffering the rainwash.
There are two floors in total. Presenting the architectural style of the Ming dynasty, the whole tower was built on a base made up of blue bricks and lime. Walking along with steps into the hall on the first floor, there are four doors in each side of it. Every door has 8 gorgeous reliefs on it. The doors and windows of Bell Tower are all carved with fancy patterns. If you read them carefully, you will find some interesting stories about ancient people. On top of the hall, there are  caissons with painted pottery. Then, go up to the second floor through a spiral stair. Four doors of this floor are connected with the veranda. Inside the house, there are painted and carved beams. Walls are full of golden painted pottery.
Drum Tower
Xi'an Drum Tower is the biggest one among the existing drum towers of China. Located in the south of Beiyuanmen Street, Drum Tower faces the Bell Tower on the east. Constructed on a huge square base, the Drum Tower is also a pavilion-like wooden structure. It is seven bays in width, with a veranda around the house. There is a big drum on the tower. Ancient people strike it for timekeeping every day so it was called Drum Tower. Compared with the Bell Tower, Drum Tower is more suitable for visiting in the evening. Lights of the urban city illuminate the beauty of it. If you like photography, the Drum Tower in the evening will be your inspiration.
〉Highlights of Xi'an Bell Tower and Drum Tower
>>Bell Tower
Jinyun Bell
The original bell hanging on the tower is called Jinyun bell. It is the national first-class cultural  relics and now collected in Xi'an Beilin Museum. The one on Bell Tower now is a copy of the Jinyun bell. According to history, Bell Tower had been moved ever form its original site. The authentic Jinyun bell was also been transferred with the tower. To people's surprise, Jinyun bell didn't ring anymore at the new site. It is still a mystery why. So the copy one was produced. The reproduction is perfectly similar to the original, with a height of 2.45 m and a weight of 6500 kg. On 30th, January 1997, the bell rang again on the tower after keeping silent for hundreds of years.
Stele carvings
There are three pieces of stele carvings on the wall of the first floor. The first one records the restoration of Bell Tower; the second one describes that why Belle Tower was moved from the original site and the last one is an ode for Bell Tower.
Fancy reliefs
As mentioned previously, each of the eight doors of two floors in Bell Tower has eight gorgeous reliefs on it. Every relief tells a story of ancient China. Some main characters of the stories are familiar to us like Mulan, Yuefei, and Chang'e.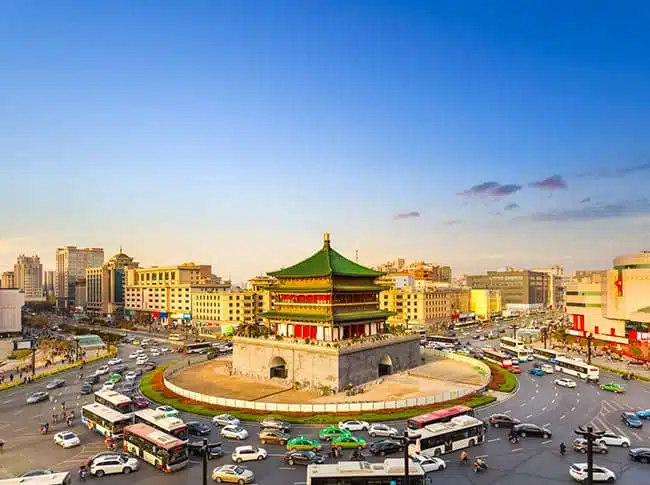 >>Drum Tower
The drum
The drum on Drum Tower is also a reproduction made in 1996. It is 1.8 meters in height and 3.43 meters in diameter, with a total weight of 1500 kg. There are 1996 round studs on the drum, with the meaning of that it was made in 1996 while Other 24 smaller drums are displaying with Chinese characters symbolizing the traditional Chinese 24 solar terms.
Artworks Qibaishi
Qi Baishi is the most influential Chinese painter. The exhibition hall in Drum Tower collects some of his masterpieces in it.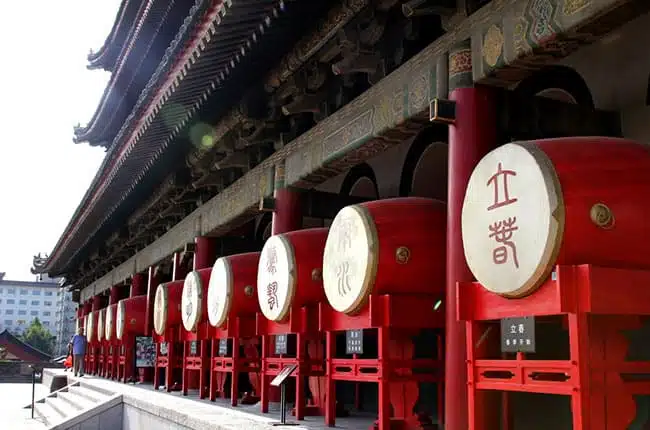 〉Top things to do at Bell Tower and Drum Tower?
>>Enjoy the ancient culture in the modern city.
Although located in the center of Xi'an city, the Bell Tower and Drum Tower are not urbanized at all. Modern facilities around provide convenience for visitors, but you can still feel the pulse of ancient Xi'an at any of them. After the day tour, take a walk at the Bell Tower and Drum Tower Square with sunset. It is time to go back home from work. Streets are filled with people and cars, but it is not crowded and noisy. Instead, when afterglow shines on the golden top of Bell Tower and reflect some rose gold lights, you will forget about fatigue for a while and enjoy the ancient culture.
>>Appreciate ancient Chinese cultural performances
There are performances of traditional Chinese culture showed both at Bell and Drum Tower,  with a duration of 10-15 minutes each performance.
Bell Tower: Chinese Chime Show
9:10/10:30/11:30/14:30/15:30/16:30, 6 scenes per day.
Drum Tower: Drum Beating Show
9:10/10:00/11:00/14:30/15:30/16:30, 6 scenes per day.
〉How do I get to the Bell Tower and Drum Tower?
Located in the intersection of the East, West, South and North Street(the center of Xi'an City), it is convenient to get Bell Tower and Drum Tower.
By bus: Take No.4/7/8/15/32/43/45/201/205/206/215/218/221/222/251/300/604/611/612 and get off at the Zhonglou Station, then walk for a short distance.
By subway: Take metro line 2 and get off at Zhonglou Station, then walk for a little while and you arrive.
〉Travel information about Bell Tower and Drum Tower
Ticket: CNY 50 for a comb ticket of Bell Tower and Drum Tower
CNY 35 for each of them
Opening hours: 8:00-22:00(1st April to 31st October) in peak season
8:00-17:30(1st November to 31st March) in low season
Best time for visiting: All year round