Big Wild Goose Pagoda Northern Square
Reviews on Big Wild Goose Pagoda Northern Square
Visitor 1: "Terrific fun a must see"
Popped to see the show it starts at 9 but I would get there thirty mins earlier if you want a front row seat cos passing there at 8.15 it was crowded already. We had a chilled out wander about whilst watching and was fantastic thing to see !
Visitor 2: "A good night out!"
Ok the fountain show may not be technically the best ever, but it is beautifully lit, even down to the fake cherry blossom (which looks really naff by day) and the music is stirring enough to build an atmosphere. The local Chinese people love parks, you can see them dancing, exercising even practicing swordplay. And with the street food sellers and kids toy vendors it makes for a fun, lively and authentic night out.
Visitor 3: "Beautiful fountain; shame of the music"
The lights and fountains are beautiful. It is a shame that the music could not be heard well enough as they do not have speakers all around the fountain. If you want to have a good view, be there at least 30 minutes before the show starts. You can get wet depending where you stand and the wind blows.
Dayan Pagoda North Square
Visitor 4: "impressive show"
You better get there early in the evening to catch one of the front rows as it can get very busy. The show itself is beautiful and is a must see when you are in Xi`An and if they would match the music (sound) to the atmosphere, then it would be even fantastic.
Visitor 5: "Fun show"
First we did not know that the fountain show was free. We also had no clue about the timing of the show. So, we waited along with a lot of other tourists. My husband also had a tripod set up to take the shots.The show was beautiful, and to watch with other as excited tourists felt even more wonderful.. but we had not expected to have so much water showered upon us. Please be sure to take umbrella. We had only one, so we ended up covering the tripod and camera. It was fun!
Visitor 6: "Nice place to relax"
This place is free and is around the big wild goose pagoda (or Da yan Pagoda). There are some fountains and the view is nice. On your way to the pagoda, you can have a break there and enjoy the view!
Visitor 7: "A pleasant way to spend an evening"
The light,sound and water show may not be one of the best we've seen but it's free and a good chance to mix with the locals. If you're western they'll want to take a photo of you (you'll get used to this in China if you're blonde). Try and get to the newly developed areas of Xian center at night too for the very modern take on the traditional architecture.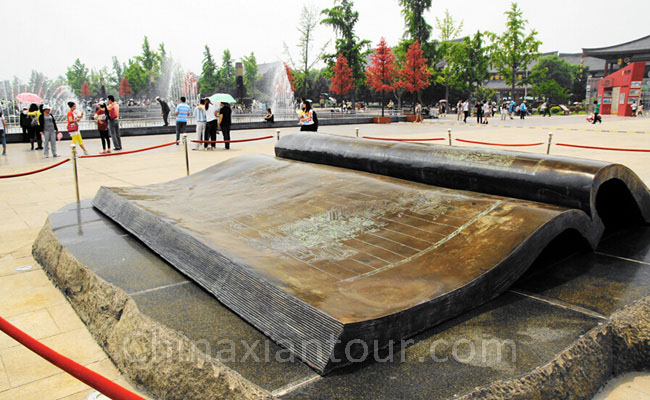 Dayan Pagoda North Square
Visitor 8: "I felt like i travel back in Tang Dynasty"
I went at night time with those cheesy music fountain which is not really fond of. but the lighting setup with the chinese ancient music background, it gives you a sense of what Tang Dynasty (one of great Dynasty in Chinese history ) was like, I wish there's a costume shop to get dressed like those old time style. It took me about 20 mins walk from the closest subway station, still it's a worth a visit.
Visitor 9: "Fountains a wonderful experience"
We walked all the way around north and south during the day time watching the Chinese people and children, it is quite a walk but so worth it. We loved the fountains, we saw them from above and then went down into them, such an experience! Standing in the middle of the water and taking photos, a lovely man took photos of both of us and we tried to share how much we enjoyed this site. Music and movement, don't miss out on this. I know the night is colorful, so do both.