North Square of Big Wild Goose Pagoda and Music Fountain Show
North Square of Big Wild Goose Pagoda lies to north side of Big Wild Goose Pagoda is one of the most favorable amusement and summer resort for local people. On the square there are two 200 meters long statues group, 8 large-scale figure statues and 40 relief sculpture on ground. Besides the relief sculptures, on the square there are many historical figures' statues. And on the lantern bodies decorated with Chinese poems. The most beautiful scenery of the Square appears at night. When evening comes, the Moon shed gentle light to the square and light dancing with the music make the square more majestic. The Music Fountain locating on the Square is 218 meter wide from west to east and 346 meter long from north to south. Many buses have stops at Big Wild Goose Pagoda or at North & South Square of Big Wild Goose Pagoda. By end of 2017, Xian Metro Line 3 will open and it will have the Dayanta (Big Wild Goose Pagoda) Station. By that time tourists could get there on their own more easily.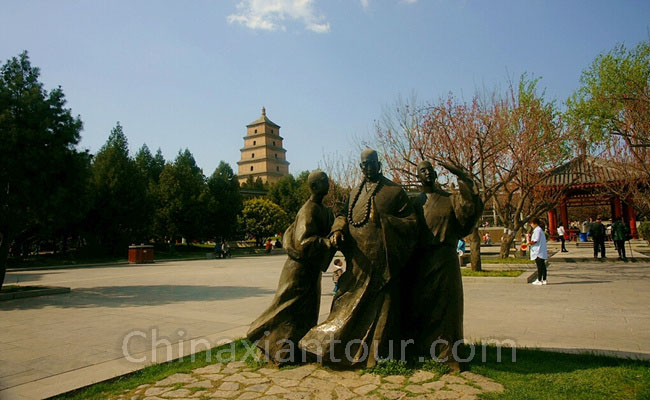 North Square of Big Wild Goose Pagoda
The music for fountain show are mainly classical music. When music begins, the fountain will dance to the rhythm. The music, the light, and the dance of fountain cooperate to treat people with unique lingering charm. Behind the viewing platform towers the Big Wild Goose Pagoda. In day time the pagoda looks yellow and a little monotonous. At night when all light turns on and music fountain begins, the ancient pagoda looks more attractive which shows the complex art of ancient and modern factors. The bright light bands endow even air with color. If one wants to see music fountain show, night time would be definitely better than day time because light will be closed in day time.
Though many city squares have regular music fountain show, the fountain show at night on North Square of Big Wild Goose Pagoda is the most grand and beautiful. The edge of the square all commercial buildings are in Tang Dynasty style no matter they are international brand fast food restaurant or local snack restaurants. After the music fountain show appreciating, one could walk to Xiaozhai to get a glimpse of the second largest commercial circle in Xian.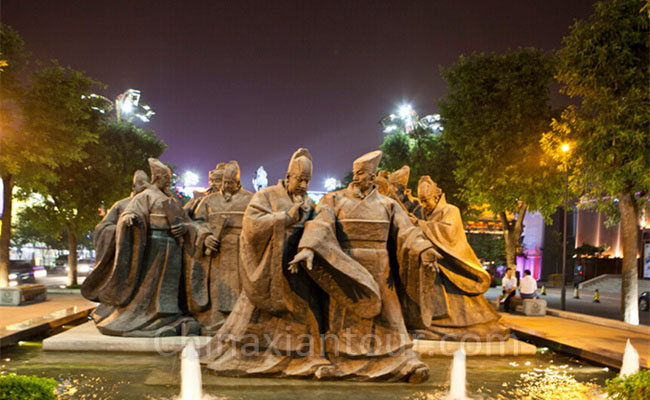 North Square of Big Wild Goose Pagoda
Entrance fee: Free
Opening Hours: All Day
Music Fountain show time:
Monday&Wednesday-Friday 12:00-20:30
Tuesday: 20:30
Saturday & Sunday & Public Holidays : 12:00, 14:00, 16:00, 18:00, 20:30
Public Transportation: Bus 19, 21, 512, etc.
Tips for seeing Music Fountain:
1)tourists could see the show for free in flanks. If one wants to have a better view, on the platform in front of the fountain there are audience seats. The tickets is at RMB30 per person.
2)Please avoid standing beside the sound box when seeing fountain show in flanks.
Most popular attractions nearby North Square of Big Wild Goose Pagoda:
Shaanxi History Museum: about 1km
Xian City Wall: about 3.8km
Da Ci'en Temple & Bid Wild Goose Pagoda: 0km