Xian Night Tour to Bell Tower Square and Music Fountain Show
the Bell Tower Square & the Musical Fountain in North Square

Tour guide + Driver + Vehicle

Yes

Start from

$20

per person
Tour Overview
Xian is an amazing place where you will never run out of things to do. In day time, you can visit many sites such as Terracotta Warriors and Horses Museum, Shaanxi History Museum, Great Mosque, Ancient City Wall, Xian Museum, and Daming Palace to learn a lot about Chinese history and stories that once happened in this ancient capital. At night, this city ablaze with lights treats visitors to the most magnificent scenery. On this tour, you will start your evening at a fantastic musical fountain to experience a magical combination of water, music and lights and then go on to Bell Tower and Drum Tower Square to admire the beautiful ancient buildings illuminated by lights.
Highlights of this tour:
. Be treated to the blazing city's fascinating night view.
. Go to the Bell & Drum Tower Square and enjoy the beautiful ancient architecture illuminated by lights.
. Experience the magical combination of water, music, and light at the largest musical fountain in Asia, the North Square of Big Wild Goose Pagoda.
Our tour guide and driver will pick you up from your downtown hotel in the late afternoon. We will visit the Musical Fountain first. Located at the North Square of Big Wild Goose Pagoda, it is the largest musical fountain in Asia and is a must-see for many visitors to Xian. The square also boasts the most complete facilities with numbers of benches and the longest light strip. The fountain has 22 different styles in total such as flying seagull, lotus flower, and sea of clouds. It has 8 spray cisterns each as big as a basketball court that can spray water to different music. They also can create a large folding waterscape and matrix fountains. Music, lights, water as well as colors form a beautiful wonder.
After the show, we will head to the Bell and Drum Tower Square. The night scenery here is well worth seeing. Ancient Chinese mainly used the Bell Tower and Drum Tower for timekeeping. In ancient China, the Bell Tower is a strategically important building that marks the geographical center of the ancient capital. From this important landmark extends East Street, South Street, West Street, and North Street, forming a square city wall with East Gate, South Gate, West Gate, and North Gate. It has a history of over 700 years. The Bell Tower has several large bronze-cast bells from the Tang Dynasty. The tower base is square and it covers an area of 1,377 square meters. It's the emblem of Xian city. Every night many people leisurely stroll the square. You can see old people amuse themselves with all kinds of activities. It's also convenient for shopping. At the end of the tour, your guide and driver will escort you back to your hotel. Your Xian Night Tour to Bell Tower Square and Music Fountain Show ends here.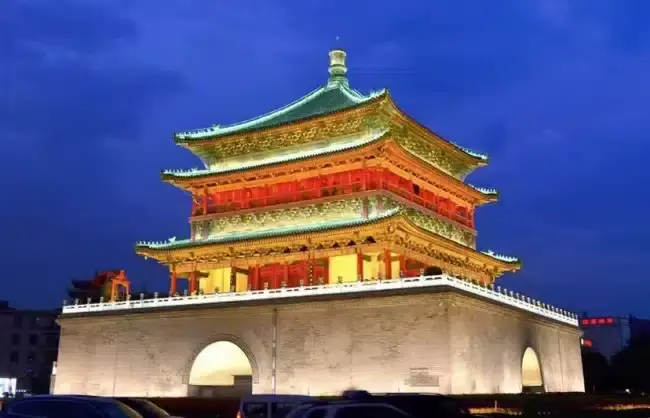 Tour Price ($=USD)
From $78 P.P, which is based on a private tour for

2 people

. The price varies depending on the activity, number of people, travel date, and selected hotel.
Price includes
Private transfer in air-conditioned car
Excellent English-speaking tour guide and skillful driver
Price excludes
Personal expense
Gratuities (recommended)
Book Now