Tang Paradise
To southeast of Big Wild Goose Pagoda. There was a imperial garden with its name Lotus Garden. In history, Lotus Garden was exclusively the amusement place for imperial family members. The dynasty of the garden is affected by ups and downs of the Tang Dynasty. With decline of the Tang Dynasty, the grand splendid imperial garden lost its gorgeous looking. To introduce modern people to imperial garden culture of the Grand Tang, the Lotus Garden was rebuilt into today's Tang Paradise.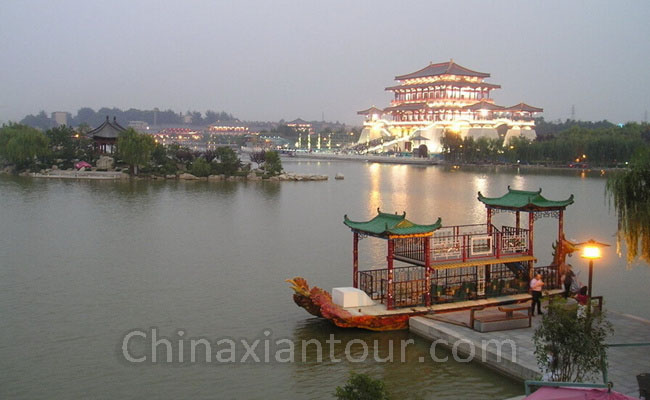 Tang Paradise
Tang Paradise next to South Square of Big Wild Goose Pagoda is a national AAAAA tourist attraction. It is the first ancient style park in China that focuses on culture of Tang Dynasty (618-907). The park owns the open air odor engineering and the largest performance with waterscape as background in the world. inside the garden there are many interesting mini attractions: Ziyun Tower, Waitress Hall, Imperial Court Dinning Hall, Hong Lim Court, Theater of Voice of Phoenix, apricot garden, Luyu Tea House, Tang Dynasty Market, Flouting Drinking, etc. And various performances are staged in mini attractions every day, including Heaven Worshiping Dance, Imperial Court Dance, Imperial Costume Show, Chinese Kongfu Show, Lion Dance, stilt, acrobatics, etc. The water curtain movie Back to Grand Tang is the largest of the kind in China. When enjoying the movie at night, audience will see wonderful picture made up of music fountain, colored light beans, fireworks, mine works, water fog, etc. That is rather shocking to tourists.
Upon arrival at the entrance of Tang Paradise the garden will welcome tourists with Tang Dynasty scenery. And when entering the garden the view will be filled with grand and unique buildings, towers and corridors. if one plans to look into each details of the garden, even 2 days would be not enough. Though there is no up-ground historical relics in the garden, the exquisite designed buildings are all built based on study of architecture in Tang Dynasty.
Tang Paradise
Entrance fee: March -November RMB120 per person; December to February RMB90 per person
Opening hours: 09:00-21:00
Tips for Tang Paradise Visiting:
1)the music fountain show performed at 12:00 and 20:00 daily from Monday to Friday. In weekends it performs at 12:00, 14:00, 16:00, 18:00 and 21:00.
2)November to January the Music Fountain Show will not staged due to cold weather. During Spring Festival the performance be staged as usual.
3)We recommend tourists visit the garden after lunch. Because in the afternoon all programs staged in the morning will be res-staged. When finish enjoy the programs it would be early evening when waterscape movie is to stage.
Public transportation: Bus No 5, 19, 22, 24, etc