Extending your Zhangjiajie tours with an excursion to Fenghuang Ancient Town is recommended if you have 5-6 days or more time in Zhangjiajie. Zhangjiajie boasts the superb mountainous landscapes with specular shapes and deeply shock the world with the unparalleled beauty since the movie Avatar, while Fenghuang Ancient Town fascinates people with a harmonious mix of the natural scenery and local folk culture. The Zhangjiajie and Fenghuang tours of 5-6 days will take you to experience two distinct sights, which helps to better enrich your China vacation.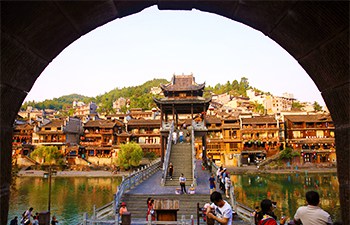 This 5 days private tour package will lead you to visit two nearby scenic area: Zhangjiajie National Forest Park and Fenghuang Old Town. It not only shows you the real Avatar mountains inserted into the earth like an amazing stone forest but also unveil the mysterious mask of the local minority's li...
---
Have you been dreaming of traveling to Zhangjiajie for a long time? On this 5 days tour, you will explore the highlights of Zhangjiajie with the company of accommodating guide and driver. They will take good care of you, and you don't need to worry about navigating the large forest park without unde...
---
You may have seen a lot of beautiful places on this planet, but Zhangjiajie definitely will take your breath away. It's one of the great places to admire nature in China and have different charm in every season. The amazing Avatar Mountain, serene valley, unusual rock formations, impressive Bailong ...
---
Free Inquiry: