Attractions: Six Harmonies Pagoda, Hefang Street
Upon your arrival in Hangzhou, your local guide will greet you at the exit of airport/train station by holding a name sign and take you to start a wonderful time in Hangzhou. We will visit Six Harmonies Pagoda on the bank of the Qiantang River first. The pagoda was built in the Northern Song Dynasty to suppress the tide of Qiantang River. The pagoda is about 60 meters high, and it seems, has 13 stories from outside but actually only 7 stories inside. You can optionally choose to explore the interior of the pagoda. There are many vivid brick carvings inside it. Next stroll on Hefang Street, one of the oldest streets in Hangzhou, where you can find authentic local snacks, century-old shops, tea houses and various handicrafts.
After all the activities, your guide and driver will escort you to your downtown hotel for a good rest.
Accommodation: Hangzhou local 4 stars hotel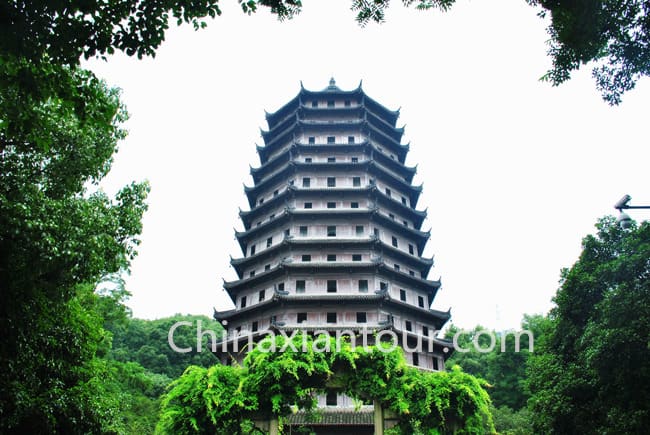 Attractions: West Lake, Lingyin Temple, Feilai Peak, Meijiawu Tea Village
Your guide and driver will pick you up from your hotel in the morning after breakfast and transfer you to the West Lake, one of the top sought-after scenic spots in China which have been praised by many Chinese literati. The scenery in all the four seasons is beautiful and worthy of visiting. You will take a cruise on the lake to meet the highlight mini scenery sites of the area like Three Pagoda Mirroring the Moon, Solitary Hill, and Leifeng Pagoda. After the cruising, you can wander around the lake and there are also other optional activities such as fishing and riding bikes. Next we will head to Lingyin Temple. The temple has a history of about 1,700 years and is considered one of the most significant Buddhist temples in China. You will listen to your guide about its history and stories, and admire various buildings. Then move to Feilai Peak which is a pure limestone mountain and totally different from the sandstone mountains around. You will see many grotesque stones of various shapes such as running elephant, startled monkeys and crouching tiger, and you will feel like you're in a stone zoon. You also can appreciate the exquisite Buddhist stone statues from ancient times scattered on the caves and cliffs.
After lunch, we will visit the first-class protected area of West Lake Longjing tea, Meijiawu Tea Village. The village also is the main source of the Longjing tea. Just walk around the village, smell the faint aroma of tea in the air, and try some fine tea. If you come here in spring, you even can join the locals to pick up tea leaves. Today's last stop is China National Tea Museum, the only national museum focusing on tea and tea culture in China. You will be surprised to see there's no wall inside the museum as if saying "We have no threshold. Everyone is welcome here". You can learn history of tea and tea customs of different areas in China, and admire delicate tea wares.
At the end of the tour, you will go back to your hotel.
Accommodation: Hangzhou local 4 stars hotel
Day 3 Hangzhou-Huangshan by Bullet Train (B+L)
Attractions: Tunxi Ancient Street, Hu Kaiwen Ink-stick Factory
Today you will take bullet train to Huangshan. Your driver will pick you up at the hotel and transfer you to the train station. When you arrive at Huangshan North Railway Station, your local guide will greet you at the exit of the train station by holding a name sign and transfer you to have a lunch and then visit Tunxi Ancient Street, China's most well-preserved ancient street combining architectural style of the Southern Song Dynasty, Ming Dynasty and Qing Dynasty. Just stroll on the street leisurely and appreciate the Hui-style buildings. Then we will visit Hu Kaiwen Ink-stick Factory which was founded by Hu Kaiwen in 1765 during the reign of Emperor Qianlong of Qing Dynasty to see how the ink stick is made. Ink stick is one of the four treasures of Chinese study (writing brush, ink stick, ink slab and paper), and the best ink stick in China comes from Anhui Province, the home of Huagnshan Mountain.
After the tour, check in at the Huangshan city local hotel.
Accommodation: Huangshan city local 4 stars hotel
Day 4 Huangshan Mountain (B+L)
Attractions: Hongcun Ancient Village, Mt. Huangshan
Your guide and driver will meet you at your hotel lobby after breakfast and transfer you to visit Hongcun Ancient Village. This more than 800-year-old village is a typical representative of Hui-style building, mainly in black, white and grey colors. It was listed as World Cultural Heritage Site by UNESCO in 2000. You will see many original residences from Ming and Qing dynasties here, among which Chengzhi Hall is an architectural masterpiece and enjoys the name of "Folk Forbidden City". It has a lot of complex wood carvings with great artistic value. We will also stroll along the South Lake and absorb in the picturesque scenery.
Then directlt dirve to the Yellow Mountain (Huangshan Mountain). Upon arrival, you will take the shuttle bus to Cloud Valley Temple and then take a cable car up the mountain. Then hike to enjoy the beautiful scenery at North Sea, Beginning-to-believe Peak, Cloud-dispelling Pavilion and West Sea Valley. There will be many staircases that go up and down, but all the tiredness of climbing will be gone when you see the breathtaking scenery. If you are still in good shape and time & weather permits, you can continue to Sky Sea Scenic Area to enjoy gorgeous sunset at Bright Summit and explore Flying-over Rock. Please do not watch your camera or phone while walking.
Tonight you will stay at a hotel on the mountain so as to catch sunrise next day.
Accommodation: Huangshan Mountain 4 stars hotel
Day 5 Huangshan Departure (B+L)
Attractions: Mt. Huangshan
Today you will get up in the early morning to witness the incredible sunrise. When the mountain is still sleeping under starry sky, we will leave the hotel to occupy a vantage point and quietly wait for the thrilling moment. With the passage of time, the color of sky will change slowly. The sun finally show its head and the peaks are bathed in dazzling gold. After you enjoy the sunrise, we will go back to hotel and have breakfast. Then move on to explore Lion Peak which got its name from the look like a crouching lion. You will visit Dawn Pavilion and see an interesting rock called "Stone Monkey Watching Sea". Next we will hop on cable car and descend the mountain.
At the end of the tour, your guide and driver will transfer you to the train station/airport for your departure train/flight. Our service will end here. Wish you a pleasant journey.