The 1-hour high-speed train will take you from China's most prosperous city, Shanghai, to the "Paradise on Earth" city, Hangzhou, and the strong landscape contrast will bring you an interesting journey. How to Plan your Shanghai Hangzhou Tour? 5 days is enough to explore the best of both cities. Take two days to discover the highlights of Shanghai, such as the Bund, Huangpu River night cruise, Nanjing Road, the Former French Concession, etc. Then go to Hangzhou to visit West Lake, Lingyin Temple, Longjing Tea Village, Leifeng Pagoda, and other must-see spots. You can also add a day to visit nearby water towns, such as Zhouzhuang, Tongli, and Wuzhen.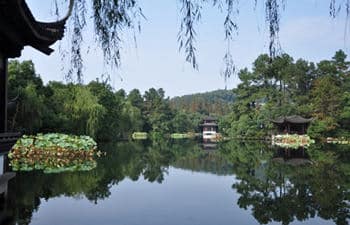 Suzhou and Hangzhou are the two well known tourist cities nearby Shanghai. This 10 hours Hangzhou tour from Shanghai will lead you to visit the best known site in Hanghzou – West Lake, and the Qinghefang Old Style Street. It would be a tour about sightseeing and food culture....
---
Hangzhou is a place of great Beauty. This One Day Shanghai-Hangzhou Group Tour will lead you to get an insight of beautiful Hangzhou. A Chinese proverb says "In heaven there is paradise, and on earth Suzhou and Hangzhou." Since the ancient time, Suzhou and Hangzhou were well-known for their mild cli...
---
Free Inquiry: