The bund is a walking sightseeing zone between the Baidu bridge on the west bank of the Huangpu river in the center of Shanghai and Jinling East Road. It is one of the most symbolic and prosperous attractions of Shanghai. The bund is 1.5 kilometers long, starting from Yan'an East Road in the south and reaching the Garden Bridge of Shanghai(Waibaidu Qiao) on Suzhou river in the north. To the east is the Huangpu river– the mother river of Shanghai, and on the other side of the river stands the Oriental pearl tower, Jinmao tower, world financial center, Shanghai tower and other famous skyscrapers. To the west, there is a concentration of financial and foreign trade institutions of old Shanghai. There are 33 buildings in different styles on the bund. They are also known as the multinational and exotic building clusters in the Bund of Shanghai. Nowadays, the bund is a significant and splendid historical site and representative complex which integrate the classicism and modernism in modern China.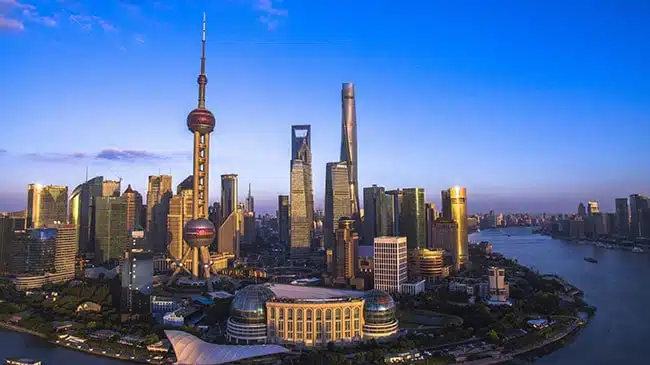 Basic Facts about the Bund:
The bund was in British concession from 1844, which is also the starting point of the concession district of Shanghai in old times and the modern city of Shanghai. Since the 1840s, concession was occupied by Britain, France and other countries, and then these countries operated, managed and constructed this areain their own way. When business and financial enterpriseshad a solid foundation in the bund, they began to construct the different kinds of buildings, and the majority of buildings of the bund have been reconstructed for three times or more until now.
In the 20th century, with the development of architectural technology and the growth of economic strength, there were many multi-storey and high-rise buildings in various styles springing in the bund area, such asclassic style and Neo-classic style of Britain, the Asia Building in Renaissance style of Britain, Shanghai Club, the building of Shanghai Pudong Development Bank, Classic style of France, Gothic style, Baroque style and so on, showinga picture of coexistence of different styles architectures of all over the world.
There are many attractions in the bund. For example, in the northernmost, there is the Huangpu Park and the Tower to the People's Heroes of Shanghai stands tall and upright, and at the bottom of the tower is the Bund historical memorial hall that free for tourists. Besides the Huangpu Park, there is the renowned Garden Bridge of Shanghai(Waibaidu Qiao) that is also the confluence of Huangpu River and Suzhou River. In the middle part of the bund , there are Chenyi Square, Waterfall Clock, Lovers Wall and the entrance of the sightseeing tunnel connecting East and West of the Huangpu River. What's more, the southernmost is the Shiliupu pier which isthe most famous wharf of the bund with150 years history. And the abundant urban sculpture groups with different features cannot be missed by tourists.
The night scene of bund is also a must-see attraction for visitors having a tour in Shanghai. When night falls, magnificent skyscrapers of various shapes are decorated with colorful neon lights and reflected on the surface of the Huangpu river. Along the roadside of the river, there are green belts, fountains, flower beds, squares, sculptures, seats and all kinds of courtyard lamps, which forms a zone of charming night scene showing the unique urban scenery of Shanghai, andtourists can enjoy the views of both sides of the Huangpu River.
How to Buy Entrance Tickets:
Price of Entrance Tickets:
The Bund is free for tourists to visits all day, while the seven classic historical buildings including: NO.1 Waitanyuan, Shanghai Peace Hotel, Bank of China Building, Pudong Development Bank Building, Shanghai Municipal Archives, Shanghai Telecom Museum and Shanghai Bund Historical Memorial Hall along the bund are open to the public for free appointment.
Opening Time: All day
 Notes: opening time of landscape lights: 19:00-23:00 in summer, 18:00-22:00 in winter
Price of Huangpu River tunnel for sightseeing:
The tunnel, connecting the Bund in Puxi and the Oriental Pearl Tower in Pudong , runs through the Huangpu River along the 647 meters long tunnel for 5 minutes with constant color changes.
| | |
| --- | --- |
| Single Trip | CNY 50 per person |
| Round Trip | CNY 70 per person |
Openign Time:
| | |
| --- | --- |
| Monday to Thursday | 08:00-22:30 |
| Friday to Sunday | 08:00-23:00 |
When is the best time to visit?
We highly recommended that the best times to visit the bund is night(19:00-20:00), because the bund becomes more attractive and charming with decoration of neon lights. It is likely for tourists to feel shuttling between the past and today with the modern high-tech neon lights and a variety of classical architecture enhancing each other's beauty and charms.
Tips: Visitors had better avoid the official holiday in China, because many Chinese citizens choose to travel on official holidays to ease the pressure of their work. As a result, many Chinese tourist attractions are overcrowded and traffic jams are common. Therefore, visiting China at this time will bring tourists a less pleasant travel experience.
Official Holidays in China
| | |
| --- | --- |
| Chinese New Year | Around January or February |
| Winter vacation | January-February |
| Labor Day | May1st -3rd |
| Summer vacation(for students) | July-August31st |
| Mid-Autumn Festival | Around mid-September |
| National Day | October 1st-7th |
How to get to the Bund?
Tourist can take Bus No.37, 307, 330 and 868 and get off at Zhongshan Dongyilu BeijingDonglu Station.
Take Bus No.33, 37, 55, 65, 305, 307, 317 and 330 and get off at Zhongshan Dongyilu NanjingDonglu Station.
Take Bus No.33, 55, 65, 123, 135, 145, 305, 317, 576 and 934 and get of at Zhongshan Dongyilu Hankoulu Station.
Taking Bus No.20 and get off at Jiujianglu Zhongshan Dongyilu Station is also available for tourists.
Take Bus No.71 and get off at Yanan Donglu Waitai Station.
Take Bus No.311, 316 and 320 and get off at Yanan Donglu Zhongshan yilu Station.
Tourists can also take City Sightseeing Bus Line 1, 3 and 5 and get off at Waitan Haiguan Dalou Station.
Tourists can take Line 2 or Line 10 and get off at East Nanjing Road Station, then walk along theEast Nanjing Road and can get to the Bund.
More Information
Booking Method
Step 1: You can directly book online or please feel free to share your tour plans or thoughts at

[email protected]

, our travel consultant will contact you within 12 hours.
Step 2: A small amount deposit will be required to book a tour. After deposit received, a detailed service voucher will be sent to you to confirm the booking.
Step 3: Balance due will be required 7-15 days ahead of your travel date.
If you have any further question, please feel free to contact us!
Email: [email protected]
Cellphone number: +86 15129005119
WhatsApp / Wechat ID: 008615129005119
Facebook: @xianholidaystravelagency
Our Tour Guide
The core of our service is excellent travel guides. Over 20 years, we have built up a considerable professional guide team that is knowledgeable, attentive and flexible. The most experienced and reliable guides will be arranged for your unique China tour. Our passionate guide team is full of contagious enthusiasm and keen interest to share culture and history in a pleasant manner. We are always glad at your service to lead you to explore a real China and experience authentic local life in China.
Our Driver and Vehicle
The first mission of our service is to ensure you feel safe and comfortable during your travel. The vehicles we use are air-conditioned, clean and well-maintained. Our drivers are all licensed drivers with many years of driving experience. Moreover, we offer free baby seats for families with little kids.
Meals
Food is a very important part of Chinese culture. You won't want to miss the opportunity to taste the real local Chinese food!
Buffet breakfast will be included in the hotel if you would like accommodation to be arranged by us. Having lunch at local restaurants close and convenient to the attractions you will visit, you would enjoy the local dishes in each city. Chinese style, Vegetarian or Muslim meals are all available. If you have any other diet requirements or allergies, please feel free to let us know, we will try our best to organize it.
For daily dinner, you are suggested to have it on your own when you are exploring each city in your own time, this way would be more flexible for you to choose food as per your interest and preference.
Free Inquiry: