Yu garden, a renowned classical garden in southern Yangtze, is located in the northeast of the old city of Shanghai with Fuyou road in the north, Anren street in the east and city god temple of Shanghai in the southwest. Yu Garden built in the years of Jiajing and Wanli of the Ming dynasty was originally a private garden, which covers about 20,000 square meters and has a history more than 450 years. And the owner of the garden is Pan Yunduan, who once served as governor of Sichuan province.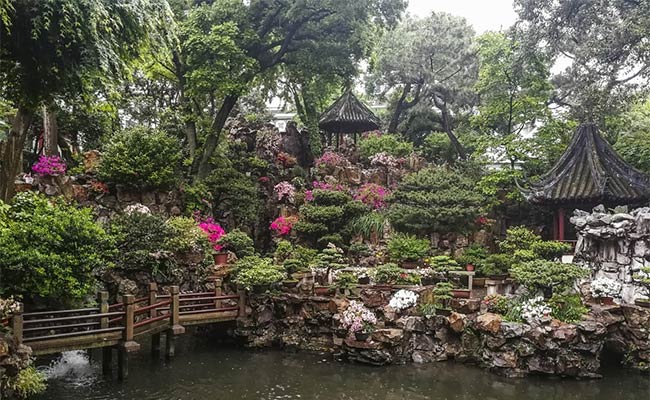 Basic Facts about the Yu Garden:
In order to let his father enjoy his old age in peace, Pan Yunduanbegan to build a garden in 1559(Ming dynasty), and finally, after more than 20 years of painstaking efforts, the Yu garden was built. "Yu" in Chinese means "peace and quiet", so the reason why it is named "Yu garden" is to please and bless his father.
Yu garden is now divided into six scenic spots: Inner Garden, Yuhua Hall, Huijing Chamber, Dianchun Hall, Wanhua Chamber and Sansui Hall. And what is the most famous in Sansui Hall is the Great Rockery, which is 14 meters high. What's more, it is thehighest rockery in the southern region of the Yangtze River.
The treasure of Yu garden is a well-known stone called "Exquisite Jade Rock" whichis the one of the three most famous stones in China. Exquiste jade rock, a typical Taihulake stone, is about 3 meters high, 1.5 meters wide, 0.8 meters thick and weighs about 3 tons with 72 holes. And the holes on the rock are as many as beehives, which can present the wonder of "a hundred holes flowing out water or a hundred holes smoking at the same time". If you want to take a good look of it, Yuhua Hall which is facing the stone is the best place for visitors to choose.
Visitors to Yu garden can not only enjoy the natural beauty of Jiangnan gardens, but also do shopping at the Yuyuan market outside of the entrance. Yuyuan market has various kinds of things for visitors to choose, such as food, jewelry, handicrafts, souvenirs and so on. And if you have a chance to go to Yu garden, don't forget to pay a visit to Nine Bend Bridge whichis around the entrance.
How to Buy Entrance Tickets:
Price of Entrance Tickets: The ticket price of the Yu garden is different in peak season(Apr. 1 to Oct.31) and low season(Nov.1 to Mar.31).
| | |
| --- | --- |
| Peak Season | CNY 40 |
| Low Season | CNY 30 |
| | |
| --- | --- |
| Opening Time | 8:45-16:45(stop entrancing time: 16:20 ) |
| Ticketing Time | 8:45-16:15 |
Official Holidays in China
| | |
| --- | --- |
| Chinese New Year | Around January or February |
| Winter vacation | January-February |
| Labor Day | May1st -3rd |
| Summer vacation(for students) | July-August31st |
| Mid-Autumn Festival | Around mid-September |
| National Day | October 1st-7th |
How to get to the Yu Garden?
Visitors can take Bus N 11, 26, 42, 64,126, 304, 920, 926, 930 or 969 and get off at  Xinbeimen Station, then walk to the Yu garden.
Visitors can also take City Sightseeing Bus Line 1or 3 to get the Yu garden.
Visitors can take Subway Line 1 and get off at Yuyuan Station, and exit from Exit 1, then walk toward south along Henan South Road and turn left at the crossing of Fuyou Road.