Shanghai Jinmao Tower, located at No. 88, Century Avenue of Pudong new area of Shanghai, is located in the center of Lujiazui finance and trade zone, facing Pudong new area in the east, Shanghai and Huangpu river in the west, Pudong Zhangyang Road trade zone in the south and the central green land of 100,000 square meters in the north. It covers an area of 24,000 square meters, with a total construction area of 290,000 square meters, and the main building is a building of tower shape, which is 88-story with 420.5 meters high and about 200,000 square meters. From the glass curtain wall of the building you can get a wide view of the modern urban scenery on both sides of the Huangpu river and the magnificent view of the Yangtze river estuary. As the symbol of the Shanghai and cross-century of China, Jinmao tower is a fusion of science and technology of contemporary architecture and history, and it is also a representative work of high-rise buildings of China in the 20th century.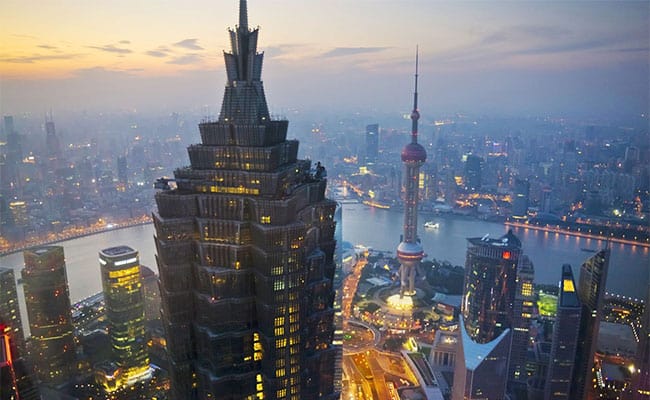 Basic Facts about the Shanghai Jinmao Tower:
The 1st-2ndfloors of Jinmao tower are the splendid lobby of the business area, and the 3rd -50th floors are column-free office areas; the 51st -52nd floors are the center for the electromechanical equipment, and floors 53rd-87th is the luxury five star hotel–Grand Hyatt Shanghai which was named "the highest hotel in the world" by the Guinness World Records in 2000. What's more, the 88th floor is the sightseeing hall, where visitors can not only enjoy the beautiful scenery, but also overlook the atrium of the hotel here, and the 28 banisters of the loop corridor that is 27 meters in diameter are illuminated by neon lights, which looks shiny and is called "time tunnel" by the architects.
Visitors can enjoy the beautiful scenery on the 88th floor, and then have a wonderful leisure time on the 87th floorwhich both iscafe and an art gallery. The gallery has collected many exquisite Taihu lake stones, and the most precious one is valued at nearly 200,000 yuan. In addition, the afternoon tea of Grand Hyatt Shanghai is the best in Shanghai, and guests can taste many creative and delicious desserts.
There are 79 elevators in Shanghai Jinmao tower, among which twosuper high-speed observation elevators taking 35 people once vertically runs 9.1 meters per second, and they can transfertourists from the first floor to the 88th floor in only 45 seconds, making people feel unprecedented speed experience.
Jinmao Tower has an interesting and challenge project called "JinmaoSkywalk"on the 88th floor for visitors, which is the tallest outdoor skywalk of the super-tall building in the world. It is6 meters from the ground with a glass skywalk of 60 meters long and 1.2 meters wide and 340.6 meters from the ground, so visitors here can take about 20 minutes to do a Jinmao Skywalk by themselves and get a wide view of the modern urban scenery on both sides of the Huangpu river.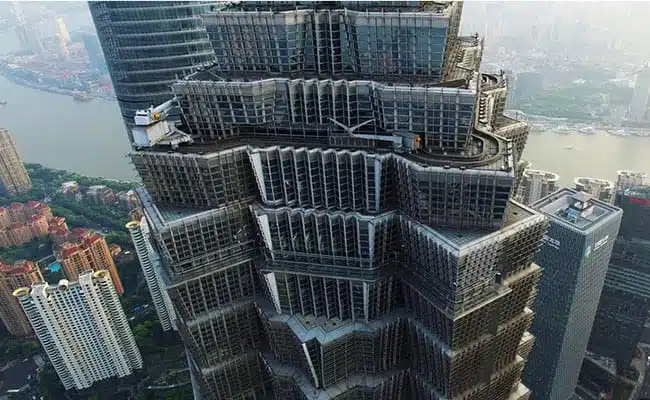 How to Buy Entrance Tickets :
 ①Price of Entrance Tickets:
| | |
| --- | --- |
| Admission Fee of the Sightseeing Hall on the 88th Floor | CNY 120 |
| Tickets for Jinmao Skywalk | CNY 388 |
Opening Time: 8:30 – 21:00
When is the best timeto visit?
We highly recommend that the best time to visit Jinmao tower is a Sunny day or at night. Because the visibility is very clear during the sunny day, so it is conducive for tourists to view and take photos and have a better tourism experience; It is also a good choice to enjoy the charming night view of Shanghai at the sightseeing hall on the 88th floor.
Tips: Visitors had better avoid the official holiday in China, because many Chinese citizens choose to travel on official holidays to ease the pressure of their work. As a result, many Chinese tourist attractions are overcrowded and traffic jams are common. Therefore, visiting China at this time will bring tourists a less pleasant travel experience.
Official Holidays in China
| | |
| --- | --- |
| Chinese New Year | Around January or February |
| Winter vacation | January-February |
| Labor Day | May1st -3rd |
| Summer vacation(for students) | July-August31st |
| Mid-Autumn Festival | Around mid-September |
| National Day | October 1st-7th |
How to get to Jinmao Tower?
Bus
Visitors can take No.82, 85, 314, 795, 798, 799, 971, 992 and Lujiazui Jinrongcheng Line 4 and get off at the Lujiazui Subway Station, then walk toward the east about 300 meters along the Century Avenue.
Visitors can also take Sightseeing Line 2 or Lujiazui Jinrongcheng Line 2 and get off at the Jinmao Tower Station.
Subway
Take Subway Line 2 and get off at Lujiazui Station, then walk about 300 meters can get to the Jinmao Tower.
More Information
Booking Method
Step 1: You can directly book online or please feel free to share your tour plans or thoughts at

[email protected]

, our travel consultant will contact you within 12 hours.
Step 2: A small amount deposit will be required to book a tour. After deposit received, a detailed service voucher will be sent to you to confirm the booking.
Step 3: Balance due will be required 7-15 days ahead of your travel date.
If you have any further question, please feel free to contact us!
Email: [email protected]
Cellphone number: +86 15129005119
WhatsApp / Wechat ID: 008615129005119
Facebook: @xianholidaystravelagency
Our Tour Guide
The core of our service is excellent travel guides. Over 20 years, we have built up a considerable professional guide team that is knowledgeable, attentive and flexible. The most experienced and reliable guides will be arranged for your unique China tour. Our passionate guide team is full of contagious enthusiasm and keen interest to share culture and history in a pleasant manner. We are always glad at your service to lead you to explore a real China and experience authentic local life in China.
Our Driver and Vehicle
The first mission of our service is to ensure you feel safe and comfortable during your travel. The vehicles we use are air-conditioned, clean and well-maintained. Our drivers are all licensed drivers with many years of driving experience. Moreover, we offer free baby seats for families with little kids.
Meals
Food is a very important part of Chinese culture. You won't want to miss the opportunity to taste the real local Chinese food!
Buffet breakfast will be included in the hotel if you would like accommodation to be arranged by us. Having lunch at local restaurants close and convenient to the attractions you will visit, you would enjoy the local dishes in each city. Chinese style, Vegetarian or Muslim meals are all available. If you have any other diet requirements or allergies, please feel free to let us know, we will try our best to organize it.
For daily dinner, you are suggested to have it on your own when you are exploring each city in your own time, this way would be more flexible for you to choose food as per your interest and preference.
Free Inquiry: