Nanjing road is the earliest commercial street in Shanghai after opening of Shanghai as a commercial port. It stretches 5.5km from the Bund in the east to Yan'an East Road in the west and across Jing'an and Huangpu districts. It is divided into east and west sections by Middle Tibet Road. Therefore, when it comes to Nanjing Road, people refer to the two of the top ten commercial centers in Shanghai: one is Nanjing East Road and another is Nanjing West Road. Nanjing East Road (including Nanjing Road Pedestrian Street) is mainly a fair-price commercial and tourist area; Meanwhile, Nanjing West Road (including Jing'an temple area) is the most expensive fashion commercial block in Shanghai with the highest rent of shops, mainly for luxury goods and high-end consumer groups.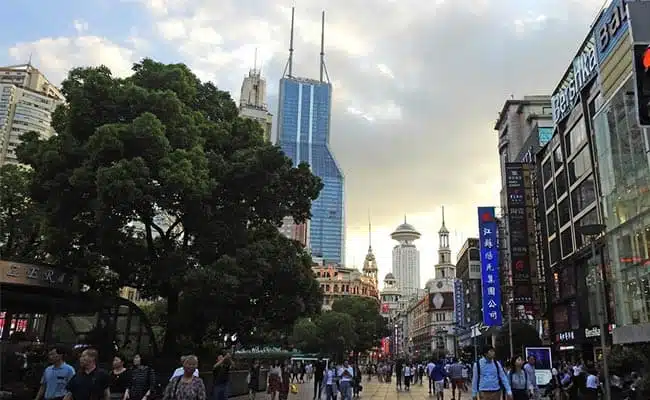 Basic Facts about the Nanjing Road:
Nanjing West Road, originally named Jing'anTempleRoad, was built in the 1860s. Nowadays, Nanjing West Road is the part of "the first Chinese commercial street" — Nanjing Road and cross Huangpu and Jing 'an two areas. The essence section is concentrated in Jing 'an district, from Chengdu North Road in the east to Yan 'an West Road in the west with a total length of 2933 meters. There are many famous shops which collect the best thing in commercial district. The commercial district gathers more than 1200 well-known brands, more than 750 famous international brands, and more than 90 percent of the top brands have opened flagship stores here, so, it is the highest level shopping place in Shanghai.
Nanjing East Road starts from the Waitai Zhongshan Dongyilu in the east and to theMiddle TibetRoad in the west with the total length of 1599 meters, and in the west part of Henan Road is the Pedestrian Street. From Nanjing East Road, visitors can go to the famous scenic spot such as the Bund, the Oriental pearl, International World Financial Center, Jinmao Tower or have a panoramic view of the Bund of Huangpu river and so on. Nanjing Road pedestrian street is about 1200 meters long with many kinds of shops on both sides. The style of architecture here combines modern buildings with old buildings of European-style, and visitors here can do some shopping in the many department stores and time-honored stores, and have a try on a trolley car called"Dangdang car" that looks like a miniature version of an old tram in old Shanghai.
Visitors can not onlyappreciatethe charming night scenery, but also buy some special souvenirs and taste a lot of delicious food here. There are many famous time-honored delicacies such as biscuits of Taikang, cakes and pastries of Shen Dacheng, smoked fish and moon cakes with meat fillings of Zhen Lao Da Fang, Cantonese cuisine and Guangdong dimsum of Xinya and so on, and nowadays many Shanghai citizens still do their New year's shopping here. What's more, if visitors want to enjoy the culture and food of romantic old Shanghai, the Peace Hotel located on Nanjing East Road is you best choice.
When is the best time to visit?
The best time to visit Nanjing Road is Spring and Autumn, because weather is pleasant during these months, which is conducive for people to stroll and take photos.
Tips: Visitors had better avoid the official holiday in China, because many Chinese citizens choose to travel on official holidays to ease the pressure of their work. As a result, many Chinese tourist attractions are overcrowded and traffic jams are common. Therefore, visiting China at this time will bring tourists a less pleasant travel experience.
Official Holidays in China
| | |
| --- | --- |
| Chinese New Year | Around January or February |
| Winter vacation | January-February |
| Labor Day | May1st -3rd |
| Summer vacation(for students) | July-August31st |
| Mid-Autumn Festival | Around mid-September |
| National Day | October 1st-7th |
How to get to the Nanjing Road?
Bus
Visitors can take Bus No.18, 46, 49, 108, 123, 145, 167, 312, 451, 518, 802, 916, 925 and Shang-Chuan Special Line and get off at People's Square Station.
Visitors can also take Bus No.537,802 and 930 and get off at People's Square Station.
Subway
Take Subway line 1 and 8, then get off at People's Square Station.
If tourists take Subway line 2, they can get off at Nanjing West Road Station, People's Square Station or Nanjing East Road Station.
Tourists can take Subway line 10 and get off at Nanjing East Road Station.
Tourists can also take Subway line 12 or 13 and get off Nanjing West Road Station.