Xintiandi, near Huaihai Road, has transformed from the original residence function of Shikumen longtang (local lane) of old Shanghai into a must-visit mall which integrates fashion, leisure, culture, food and shopping for visitors home and abroad and filled with various kinds of stores. When you roam around it, you will find the footpath made of black bricks and many buildings in an antique architectural style, which may make visitors feel like in the 1920s or 1930s of old Shanghai. However, when you step into each building, you will find it is very modern and stylish. You can also tour in some small longtang(local lane) with few people and go around it to take some beautiful pictures.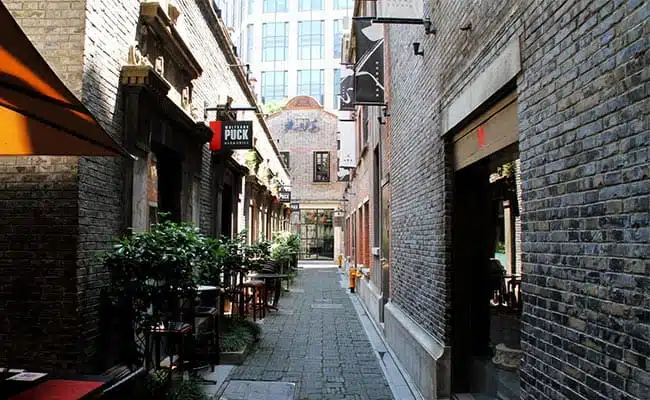 Basic Facts about the Xintiandi:
Xintiandi is divided into two parts: Nanli and Beili. Nanli is adjacent to the Xintiandi Station of subway Line 10. There are a number of distinctive stores, so visitors here can not only eat many delicious food such as a famous Chinese cuisine Ding Tai Fung, Japanese cuisine koyama, Pizza Marzano of Italy, Godiva chocolate and so on, but also buy something in Xintiandi shopping mall, which has many international luxury goods brand, fashionable brands, theatre, fitness center and so on.
Beili is adjacent to huaihai road business circle. It is composed of several old houses of Shikumen and it isin modern style. In addition to famous restaurants such as South beauty, Caidie Xuan and so on, there are also many bars in Beilito enrich nightlife of visitors.
Travel Tips:
There are also many restaurants at the end of the Xintiandi square (No.6 Nanli) with different prices and more choices for tourists.
Some famous bars and restaurants inXintiandiare almost full every day, so you'd better book in advance.
If you have time, it is also worth visiting the site of the First Conference of the CPC on Xingye Road and the Taiping Bridge Park next toNanli.
When is the best time to visit?
The best time to visi Xintiandi is Spring and Autumn, because weather is pleasant during these months, which is conducive for people to stroll and take photos.
Tips: Visitors had better avoid the official holiday in China, because many Chinese citizens choose to travel on official holidays to ease the pressure of their work. As a result, many Chinese tourist attractions are overcrowded and traffic jams are common. Therefore, visiting China at this time will bring tourists a less pleasant travel experience.
Official Holidays in China
| | |
| --- | --- |
| Chinese New Year | Around January or February |
| Winter vacation | January-February |
| Labor Day | May1st -3rd |
| Summer vacation(for students) | July-August31st |
| Mid-Autumn Festival | Around mid-September |
| National Day | October 1st-7th |
How to get to the Xintiandi?
Visitors can take Bus No.42, 911 and 926 and get off at Huangpi South Road Station.
Visitors can take Subway Line 1 and get off at Huangpi South Road Sation, then turn left from the Exit 2, and walk about 200 meters along Madang Road , and finally turn left at the intersection of Taicang Road to reach it.
Take Subway Line 10 or 13 and get off at Xintiandi Station.