Fujian Tulou Featured Activities
1. Fujian Hakka Culture Experiences
From the visit to the Tulou, a shared building functioned like community, you will catch a glimpse of the underneath culture of Hakka people who are the hosts of the miraculous architectures. Obviously, through the buildings, you can see Hakka people are a "hiving" nation attaching importance on family solidarity, ages hierarchy, and education. If you notice enough details in Tulou, you will surely be impressed by the couplets on the doors and middle halls as well as the relics of the family private schools which tells you how Hakke people emphasized education for their younger generations. Don't be shy to talk with those friendly Hakke people and don't worry the language barrios, their smiles, and gestures plus explanation from tour guides express their culture.
Hakka song is a shining star among those Hakka cultural elements. It has been spread over Guangdong Province for thousands of years as an important way for Hakka people to express emotions and wishes (love the major theme). You might not understand the lyrics, but that doesn't affect you loving it by the beautiful melody and singers' enjoying faces. If you are lucky enough to meet a local wedding or a festival celebration, you will be deeply impressed by the interesting Hakka celebrations with complicated rites.
---
2. Fujian Hakka Food
Hakka food is reputed as "Living Fossil" in ancient Chinese cuisine culture, formed together with the Hakka nation in the remote old days. There mainly are 3 categories in Hakka cuisine: staple food, dishes & snacks, tea & wine. Rice is the dominant staple food for Hakka people who could amazingly cook so many different foods with rice. Featured Hakka dishes like pork with salted vegetable, fish in sour sauce, chicken baked in salt, and local Tofu are worthy of a try. In Tulou, you can see many hosts in Tulou are selling teas and hand-made wine, you can buy some as souvenirs but please do remember to bargain before paying money.
---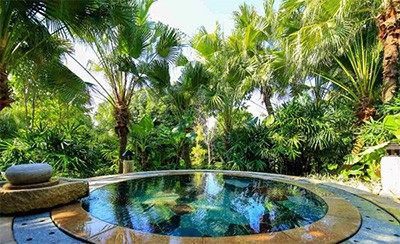 3. Hot Spring
The Tulou areas are also rich in hot spring resources. It's therefore popular for travelers to take a Xiamen tour package of Tulou cultural experience and hot spring. Tianzi Hot Spring Resort is close to the Tulou Scenic Areas and recommended with its nice environment, superb hot spring water, and the advantaged equipment. Injecting traditional and modern health-staying culture into hot spring, Tianzi Hot Spring Resort provides you a break from the busy life to relax both your body and spirit.
---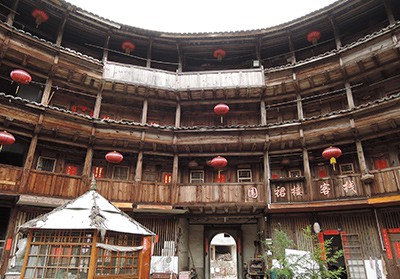 4. Tulou Hotels
Staying overnight at a hotel or hostel inside the Tulou building would be a WOW moment during your Fujian Tulou trips. Go through the wooden corridor, step on the narrow stairs, push the door and go into your Hakka-style room, chat with the local people under the gentle light in the Tulou door, listen to the toothless old people with their remote stories, immerse yourself into the peaceful countryside…It's not merely sleeping at a strange hotel, it's a real culture exploration of a marvelous folk dwelling. No need to worry about the conditions of Tulou hotels, the most provides 24-hour waters, air-conditioners, independent toilet, and other necessary equipment.