Fujian Tulou (also famous as Hakka earth building complex), nestled in the mountains of South and West Fujian, boast the unique architectural style and profound history, earn the titles of "Architectural Treasure in the World" and "Oriental Old Castle". In 2008, the 46 Tulou buildings in Yongding County, Nanjing County, and Hua'an County were listed as the World Cultural Heritage by UNESCO and soon amazes the whole world. Today, Fujian Yongding Tulou and Nanjing Tulou with the hidden Hakka culture have been top things to do around Xiamen and other Fujian cities, fascinating endless travelers each year.
Are you preparing for a Tulou Tour? Check here for more Tulou knowledge and Tulou travel information.
Are you looking for a Tulou Tour? Check here for the best Fujian Tulou tour options. Or directly inquire us at info@chinaxiantour.com for tailor-made Tulou travel.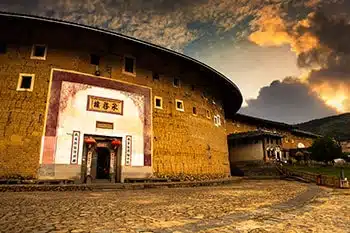 In 2008, the 46 Tulou buildings in Yongding County, Nanjing County, and Hua'an County were listed as the World Cultural Heritage by UNESCO and soon amazes the whole world.
The Most Popular Tulou Scenic Areas
Overview of Fujian Tulou Map
Yongding Tulou Scenic Area
Nanjing Tulou Scenic Area
Fujian Tulou Featured Activities
1. Fujian Hakka Culture Experiences
From the visit to the Tulou, a shared building functioned like community, you will catch a glimpse of the underneath culture of Hakka people who are the hosts of the miraculous architectures. Obviously, through the buildings, you can see Hakka people are a "hiving" nation attaching importance on family solidarity, ages hierarchy, and education. If you notice enough details in Tulou, you will surely be impressed by the couplets on the doors and middle halls as well as the relics of the family private schools which tells you how Hakke people emphasized education for their younger generations. Don't be shy to talk with those friendly Hakke people and don't worry the language barrios, their smiles, and gestures plus explanation from tour guides express their culture.
Hakka song is a shining star among those Hakka cultural elements. It has been spread over Guangdong Province for thousands of years as an important way for Hakka people to express emotions and wishes (love the major theme). You might not understand the lyrics, but that doesn't affect you loving it by the beautiful melody and singers' enjoying faces. If you are lucky enough to meet a local wedding or a festival celebration, you will be deeply impressed by the interesting Hakka celebrations with complicated rites.
---
2. Fujian Hakka Food
Hakka food is reputed as "Living Fossil" in ancient Chinese cuisine culture, formed together with the Hakka nation in the remote old days. There mainly are 3 categories in Hakka cuisine: staple food, dishes & snacks, tea & wine. Rice is the dominant staple food for Hakka people who could amazingly cook so many different foods with rice. Featured Hakka dishes like pork with salted vegetable, fish in sour sauce, chicken baked in salt, and local Tofu are worthy of a try. In Tulou, you can see many hosts in Tulou are selling teas and hand-made wine, you can buy some as souvenirs but please do remember to bargain before paying money.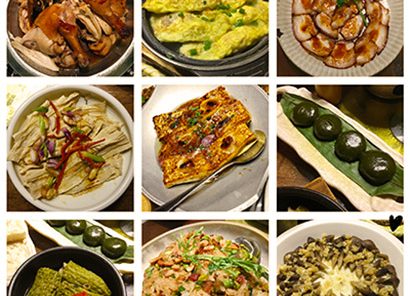 ---
3. Hot Spring
The Tulou areas are also rich in hot spring resources. It's therefore popular for travelers to take a Xiamen tour package of Tulou cultural experience and hot spring. Tianzi Hot Spring Resort is close to the Tulou Scenic Areas and recommended with its nice environment, superb hot spring water, and the advantaged equipment. Injecting traditional and modern health-staying culture into hot spring, Tianzi Hot Spring Resort provides you a break from the busy life to relax both your body and spirit.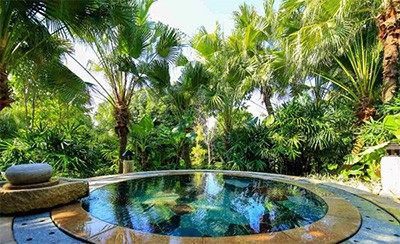 ---
4. Tulou Hotels
Staying overnight at a hotel or hostel inside the Tulou building would be a WOW moment during your Fujian Tulou trips. Go through the wooden corridor, step on the narrow stairs, push the door and go into your Hakka-style room, chat with the local people under the gentle light in the Tulou door, listen to the toothless old people with their remote stories, immerse yourself into the peaceful countryside…It's not merely sleeping at a strange hotel, it's a real culture exploration of a marvelous folk dwelling. No need to worry about the conditions of Tulou hotels, the most provides 24-hour waters, air-conditioners, independent toilet, and other necessary equipment.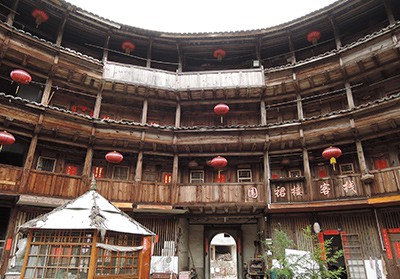 Interesting Facts about Tulou (Earth Building)
How Did Tulou Coming into Being?
Wars and fights had been frequently happened in the west and south of Guangdong due to the conflicts among Hakka and another minority, local regional forces and government forces, this family and that family, and even people and monsters in the mountains…which set a high demand to local people about dwelling safety. Fujian Tulou was therefore coming into being. Immigrated from the Zhongyuan (the middle of ancient China), Hakka people added the elements of the quadrangle courtyard into the local geographical conditions and created Tulou building with thick defensive walls. The tall and firm Tulou perfectly allows many people to stay together at the same time and store enough food, plus water from the wells, enabling people to stay inside of the building long-term for self-defense.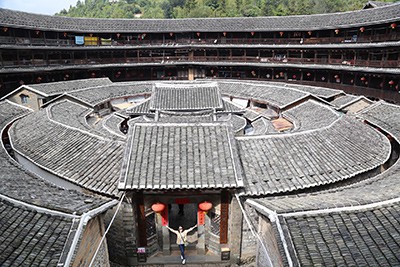 Tulou: An Impenetrable Defensive System
Tulou is an ideal dwelling for local Hakka people who had been experienced endless wars in the ancient people. There are many architectural details of Tulou telling you its exceptional defensive functions.
External Walls: The foot of the walls usually was pebbled to the highest flood level with the bigger end of pebbles inward and smaller end outward, which well prevented the enemy from levering those stones from outside. The basement of the wall is at least one meter, therefore it's impossible to burrow to break into Tulou.
Holes: The windows of the bottom walls are usually small and closed to stop being attacked. Some Tulou also set embrasures on the top to shot the enemy.
Entrance Door: The doors were made of the fire-proof wood and set with water channel at beam over the door to connect the water tank on the second floor.
Underground Channels: Some Tulou used the inner yard's drains as escape ways.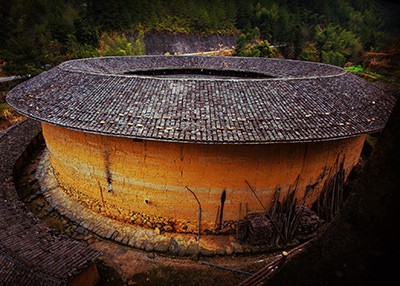 Couplets Can Be Seen Everywhere in Tulou
Couplets were introduced into the remote Tulou in mountains with Han People immigrating to Southern China, thereafter, Han culture from Zhongyuan regions and Hakka culture have been fused and inherited in the thousands of couplets.
Each Tulou has its own name with the careful research from the host. Moreover, even the living room, bedroom, and kitchen have individual couplets. Ancestral Hall and study obviously collect the most couplets in a Tulou with the themes of educations about how to be a good person, how to think about life, how to study, how to get along with families, friends, and neighbors, etc. You will learn the culture of traditional Chinese family instructions from reading the couplets in Tulou.