Fujian Travel Guide
Fujian is a coastal province located in the southeastern part of China. It has a rich history that dates back to the Neolithic period and has been a significant center for trade and commerce for centuries. The province is known for its beautiful landscapes, vibrant culture, and delicious cuisine.
Fujian has a diverse topography, with mountains, rivers, and coastal areas. It is home to several famous scenic spots, including the Wuyi Mountains, Gulangyu Island, and the Taining Global Geopark. The province is also known for its rich cultural heritage, including UNESCO World Heritage sites like the Fujian Tulou and the historic city of Quanzhou. Fujian is also famous for its tea culture, with Wuyi tea being one of the most famous and valuable teas in the world. Additionally, Fujian cuisine is well-known for its seafood dishes, soups, and snacks, and is considered one of the eight major culinary traditions in China.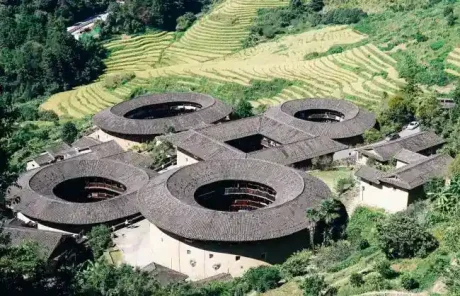 Chinese: 福建 fú jiàn
Location: Southeast China
Population (urban area): 4,1880,000
Why Visit Fujian
1. Exploring the rich culture and history of Fujian is an excellent opportunity to learn about the ethnic minorities that call the province home, including the Hokkien, Hakka, She, and Hui, and the region's extensive history of maritime trade and migration.
2. Admiring Fujian's natural beauty and diversity is a must-do activity, with the province boasting a long coastline dotted with islands, bays, and beaches, as well as mountainous areas with lush forests, waterfalls, and lakes.
3. Experiencing Fujian's diverse and delectable cuisine is a treat for the taste buds, with its seafood, soups, noodles, snacks, and tea culture being world-renowned; the region also has eight distinct regional styles, such as Fuzhou, Quanzhou, Xiamen, and Zhangzhou.
4. Visiting Fujian's UNESCO World Heritage sites is an unforgettable experience, including the Wuyi Mountains, with its diverse flora and fauna, ancient temples, and cultural relics, and the Fujian Tulou, a collection of earthen buildings with unique architecture and communal living traditions.
5. Enjoying the combination of modern and ancient attractions in Fujian's cities is a must, including Fuzhou with its more than 2,000-year-old history, Xiamen with its romantic atmosphere and colonial past, Quanzhou with its multicultural heritage, and Nanping with its many ancient villages and bridges.
Top Things to Do in Fujian
1. Explore the Fujian Tulou, a cluster of earthen buildings that boast distinctive architecture and communal living traditions. Immerse yourself in the culture and history of the Hakka people who inhabit this area.
2. Take a trip to Gulangyu Island, a car-free paradise that exudes a romantic atmosphere and features a colonial past. Marvel at the scenic views, historical buildings, museums, and gardens that make this island a must-visit destination.
3. Visit the Wuyi Mountains, a picturesque region that boasts a diverse range of flora and fauna, ancient temples, and cultural relics. Participate in a thrilling rafting excursion along the Nine Bend Stream or witness the mesmerizing Impression Da Hong Pao performance.
4. Stroll around Sanfang Qixiang, a historical block in Fuzhou that is home to well-preserved ancient buildings, lanes, and alleys. Admire the architectural styles, cultural relics, and local snacks that make this location a must-see destination.
5. Experience the beachy vibe of Xiamen, a coastal city with a modern feel and a rich cultural heritage. Take in the sights of Xiamen University, Nanputuo Temple, Zhongshan Road, and Hulishan Fortress, and embrace the fun and vibrancy of this coastal city.
6. Immerse yourself in different cultures in Quanzhou, a historical port city with a multicultural heritage. Visit sites such as Qingjing Mosque, Kaiyuan Temple, Guandi Temple, Maritime Museum, and Luoyang Bridge, and learn about the diverse history and culture of this region.
7. Take a trip to Meizhou Island, the birthplace of Mazu, the goddess of the sea, located in Putian. See the landmarks such as Meizhou Mazu Temple, Mazu Cultural Park, Mazu Statue Square, and Aoshan Bay, and discover the fascinating history and myths that surround this area.
Read more about Top Things to Do in Fujian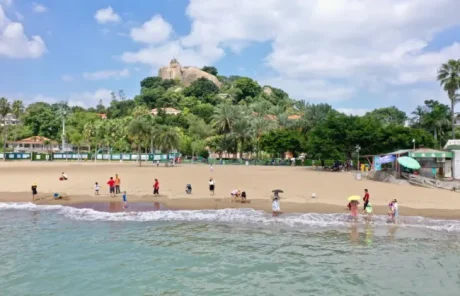 Fujian Weather
Fujian has a subtropical monsoon climate characterized by mild temperatures and abundant rainfall throughout the year. The region experiences four distinct seasons, with each offering its own unique weather conditions and attractions.
The best time to visit Fujian is during the spring and autumn seasons, which offer pleasant weather conditions and fewer crowds. Spring (March to May) is characterized by mild temperatures and blooming flowers, while autumn (September to November) is marked by comfortable temperatures and colorful foliage.
Here are some of the best places to visit in Fujian in each season:
Recommended places to visit in Spring: Xiamen Botanical Garden, Gulangyu Island
Recommended places to visit in Summer: beaches of Xiamen, Quanzhou, and Wuyishan
Recommended places to visit in Autumn: Kaiyuan Temple in Quanzhou and the Nanputuo Temple in Xiamen
Recommended places to visit in Winter: Xiapu Mudflat, Quanzhou, Fuzhou, Wuyi Mountain
Read more about Fujian Weather
Fujian Transportation
How to get to Fujian
By Air: Fujian has several airports, including Xiamen Gaoqi International Airport, Fuzhou Changle International Airport, and Quanzhou Jinjiang International Airport, which offer domestic and international flights.
By Train: Fujian is well-connected by train, with high-speed trains running from major cities in China, such as Beijing, Shanghai, Guangzhou, and Shenzhen, to cities like Xiamen, Fuzhou, and Quanzhou.
By Bus: Several bus companies operate long-distance buses to Fujian from nearby provinces such as Guangdong, Zhejiang, and Jiangxi.
By Train: Fujian has an extensive rail network, and high-speed trains operate between major cities like Fuzhou, Xiamen, and Quanzhou. Train travel is convenient, comfortable, and affordable, making it an excellent way to get around the province.
By Bus: Buses are another affordable way to travel around Fujian, with a network of intercity and local buses serving most cities and towns. It is a good option for those who want to explore the countryside or travel to smaller towns.
By Taxi: Taxis are widely available in Fujian's cities and towns, and they offer a convenient and comfortable way to get around. However, taxi fares can be higher than other forms of transportation, especially during peak travel times.
By Car: Visitors can rent a car or hire a private car to travel around Fujian. However, driving in China can be challenging for foreigners, and it is essential to have a Chinese driving license or an International Driving Permit.
By Bicycle: Cycling is a popular way to explore Fujian's countryside and scenic areas, with many bike rental shops available in cities like Xiamen and Fuzhou.
Read more about Fujian Transportation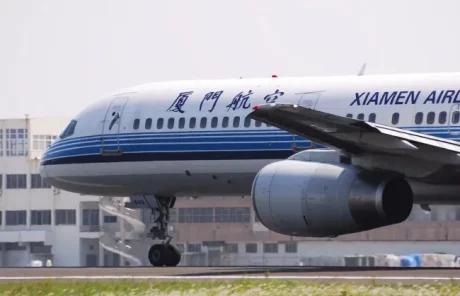 Tips for Traveling in Fujian
Prepare for the climate: Fujian's climate is warm and humid year-round, but temperatures and rainfall vary by season and location – pack accordingly.
Learn some local dialects: Fujian is a linguistically diverse province, with many different dialects spoken by various ethnic groups – learning some basic words and phrases can help with communication and show respect for the culture.
Enjoy the local cuisine: Fujian is renowned for its seafood, soups, noodles, snacks, and tea culture, with eight major regional cuisine styles – try local delicacies made with regional ingredients like bamboo shoots, mushrooms, and seaweed, and don't forget to taste the famous Oolong tea produced in Fujian.
Respect local customs: Each ethnic group in Fujian has its unique customs and traditions, including festivals, ceremonies, costumes, architecture, and more – respect their beliefs and practices when visiting ethnic villages or temples.
Plan your itinerary well: Fujian is a vast province with many attractions and destinations to explore, so choose regions or cities based on personal interests and time, and consider combining the trip with other nearby provinces or cities – public transportation like trains or buses is available to travel within or between cities or regions.