Fuzhou Travel Guide
Fuzhou, situated in the eastern region of Fujian province, China, is the provincial capital and one of its most populous cities. It is located on the north bank of the estuary of the Min River, near the East China Sea.
The city has a rich cultural heritage and a long history spanning over two thousand years, making it a popular tourist destination.
Visitors can explore its natural and man-made attractions, including mountains, temples, gardens, towers, bridges, and the famous Fujian Tulou. Additionally, Fuzhou serves as an open coastal city and is the center for transportation, politics, and the economy in the province.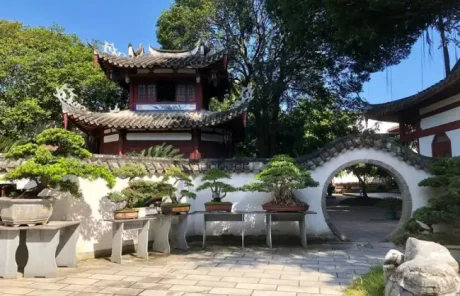 Chinese: 福州 fú zhōu
Location: Eastern Fujian, The Capital City of Fujian Province
Population (urban area): 8,320,000
Why Visit Fuzhou?
Discover the enchanting Sanfang Qixiang alleys, where ancient cobblestone paths and traditional Ming and Qing architecture offer a serene escape from the bustling city.
Immerse yourself in Fuzhou's rich culture by attending a Minju performance, also known as Fuzhou Opera, a unique form of opera that incorporates the Fuzhou dialect and spoken lines.
Embark on a picturesque cruise up the Min River, departing from the pier across from Yuanhongcheng, and take in the river's breathtaking views while savoring a cup of tea and admiring the moon and lanterns.
Indulge in Fuzhou's famous fish balls, a delectable local specialty that has been a part of the city's cuisine for centuries.
Explore the city's historical sites, ancient dwellings, charming alleys, and age-old temples that offer a glimpse into Fuzhou's rich history and culture.
Top Attractions in Fuzhou
Three Lanes and Seven Alleys
Fuzhou National Forest Park
Other Top Things to Do in Fuzhou
Try local delicacies: Fuzhou is known for its delicious local cuisine, including fish balls, oyster omelettes, and Fuzhou-style noodles. Be sure to try some of these local specialties during your visit.
Shop at Wuyi Square: This bustling shopping area is home to a wide variety of shops, restaurants, and entertainment venues. It's a great place to shop for souvenirs and gifts.
Attend a Minju performance: Minju, also known as Fuzhou Opera, is a unique form of opera that incorporates the Fuzhou dialect and spoken lines. Attending a performance is a great way to experience Fuzhou's rich culture.
Relax in a hot spring: Fuzhou is home to several hot springs that are believed to have healing properties. Visitors can relax in the mineral-rich waters and enjoy the beautiful surroundings.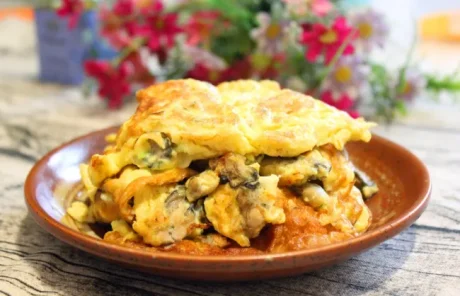 Fuzhou Weather and Best Time to Visit Fuzhou
Fuzhou boasts a warm and humid subtropical monsoon climate, with a short winter and a long summer. The city receives abundant rainfall, particularly from May to August, which coincides with the typhoon season. The average annual temperature is approximately 19.6°C (67.28°F), with January and February being the coldest months and July and August being the hottest. Although the temperature range is not significant, extreme cold or heat is rare.
The ideal time to visit Fuzhou is during autumn and winter, specifically from October to December. During these months, the weather is pleasant with cool temperatures and plenty of sunshine, and the trees retain their greenery. It is the perfect time to explore Fuzhou's natural and cultural attractions while enjoying the refreshing weather.
Fuzhou Transportation
How to Get to Fuzhou
By air: 
Fuzhou Changle International Airport (FOC) is the city's main airport and serves approximately 90 domestic and international cities. It is located about 50 kilometers (31 miles) from the city center, and visitors can take airport shuttle buses or taxis to reach their destination.
By train: 
Fuzhou has two major railway stations – Fuzhou Railway Station and Fuzhou South Railway Station – that operate high-speed trains to many cities in China, including Beijing, Shanghai, Guangzhou, Shenzhen, Xiamen, Nanjing, and Hangzhou. Visitors can take city buses or metro lines to reach the railway stations from the city center.
By long-distance bus:
Fuzhou has three main long-distance bus stations – South Bus Station, North Bus Station, and West Bus Station – that offer buses to nearby cities and provinces, such as Xiamen, Quanzhou, Putian, Wenzhou, and Ningbo. The bus stations are easily accessible by city buses.
By ferry:
Mawei Port in Fuzhou offers ferries to and from Matsu Islands in Taiwan. The ferry terminal is located approximately 25 kilometers (16 miles) from the city center, and visitors can take buses or taxis to reach the port.
Metro:
Fuzhou has a well-established metro system, with six lines currently in operation and more under construction. The metro can take you to many popular attractions in the city, including Sanfang Qixiang, West Lake Park, Fujian Provincial Museum, and Yongquan Temple. The fare for the metro ranges from CNY 2 to CNY 9, depending on the distance traveled.
Bus:
Fuzhou has an extensive network of city buses that cover most areas of the city. The bus fare is usually CNY 1 or CNY 2, and payment can be made by cash or transportation card. Although the buses are a cheap and convenient way to get around, they can be crowded and slow during peak hours.
Taxi:
Taxis are readily available in Fuzhou, and you can either hail them on the street or book them online. The basic taxi fare starts from CNY 10 for the first 3 kilometers (1.9 miles), with an additional charge of CNY 2 for each additional kilometer (0.6 mile) and a surcharge of CNY 1 for fuel. Taxis are a fast and comfortable way to travel, but they can be more expensive and harder to find during rush hours or inclement weather.