One Day Chengdu Highlight Tour
Private tour guide + Driver + Vehicle + Entrance fees

Yes

Start from

$55

per person
Tour Overview
Chengdu is the "first batch of national historical and cultural cities" and "China's best tourist city". It has a history of more than three thousand years. As one of China's top ten ancient capitals, Chengdu boasts many historical sites and cultural landscapes such as Dujiangyan, Wuhou Temple, Du Fu Thatched Cottage, Jinsha Site, Mingshu King Mausoleum, Wangjiang Tower, Qingyang Palace, etc. In addition, the UNESCO Creative Cities Network awarded it the title of "City of Food". It is so attractive due to its leisure life style, the snacks, and lovely pandas. This one day private guided tour will lead you to see the most highlight things in Chengdu and you will definitely love this wonderland.
Highlights of this tour:
*Take a close encounter with the lovely baby pandas in Chengdu Giant Panda Base.
*Experience romance and leisure, and culture of the Three Kingdoms and Chengdu folk customs in the charming block–Jinli Old Street
*Observe how pandas eating bamboos, playing with their partners and sleeping.
*Challenge your taste bud to enjoy the real Sichuan cuisine.
*Experience Chengdu's local life by playing Mahjong with local people.
AM: In the morning at about 08:30, your guide and driver will meet you in your hotel lobby and escort you to Chengdu Giant Panda Base, which is well known for the protection and breeding of the endangered giant pandas which are unique to China. The base is definitely a highlight for most visitors to Chengdu. There are adorable pandas everywhere. You can watch them eating bamboo, playing with each other, and of course sleeping. Your tour guide will navigate you through the huge area, share some information about the pandas, and help you take amazing photos.
Noon: Lunch on your own.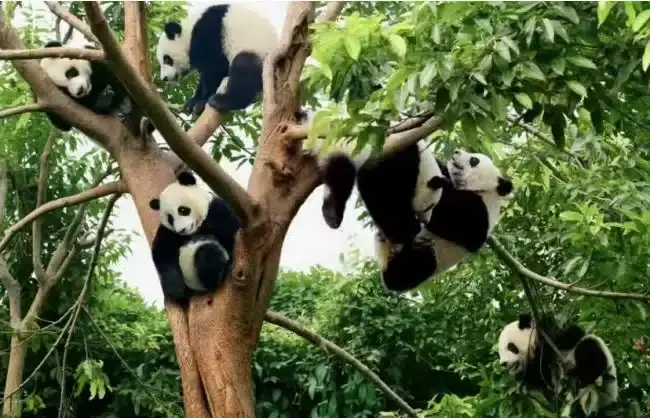 PM: After lunch, continue to visit Wuhou Temple, which is of great historical significance for Chinese people. It was built in memory of the founding emperor of the Shu Kingdom, Liu Bei, and his prime minister, Zhuge Liang. There are a lot of precious cultural relics such as calligraphy works, stone statues, stone inscriptions and couplets, from which you will have a glimpse of the Three Kingdoms period and know the stories of the great figures. It also has a bonsai garden of high aesthetic value beside the tomb of the emperor. You can walk around and take some pictures.
After then you will take a walk in Jinli Old Street which used to be one of the oldest and busiest commercial streets of Shu Kingdom. In that street tourists will see some typical elements of Chengdu lifestyle. E.g. Tea houses, taverns, bars, local snacks, handcrafts, local specialties, etc.
You will be escorted back to hotel at about 17:30. We'll not appoint restaurant or dish for your lunch today, your guide will offer advice according to your interest.
Tour Price Per Person
Book the tour with $50 deposit. ($=USD)
Travelers
1 People
2 People
3 People
4 People
5 People
Tour Price
$237
$134
$107
$89
$79
Travelers
6 People
7 People
8 People
9 People
10 People
Tour Price
$71
$66
$61
$56
$55
Book the Tour