Zhongshan Street is a renowned street located in the old city of Quanzhou, stretching through the entire city from south to north. Constructed in the 1920s and 1930s, the street was named after Sun Yat-sen, the founding father of modern China and a revolutionary leader.
Location: Licheng District, Quanzhou City, China
Opening Time: all day
Ticket Price: Free
Time Needed: 2-3 hours
Best Time to Visit: all year round
Suited to: History and Culture Enthusiasts, Architecture Lovers, Photographers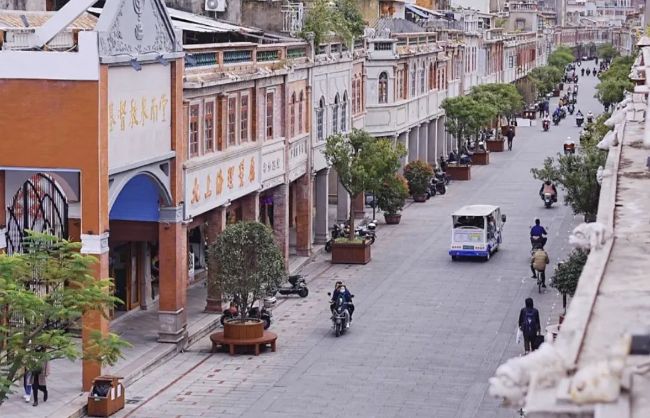 What You Can Expect on Zhongshan Street
See the Overhanging Buildings
The street is famous for its overhanging buildings, which represent the essence of Southeast Asian-style architecture. These buildings have arcades that provide shelter from the elements and create a unique streetscape, making Zhongshan Street one of the only two commercial streets with well-preserved overhanging buildings in China.
Explore Quanzhou's Culture and History
Zhongshan Street is a cultural and historical hub that displays the diversity and fusion of Quanzhou's culture. Visitors can find numerous shops, restaurants, museums, temples, mosques, churches, and other cultural relics that reflect the maritime silk road heritage of Quanzhou.
Witness Many Historical Heritages
In recognition of its heritage preservation efforts, UNESCO awarded Zhongshan Street the "Excellence Award of Heritage Preservation in the Asia-Pacific Region" in 2001. It is also a popular tourist destination and a bustling commercial area in Quanzhou.
Best Time to Visit Zhongshan Street
Zhongshan Street in Quanzhou is suitable to be visited all year round. While the months of April to June or September to November are more recommended because of the comfortable and mild weather, and there are fewer crowds compared to the peak tourist season in July and August.
Attractions Nearby Zhongshan Street
There are several other attractions located near Zhongshan Street that visitors should not miss, including:
Kaiyuan Temple: Kaiyuan Temple is an ancient Buddhist temple in Quanzhou, known for its unique architecture and historical significance.
Chengtian Temple: Chengtian Temple, also known as Yuetai Temple, is a Buddhist temple with a rich history and cultural significance that showcases the coexistence of different religions and cultures.
Qingjing Mosque: Qingjing Mosque is a famous Islamic mosque in Quanzhou, which reflects the city's diverse cultural heritage and religious tolerance.
Quanzhou West Street: Quanzhou West Street is a well-preserved commercial street with overhanging buildings, representing the essence of Southeast Asian-style architecture and the history of Quanzhou's maritime silk road.
Getting to Zhongshan Street
If you are traveling by bus, you can take the No. 5 or No. 48 bus which both stop at Zhongshan Street. Alternatively, you can take the train to Quanzhou Railway Station and then take a taxi or bus to Zhongshan Street.