Top 5 Must-see Attractions in Xining and Useful Xining Travel Guide
The Xining city has an antiquated and long-lasting religious culture, a rare stone culture that was unique in the Sanjiangyuan area, and a splendid natural forest park. Moreover, it is a natural summer resort that integrates snow-capped mountains, canyons, and Danxia landforms. Also, it is the meeting point of the cultures of various ethnic groups, including Tibetan Buddhism and Islam. We think it is the veritable summer capital of China. That is Xining — an ancient plateau city with a history of more than 2,100 years. 
Top 5 Must-see Attractions in Xining
In ancient times, Xining was the only place to pass through the Ancient Silk Road (the South Road) and the Tangbo Ancient Road. However, over time, the importance of the Ancient Silk Road gradually faded, leaving only the remains that can witness the prosperity of the scene for our memorial. 
1. The Qinghai Lake
Qinghai Lake is the largest inland and saltwater lake in China. There are five islets in the lake, the biggest of which is Haixin Mountain. Bird Island is located in the west of the lake. It is a breeding and living place for more than 10 kinds of migratory birds, including bar-headed geese, great blacknearded gulls, brown-headed gulls, and cormorants, with more than 100,000. May to July is the best season for bird watching. And Whooper swans are best seen from November to February. June, July, and August are the most beautiful seasons in Qinghai Lake: swathes of rape flower fields are scattered around the lake, the lake stretches green and vast and the waters and skies merge in one color, so it's like being in a scroll.
Tickets Information: 100 yuan for the Qinghai Lake Scenic Spot (50 yuan for the off-peak season), 115 yuan for the Bird Island (78 yuan for the off-peak season), and 70 yuan for the Sand Island (35 yuan for the off-peak season). 
Opening hours: all-day
Transportation: Most of the shuttle buses to the cities and towns around the Qinghai Lake depart from Xining East Coach Station. The whole journey is about 150 kilometers with frequent flights which are convenient. 
If the money permits, it is recommended to charter a car to Qinghai Lake, which is very convenient, and there is no need to worry about the return journey. The estimated cost of the charted car is about 300-350 yuan/day.
(Note: October 20th to April 15th of the following year is the off-season)
2. Chaka Lake
Chaka Lake with the title of "Mirror of the Sky in China" rose to fame nationwide rapidly in recent years, attracting increasing travelers. "Chaka" means "Salt Lake" in Tibetan. As the name, Chaka Lake is a famous natural crystal salt lake in Qaidam Basin, able to meet all Chinese's need to salt for 75 years. The pure white congealing in the water makes the lake a huge mirror to reflect the shadows of white clouds, blue sky, hovering birds, and beautiful girls in the bright-colored dress. Yes, a must thing to do at Chaka Lake is taking beautiful pictures for the sky and people. Do remember to wear cloth in bright colors.
Tickets information: CNY30. The single way train inside the attraction is CNY50 and the round way is CNY100.
Opening Hours: 8:00 AM-6:00 PM
Best Time for Traveling: May to September
Transportation: It's about 300km from Xining city to Chaka Lake. As public transportation is not convenient, you are suggested to explore Chaka Lake with a professional travel agent like China Xian Tour who will help your Chaka Lake tours hassle-free with reasonable prices.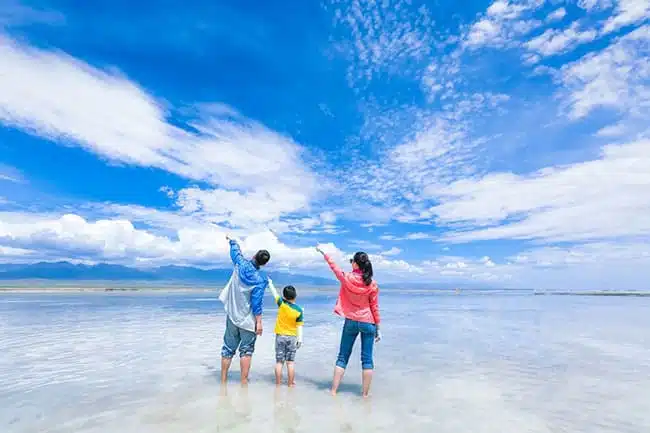 3. Ta'er Monastery
Ta'er Monastery is the birthplace of Master Tsongkhapa, the founder of the Dge-lugs-pa and one of the four major centers of Tibetan Buddhism in China. At the same time, it is known as the six major monasteries of the Dge-lugs-pa (commonly known as Huangjiao) of Tibetan Buddhism along with the Tashilhunpo Monastery, Ganden Monastery, Drepung Monastery, Sera Monastery in Tibet, and Labrang Monastery in Gansu. Moreover, it has a long history and rich cultural relics and is the center of worship for Buddhist believers in Gansu, Qinghai, Sichuan, and Tibet. It is the largest Dge-lugs-pa monastery in Amdo, with a history of 640 years.
Tickets information: 80 yuan. Half-price concessions are available for students, the elderly, and the disabled.
Opening Hours: 8:00 AM-5:00 PM
Best Time for Traveling: May to September
Transportation: You can go to the Xinning Road Coach Station in Xining City and take the special line from Xining to Huangzhong Kumbum Monastery, which departs every 5-10 minutes.
4. The Riyue Mountain
Riyue Mountain was called Chi Mountain in ancient times, which was named for the red color of the mountain and the mountain pass is 3,520 meters above sea level. It is the watershed between Qinghai's agricultural and pastoral areas, the dividing line between the Qinghai-Tibet Plateau and the Loess Plateau, and it is the only way which must be passed of the ancient "Silk South Road" and "Tangbo Ancient Road" in China. Legend has it that when Princess Wencheng of the Tang Dynasty went to Tibet to make peace with rulers of minority nationalities in the border areas by marriage, she threw the "Riyue Mirror" given by Emperor Li Shimin here to show her determination to get married for her country. Later, to commemorate Princess Wencheng's great contribution to the unity and progress of the Han and Tibetan peoples, Chi Mountain was renamed "Riyue Mountain".
Tickets Information: 25 yuan
Opening hours: 08:00 AM-5:00 PM 
Transportation: Generally chartered cars were chosen. It is 100 kilometers away from Xining downtown, and it takes about 2 hours when going out of Xining.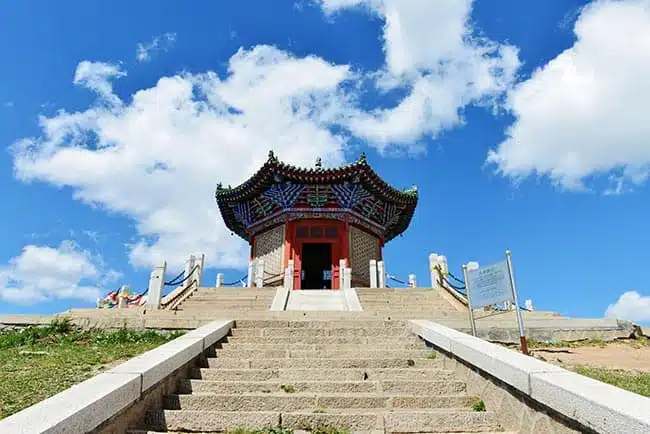 5. Qinghai Provincial Museum
Qinghai Provincial Museum is a national AAAA-level tourist attraction, located at No. 58, Xiguan Street, Chengxi District, Xining City. This museum covers an area of 22,800 square meters, with 9 main and side exhibition halls, and an exhibition area of 9,146 square meters. It is a large-scale comprehensive museum with modern functions that integrates exhibition areas, cultural relic warehouse areas, and office areas.
Tickets Information: free tickets
Opening hours: 9:30 AM-4:00 PM 
Transportation: The 14 lines of buses in the urban area, including 9, 12, 18, 22, 83, 108, etc. go directly to Qinghai Provincial Museum.
Matters of Xining Tours need Attention:
1. When Muslims are praying in mosques and other places, please do not stand in front of them and the worship queue, and it is best to get permission to take pictures. Similarly, when shooting Tibetan compatriots, you must also ask for permission and respect others.
2. When visiting the mosques and some certain areas, be careful not to wear too revealing, especially girls should not wear short skirts or shorts that expose their knees.
3. When visiting Buddhist temples and mosques, be careful not to make noise. Don't try to take photos in the hall where you can't take pictures so that you can respect local customs while also bringing safety to yourself.
4. If there is no guide and rich experience, it is not recommended to choose a self-driving tour.
5. Don't forget to bring some medicines necessary for travel, to prevent you from being unaccustomed to the climate. Why do people travel? Everyone's answer may be different. The destination is not the most important thing; the important thing is whether you can find yourself during the trip and make your life better. As the saying goes, "Read ten thousand books, travel ten thousand miles." Traveling allows you to experience different customs and is also a process of continuous learning.