The Mount Emei
Brief Introduction to Mount Emei
Mount Emei, located in the southwest of Sichuan Province, attracts numerous visitors each year for its extraordinary natural scenery and profound Buddhist culture. In 1996, Mount Emei was listed as a World Cultural and Natural Heritage Site by UNESCO together with Leshan Giant Buddha. Actually few people know that Mount Emei is composed of four mountains named Da'e Mountain, Er'e Mountain, San'e Mountain and Si'e Mountain respectively, and the Mount Emei we usually say mainly refers to Da'e Mountain. The mountain stretches from north to south for 23 kilometers and covers an area of about 115 square kilometers. Its highest peak, Ten-thousand Buddhas Peak, is 3,099 meters above sea level and more than 2,600 meters higher than the surrounding plain.
The mountain is not only rich in natural heritage with the reputation of "Plant Kingdom", "Animal Paradise" and "Geological Museum" but also rich in cultural heritage. It is one of the four famous Buddhist mountains in China and the ashram for Samantabhadra Bodhisattva. There are about 300 monks and nuns in the whole mountain and nearly 30 large and small temples. The most influential ones are Baoguo Temple, Fuhu Temple, Wannian Temple, Qingyin Pavilion, and Huazang Temple.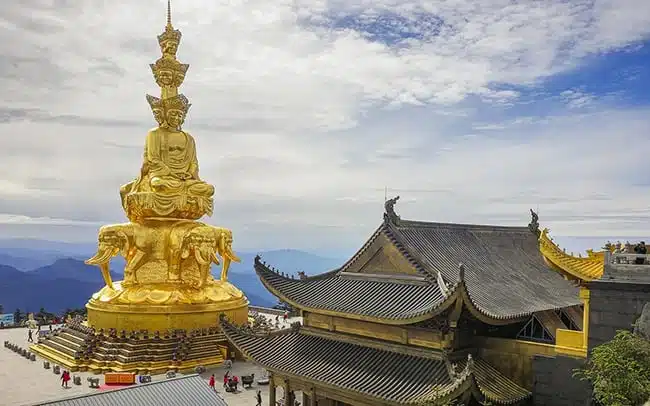 What to See at Mt. Emei ? (Main Attractions)
Baoguo Temple
At an altitude of 551 meters, Baoguo Temple is located at the foot of Mount Emei. It is the first temple on the mountain. It is also the place where the Buddhist Association of Mount Emei is located and the center of Buddhist activities. Among the many temples on the mountain, Baoguo Temple is the gateway to the mountain. The temple also houses the Cultural Relics Management Office of Mount Emei which boasts a collection of various ceramics, jades, literature, calligraphy works, paintings, metal utensils, and weapons and tools from the Warring States Period (475 — 221BC).
Golden Summit
3079 meters high, Golden Summit is the symbol of Mount Emei. Atop the Golden Summit, visitors can enjoy sunrise, sea of clouds, Buddha's halo and holy light. When the morning sun shines on the top of the mountain, the Golden Hall on the summit looks so dazzling and magnificent, so people call it the "Golden Summit". But behind its splendor there's a sad story that the temple was once reduced to ashes two times. Standing on the Golden Summit, one will feel so close to the heaven. The 48m high golden statue of Samantabhadra Bodhisattva will surely take your breath away.
Wannian Temple
Built in the Eastern Jin Dynasty (317 — 420), Wannian Temple is one of the time-honored temples on the mountain. The top highlight of the temple is the beamless brick hall which was built in the 28th year of Emperor Wanli of the Ming Dynasty (1600) for his mother's birthday. The temple also has three priceless treasures, a Buddha's tooth (it actually is an over 200,000-year-old tooth of stegodon according to the experts) given by a foreign friend as a gift, palm-leaf scriptures from a king of Siam (now known as Thailand), and a royal seal bestowed by Emperor Wanli.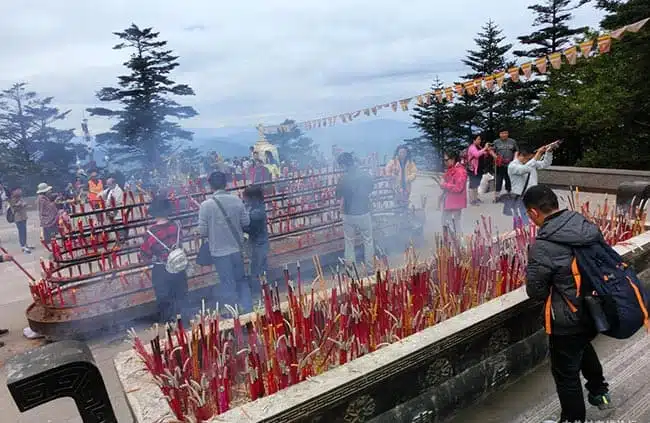 Qingyin Pavilion
Sitting on the range between Heilong River and Bailong River, Qingyin Pavilion is very precipitous. Although this quaint temple is small in size, it is so picturesque, surrounded by dense forest. Its overall layout reflects the concept of "harmony between man and nature". It is a great example of the Buddhist temple architecture in China.
Ecological Monkey Zone
With mild climate, flowing springs, plunging waterfalls, flourishing woods and tall bamboo bushes, the Ecological Monkey Zone on Mount Emei is an ideal habitat for monkeys. It is the largest Ecological Monkey Zone in China. According to survey statistics, there are more than 1,000 monkeys. These monkeys are not afraid of people and always snatch food from tourists. Please note to conceal your food. It's better not to eat in front of them. They will get excited and jump on you. Highly recommend not to carry plastic bags in your hands.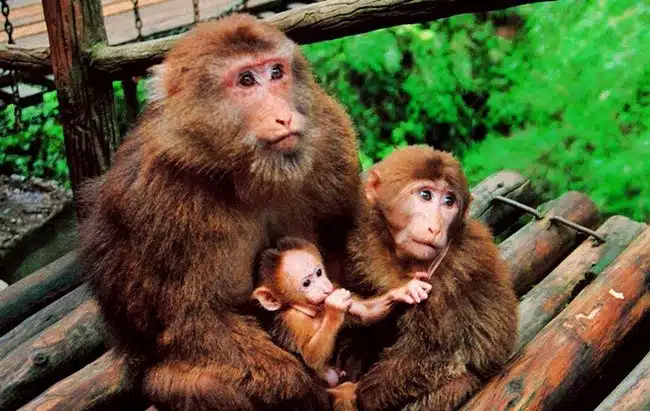 Things to Do at Mount Emei
Hike
Hiking is a great way to embrace nature and immerse yourself in the magnificence of a mountain. However, many people feel confused when it comes to plan a reasonable hiking route in a limited time. Here are two Mount Emei hiking routes for your reference.
1 Day Hiking Route:
Take the sightseeing bus at Baoguo Temple Station to Leidongping, and then walk to Jieyin Hall to take the cable car up to Golden Summit; take the cable car down to Leidongping, get on the sightseeing bus to Wannian Temple Parking Lot, and then change to the cable car to Wannian Temple; after finishing Wannian Temple, walk to visit Qingyin Pavilion and Ecological Monkey Zone, and then go to Wuxiangang Parking Lot to take the sightseeing bus back to Baoguo Temple.
2 Days Hiking Route:
Day 1: Start with Baoguo Temple, walk to visit Fuhu Temple, continue walking to Qingyin Pavilion and then head to Ecological Monkey Zone. After visiting the monkey zone, move on to Wuxiangang Parking Lot to take the sightseeing bus to Leidongping. Spend the night at Leidongping.
Day 2: You can walk to Golden Summit (about 2 hours) or take the cable car according to your physical conditions. After finishing Golden Summit, walk or take the cable car back to Leidongping and get on the sightseeing bus to Wannian Temple Parking Lot. Go to Wannian Temple by the cable car or walking (about 40 minutes), walk further to Qingyin Pavilion, and then go to Wuxiangang Parking Lot to take the sightseeing bus back to Baoguo Temple.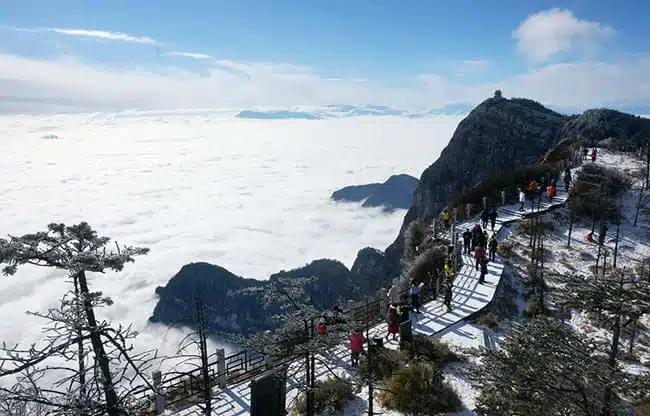 Take a Hot Spring Spa
With an area of 770,000 square kilometers, Hot Spring Happy Valley near Baoguo Temple is the largest hot spring theme park in China. There is a total of 153 pools scattered in the lush forest. You will totally relax yourself when indulging in the rare radon hot spring water after hiking the whole day.
Mount Emei is shrouded in mist for 320 days a year, and annual rainfall is between 1,200 and 1,800 millimeters, which makes it a great tea growing place. At 800-1,200 meters above sea level there is a large beautiful tea garden. It's the place that Xueya green tea comes from. From March to early June, visitors can experience the fun of picking tea leaves with local tea farmers and making tea. It's nice to learn about tea culture while enjoying the wonderful scenery.
Go Skiing
Leidongping Ski Resort on the mountain is the largest alpine skiing site in the Southwest China. The average annual temperature is 5 degrees, and the snowfall period is from early October to the end of the next March. The thickness of the snow is about 1 meter. All these factors create an ideal venue for skiing. There are various interesting activities such as skiing, dog sledding, and hovercraft to keep you entertained.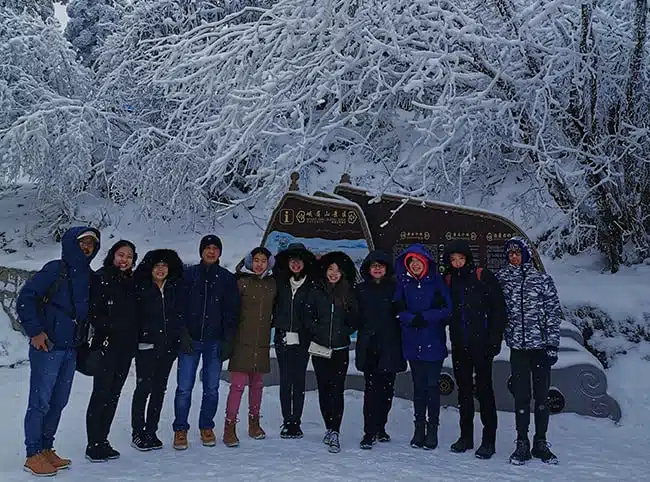 What Hotels Are Near Mount Emei? – Accommodation
As Mount Emei is a well-developed scenic spot, there are a variety of accommodation options, such as temples, hotels, and farmhouses. The price ranges from dozens to hundreds or even thousands of yuan a night. What's special about the mountain is that almost all temples can provide accommodation for travelers. This is particularly suitable for hikers. The popular ones like Baoguo Temple, Qingyin Pavilion, Hongchunping tend to be booked out in busy season, so you need to book in advance.
How Can I Get to Mount Emei? – Transportation
It's very convenient to travel from Chengdu to Mount Emei. It only takes about one hour and 20 minutes to reach the mountain from Chengdu East Railway Station by bullet train. It takes approximately 2.5 hours by bus from Chengdu Xinnanmen Bus Station, and the bus departs every 20 minutes from 06:40 — 19:20.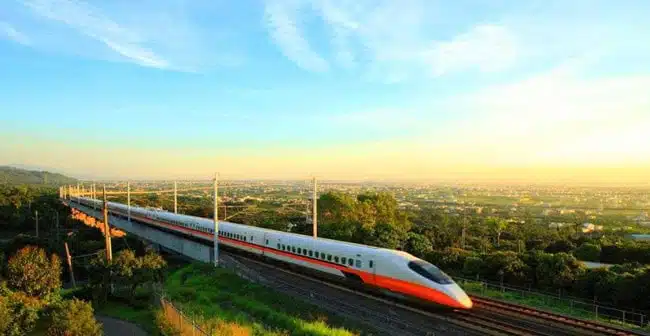 What's the Best Viewing Time of Mount Emei?
Sunrise: 6:00 in summer, 7:00 in winter
Sea of clouds: 9:00-10:00, 15:00-16:00
Buddha's halo: 9:00-10:00, 15:00-16:00
Holy light: nights at the beginning or end of a lunar month and when the sky clears up after rain
Admire azaleas: April to May at Leidongping, May to June at Ten-thousand Buddhas Peak
Avoid summer heat: June to October
Admire red leaves: October
Skiing: November to next March
Watch monkeys: all the year round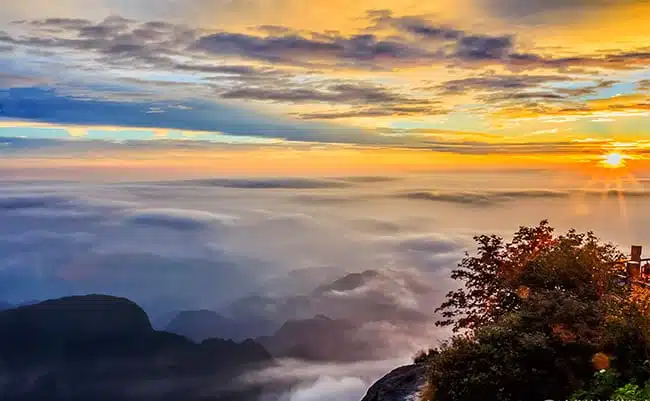 Know Before You Visit Mount Emei
The temperature on the top of the mountain is usually about 10℃ lower than that at the foot, so you'd better take warm clothes with you.
Some sections are very slippery after snow and rain. Please watch out while walking and bring anti-slip shoe covers.
Prepare some high-calorie food to replenish physical strength.
You can buy a bamboo pole to use as a walking stick and also scare the monkeys.
If you need more information about Mount Emei tours or Chengdu tours, please do not hesitate to contact us. Our professional travel consultants will help you plan a fantastic trip according to your needs.