Leshan giant Buddha, also known as Lingyun giant Buddha, is located in Leshan city, Sichuan province, and situated at the confluence of Dadu river, Qingyi river and Minjiang river. The statue of Maitreya with a full height of 71 meters, is the largest stone statue carved on cliff in China and one of the largest stone statues of Maitreya in the world. The construction of the Leshan giant Buddha took about 90 years, starting in 713 in the first year of Kaiyuan in the Tang dynasty and completed in 803 in the 19th year of Zhenyuan. In 1996, Mt.Emei and Leshan Giant Buddha was listed into the world cultural and natural heritage list and became the only world cultural and natural heritage site in western China.
Basic Facts about the Leshan Giant Buddha:
The giant Buddha, as the same height as the mountain, is a sitting Buddha stepping into the river with both hands touching on knees which looks solemn. The length of its ears is 7 meters, and the length of its nose and eyebrows of 5.6 meters. The mouth and eyes are 3.3-meter-long, and the neck is 3-meter-long, and the shoulder is 24-meter-wide,aslong as a basketball playground, and the fingers are 8.3-meter-long. In addition, the instep is 8.5-meters-wide, where more than 100 people can sit on at the same time.
Along the Lingyun plank road at the left edge of the Buddha, people can directly reach the bottom of the Buddha. Looking up at the giant Buddha here, people will feel the magnificence and sacredness of Buddha. There is a serpentine old plank road on the right side of the statue, which is tortuous and steep. Walking along the old plank road, there is mountain top of the Lingyun Mountain, and visitors can see the exquisite sculpture on the head of the Buddha. The coiled hair buns of the Buddha, a total of 1021, looks like a part of the whole head, but it is actually embedded on it one by one.
Leshan giant Buddha has an ingenious and invisible drainage system, which plays an important role in the protection of the giant Buddha. There aregutterson the 4th, 9th and 18th storey of coiled hair bun respectively. And there are also some hidden gutters and channels distributing on the head, arms, backs and in the clothes. These gutters are part of the scientific drainage, moisture insulation and ventilation system, preventing the erosion of the Buddha.
Leshan giant Buddha is a Maitreya Buddha. The people in theTang dynasty worship Maitreya Buddha, and the Buddhist scriptures implythat "once Maitreya is born, the world will be peaceful". Empress Wuzetian ordered people to write a Buddhist book to prove that she was the reincarnation of Maitreya, which helped her to come into power. Because Wuzetian strongly advocated Maitreya, it was popular for people to build Maitreya at that time. So when Haitong built the giant Buddha, he chose to build a Maitreya. What's more, Maitreya is also considered as a Buddha that can bring happiness and bright future.
Vegetarian restauranthere isalso famous. The "meat dish" that you eat in vegetarian restaurant is made by bean product, which tastes like meat but is not real meat. No matter the taste or form, you can find the feeling of returning to nature and enjoy a beautiful vegetarian meal here.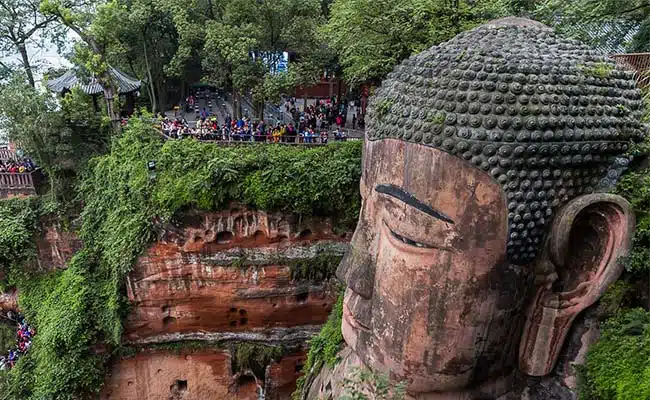 How to Buy Entrance Tickets:
Price of Entrance Tickets:
| | |
| --- | --- |
| Admission Fee | CNY 80 |
| Vegetarian Restaurant | CNY 30 |
| Boat | CNY 50 |
| | |
| --- | --- |
| April 1st to October 7th | 07:00-18:30 |
| October 8th  to March 31st | 08:00-17:30 |
| Vegetarian Restaurant | 11:00-13:30 |
When is the best time to visit?
The best time to visit Leshan Giant Buddha is Spring and Autumn. During these months, the weather is cool and pleasant, which is suitable for sightseeing.
Tips: Visitors had better avoid the official holiday in China, because many Chinese citizens choose to travel on official holidays to ease the pressure of their work. As a result, many Chinese tourist attractions are overcrowded and traffic jams are common. Therefore, visiting China at this time will bring tourists a less pleasant travel experience.
Official Holidays in China
| | |
| --- | --- |
| Chinese New Year | Around January or February |
| Winter vacation | January-February |
| Labor Day | May1st -3rd |
| Summer vacation(for students) | July-August31st |
| Mid-Autumn Festival | Around mid-September |
| National Day | October 1st-7th |
How to get to the Leshan Giant Buddha?
From Leshan  
It is convenient for visitors to take Bus No.3 or 13 and get off Leshan Dafo (Leshan Giant Buddha) Station.
From Chengdu
It is only 165kilometers from Chengdu to Leshan by expressway, which may take about 3 hours. So, it is convenient for visitors to rent a car to get there.
Visitors can take a long-distance bus from Chengdu Beimen, Ximen or Xinnanmen Bus Station to Leshan Xiaoba Bus station, and thentake Bus13 to Leshan giant Buddha.
Ship
Located at the confluence of Minjiang river and Dadu river, there are many ferries to Leshan giant Buddha, and there are also some ferries that can get to Yibin, Luzhou or Chongqing at the Leshan Port.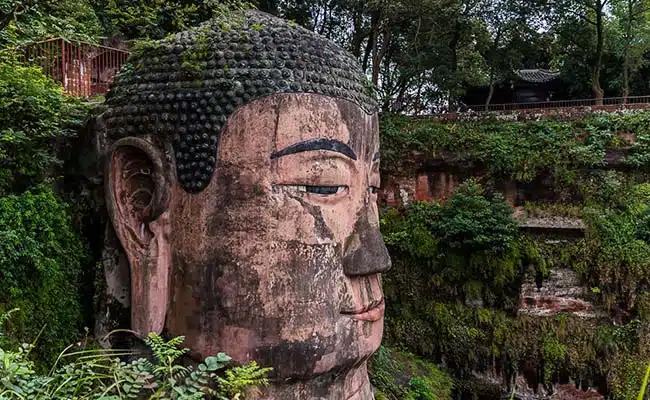 More Information
Booking Method
Step 1: You can directly book online or please feel free to share your tour plans or thoughts at

[email protected]

, our travel consultant will contact you within 12 hours.
Step 2: A small amount deposit will be required to book a tour. After deposit received, a detailed service voucher will be sent to you to confirm the booking.
Step 3: Balance due will be required 7-15 days ahead of your travel date.
If you have any further question, please feel free to contact us!
Email: [email protected]
Cellphone number: +86 15129005119
WhatsApp / Wechat ID: 008615129005119
Facebook: @xianholidaystravelagency
Our Tour Guide
The core of our service is excellent travel guides. Over 20 years, we have built up a considerable professional guide team that is knowledgeable, attentive and flexible. The most experienced and reliable guides will be arranged for your unique China tour. Our passionate guide team is full of contagious enthusiasm and keen interest to share culture and history in a pleasant manner. We are always glad at your service to lead you to explore a real China and experience authentic local life in China.
Our Driver and Vehicle
The first mission of our service is to ensure you feel safe and comfortable during your travel. The vehicles we use are air-conditioned, clean and well-maintained. Our drivers are all licensed drivers with many years of driving experience. Moreover, we offer free baby seats for families with little kids.
Meals
Food is a very important part of Chinese culture. You won't want to miss the opportunity to taste the real local Chinese food!
Buffet breakfast will be included in the hotel if you would like accommodation to be arranged by us. Having lunch at local restaurants close and convenient to the attractions you will visit, you would enjoy the local dishes in each city. Chinese style, Vegetarian or Muslim meals are all available. If you have any other diet requirements or allergies, please feel free to let us know, we will try our best to organize it.
For daily dinner, you are suggested to have it on your own when you are exploring each city in your own time, this way would be more flexible for you to choose food as per your interest and preference.
Free Inquiry: