Mount Emei, in the southwest of sichuan province, is located at the southwest edge of the sichuan basin. With the abundant natural resource, it enjoys the great reputation of "natural plant kingdom", "animal paradise" and "geological museum". Mount Emei, also rich in cultural heritage, is the holy land of Chinese Buddhism, which is known as the "Buddhist paradise". It is the ashram of Samantabhadra Bodhisattva, and one of the "four famous Buddhist mountains" in China. With its breath-taking and magnificent natural landscape and profound Buddhist culture, it has been listed in the world cultural and natural heritage list by UNESCO.
Basic Facts about the Mt.Emei:
Mount Emei is the general name of da 'e,Mt.er 'e and Mt.san'e. With the steep terrain and charming scenery, it isknown as the "the most beautiful mountain in China", and the elevation of the mountain top is 3,099 meters. Due to the height and geographical location of Mount Emei, scenery here is changeable and different from mountain top the bottom. Nowadays, Mount Emei scenic area has become a new multi-functional complex scenic area integrating recreation, health, culture, entertainment, sightseeing and delicious food. There are many famous scenic spots such as Baoguo Temple, Wannian Temple, Qingyin Pavilion, Jieying, Golden Summit.
Golden Summit is the symbol of Mount Emei, and there is a saying that "you haven't been to Mt.Emei if you didn't visit Golden Summit". A 48-meter-high golden statue of Samantabhadra Bodhisattvastands on the middle of golden summit for people to worship, which is also regarded as the landmark of Mount Emei. Visitors can enjoy the four wonders "sea of cloud, sunrise, Buddha's light and holy light"which have been fascinated by people since the ancient times.
In the middle of the first century, Buddhism was introduced to Mount Emei from India via the southern silk road. In the 3rd century AD, the belief of Samantabhadra Bodhisattvaspread in the mountains, and the Chinese monk built Samantabhadra temple (Wanguo Temple) under the Guanxin slope. In the middle of the 6th century, the development center of world Buddhism gradually shifted from India to China, and Sichuan province once became the center of Chinese Buddhism. ConstructingBuddhist temples became popular. In the middle of the 9th century, Zhao Kuangyin, the emperor of the song dynasty, sent a group of monks to visit India. After returning to China, they began to build a Buddhist temple and translated the scriptures in Mt.Emei, and the 7.85-meter-high bronze statue of Samantabhadra they cast is still enshrined in the temple with high cultural and artistic value. For thousands of years, Mount Emei, the holy land of Buddhism, is famous for the ashram of Samantabhadra, which is regarded as one of the four famous mountains of Chinese Buddhism. (the others are Mountain Wutai in shanxi province, Mountain Putuo in Zhejiang and Mountain Jiuhua in Anhui province.)
Golden monkey, regarded as the spirit of Mount Emei, are cute, naughtyand like to play with people, and theybring a lot of fun to Located under Hongchun Ping, the natural wild monkey area is the largest one in China with an area of about 10 square kilometers. The monkey area is equipped with trestles, pavilions and rope bridges, which is convenient for visitors to watch and play with monkeys.
Travel tips:
It is important for you to keep a safe distance whileobserving and feeding monkeys.
Please conform thewildlife protection system. Do not bring your own food to feed the monkeys.
If the monkey wants to rob your things, it is necessary for you to stay calm and don't shout, and you can ask the administrator for help.
How to Buy Entrance Tickets:
Price of Entrance Tickets:
| | |
| --- | --- |
| Admission Fee | CNY 160 (Jan. 16th to Dec. 14th ); CNY 110 (Dec. 15th to Jan. 15th ) |
| Wannian Temple | CNY 10 |
| Baoguo Temple | CNY 8 |
| Fuhu Temple | CNY 10 |
| | |
| --- | --- |
| January 16th to December 14th | 06:00-18:30 |
| December 15th to January 15th | 07:00-17:50 |
Price of Cable Car: The scenic area is equipped with advanced cable car for visitors to save time and energy.
Wannian Cable Car (Opening Time: 07:30-18:00)
CNY 110 (Round Trip)
Golden Summit Cable Car (Opening Time: 07:00-18:00)
CNY 120(Round Trip);

CNY 65(Upper Trip);

CNY 55(Lower Trip)
When is the best time to visit?
For sightseeing, the best time is Spring and Autumn. During these months, the weather is cool and scenery is breath-taking.
Tips: Visitors had better avoid the official holiday in China, because many Chinese citizens choose to travel on official holidays to ease the pressure of their work. As a result, many Chinese tourist attractions are overcrowded and traffic jams are common. Therefore, visiting China at this time will bring tourists a less pleasant travel experience.
Official Holidays in China
| | |
| --- | --- |
| Chinese New Year | Around January or February |
| Winter vacation | January-February |
| Labor Day | May1st -3rd |
| Summer vacation(for students) | July-August31st |
| Mid-Autumn Festival | Around mid-September |
| National Day | October 1st-7th |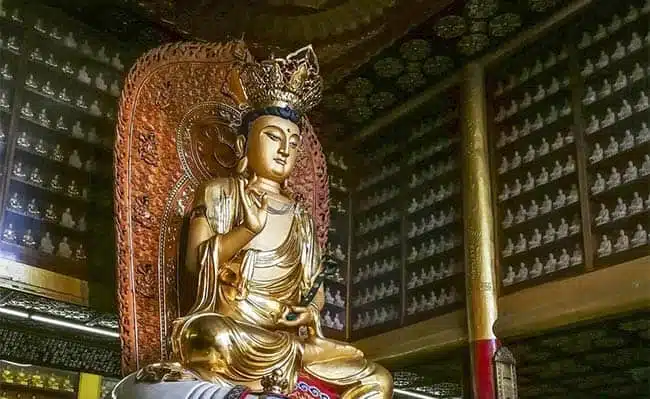 How to get to the Mt.Emei?
From Chengdu
Mount Emei is about 200 kilometers away from downtown Chengdu, so it is convenient for visitors to take long-distance buses or high-speed trains to get to the scenic area.
Visitors can take long-distance bus to Mt.Emei Tourism Bus Center from Chengdu at the Xinnanmen Bus Station, which may take about 3hours.
Operation time: 07:20-19:35
The high-speed train is also available, which is more convenient. Visitors can take Chengdu-Leshan-Emeishan Intercity High-Speed Train or Shuangliu Airport – Emeishan Train and get off at Emeishan(Mt.Emei) Station, then take Bus No.8, tourism bus or car to Mt.Emei scenic area.