Yangjiajie scenic area, with Zhangjiajie National Forest Park in northwest and Tianzi Mountain in north, covers an area of 34 square kilometers. There are three tourist areas: Xiangzhi Stream, Qingfeng Gorge and Hundred monkey valley. The most famous landscapes are one step to the sky, Longquan waterfall, the kings of vines, Oolong Village, Tianbo Mansion. The highest peak "one step to the sky" is 1130 meters high.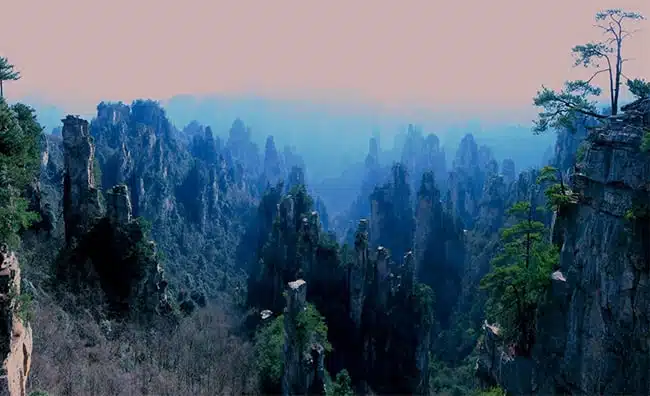 Basic Facts about the Yangjiajie Scenic Area:
It is the most popular place for backpackers and adventurous visitors, which is well-known for the primitive and beautiful scenery and steep mountains. Compared with Golden Whip Stream, Yuanjiajie and other places, it is more quiet and mysterious. The scenic area is not fully open and developed yet, so some sections of the road have no cement pavement or stone steps. But there are sand-gravel roads that can pass through. It takes about 5 hours to visit the scenic spot on foot, which is an activity physical fitness demand definitely. So, it is advisable to travel with a companion, bring some water and food, or choose a combination of walking and taking a cable car to the summit.
The three most famous scenic spots in the scenic area are: Oolong Village, Tianbo Mansion and "One Step to the Sky". Oolong village is the most dangerous place in Zhangjiajie, where bandits used to live. Through the Oolong village is Tianbo Mansion, and there are more than 10 natural stone walls with different height showinga spectacular scene for visitors.There is an iron ladder at One Step to the Sky to help visitors to reach the summit that is flat.
Oolong village and Tianbo Mansion is in the north of Yangjiajie, and the One Step to the Sky is in the south. It is popular for visitors to visit northern part first, then south. After visiting Yangjiajie, visitors can take a battery car at Yangjiajie Lukou to Yuanjiajie scenic area.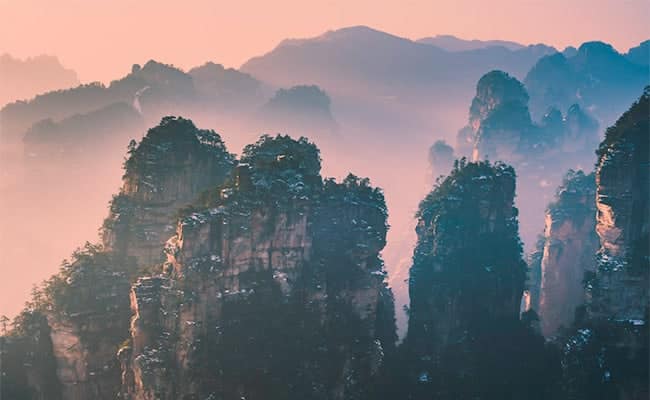 How to Buy Entrance Tickets:
Prices of tickets:
Notes: The combo ticket includes four core scenic spots (Zhangjiajie National Forest Park, Suoxi Valley, Yangjiajie Scenic Area, Tianzi Mountain) of Wulingyuan Scenic Area. The ticket is valid for 4 days with many scenic spots in the scenic area, so, it is necessary for visitors to plan the tour route before travelling.
Opening time: 07:00-18:30
Prices of transportation:
| | |
| --- | --- |
| Cable Car | Single Trip CNY 76; Round Trip CNY 152 |
Opening time:
| | |
| --- | --- |
| Peak Season | 07:30-17:00 |
| Low Season | 08:00-17:00 |
When is the best time to visit?
The best time to visit Yangjiajie is April to October. During these months, the natural scenery is charming and the weather is pleasant, and it is cool during the Summer.
Tips: Visitors had better avoid the official holiday in China, because many Chinese citizens choose to travel on official holidays to ease the pressure of their work. As a result, many Chinese tourist attractions are overcrowded and traffic jams are common. Therefore, visiting China at this time will bring tourists a less pleasant travel experience.
Official Holidays in China
| | |
| --- | --- |
| Chinese New Year | Around January or February |
| Winter vacation | January-February |
| Labor Day | May1st -3rd |
| Summer vacation(for students) | July-August31st |
| Mid-Autumn Festival | Around mid-September |
| National Day | October 1st-7th |
How to get to the Yangjiajie Scenic Area?
Bus
Visitors can take the bus at the Zhangjiajie Bus Station to Tianzishan Town, and get off at the Zhonghu Station.