Suoxi valley scenic area, located in the northeast of Wulingyuan scenic area, is near to Tianzi Mountain and it is connected to Tianzi Mountain by cable car. The reason why it is called Suoxi valley is that the shape of the stream looks like a curved rope. What's more, the mountain and river here are always covered by the cloud and mist, which makes it looks like a beautiful oil painting.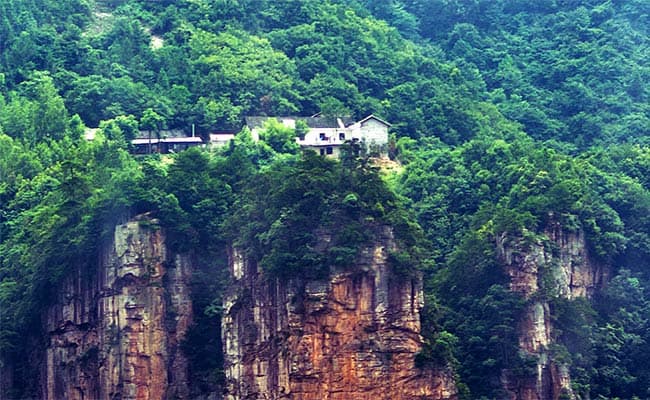 Basic Facts about the Suoxi Valley:
There are many worth visiting scenic spots, such as the Yellow Dragon Cave, Baofeng Lake, Ten-mile Gallery, West Sea, the Four Gates Surrounded by Water, Nantian Gate, Baizhang Gorge and so on. The most famousone of them is the Yellow Dragon Cave whichis a typical karst landform. It covers a total area of 100,000 square meters with a total length of 7.5 kilometers and a vertical height of 140 meters. It is divided into four layers with different kinds of fantastic stalagmite, stalactite, small caves, rivers in it. With the amazing and unique view inside the cave, it was selected as "the most beautiful tourist cave in China" in 2005 and "the most beautiful tourist cave in China" in 2009.
Ten-Mile Gallery is the core of the scenic spot. Both sides of the valley is more than ten miles long.And at the end of it, there are many strange and huge rocks as well as dense forests, so visitors may see monkeys gathering and playing, thereforeit is called "Monkey Slope".
There are three recommended routes for visitors to choose: first is Yellow Dragon Cave to Avalokitesvara Cave, and the second is Baofeng Lake-Yingwo Zhai-Baizhang Gorge, and the last one is from West sea to Ten-mile Gallery.
How to Buy Entrance Tickets:
| | |
| --- | --- |
| Combo ticket | CNY 225 |
| Yellow Dragon Cave | CNY 100 |
| Baofeng Lake | CNY 96 |
Notes: The combo ticket includes four core scenic spots (Zhangjiajie National Forest Park, Suoxi Valley, Yangjiajie Scenic Area, Tianzi Mountain) of Wulingyuan Scenic Area. The ticket is valid for 4 days with many scenic spots in the scenic area, so, it is necessary for visitors to plan the tour route before travelling.
Opening time: 06:30-18:30
Baofeng Lake: 07:00-18:00
Prices of transportation:
| | |
| --- | --- |
| Ten-mile Gallery Tourist Train | Single Trip CNY 38 |
| Ten-mile Gallery Tourist Train | Round Trip CNY 76 |
When is the best time to visit?
The best time to visit Suoxi Valley is April to October. During these months, the natural scenery is charming and the weather is warm.
Tips: Visitors had better avoid the official holiday in China, because many Chinese citizens choose to travel on official holidays to ease the pressure of their work. As a result, many Chinese tourist attractions are overcrowded and traffic jams are common. Therefore, visiting China at this time will bring tourists a less pleasant travel experience.
Official Holidays in China
| | |
| --- | --- |
| Chinese New Year | Around January or February |
| Winter vacation | January-February |
| Labor Day | May1st -3rd |
| Summer vacation(for students) | July-August31st |
| Mid-Autumn Festival | Around mid-September |
| National Day | October 1st-7th |
How to get to the Suoxi Valley?
Visitors can take the direct shuttle bus at the Zhangjiajie Bus Station to Zhangjiajie National Forest Park, and then take the battery car or walk to Suoxi Valley.
Cable Car (from Tianzi Mountain↔Suoxi Valley )
Visitors can take cable car directly to Suoxi Valley, which is not only a way to save time and energy, but also a better choice for visitors to enjoy the charming scenery that cannot be seen by walking.