10 Kinds of Hidden Chengdu Snacks
Chengdu was named City of Gastronomy by UNESCO as early as 2010. The city definitely lives up to its reputation. Speaking of Chengdu cuisine, you may think of the mind blowing spicy hot pot first. It's on most domestic and foreign visitors' list. There are also numerous delicious snacks hidden in small lanes. It's no exaggeration that you can't have all of them in a few days, weeks, or even months. Here are some snacks we recommend you to try in your limited time on a Chengdu tour. No one can resist the allure of these tasty foods.
Baked Egg Cake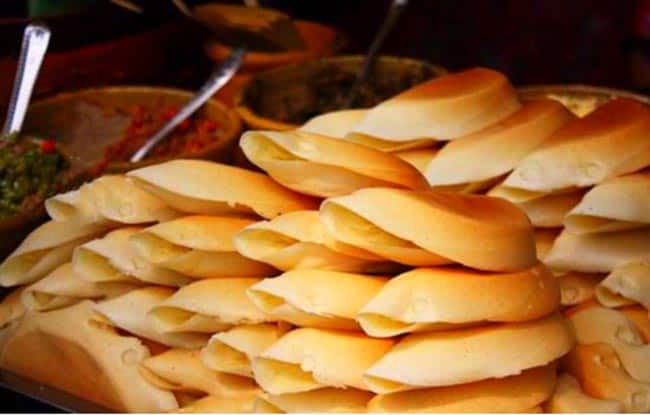 This snack stall is run by a friendly old man. He makes the yummy cake by using an old fashioned honeycomb briquet heating stove and a small fry pan. The cake is crispy outside and tender inside. You can choose different flavors and the stuffing (such as pork, sesame, potato slices, dried beef floss, strawberry jam, and shredded coconut) is also made by himself. It will give your tongue a fantastic journey. Some diners can eat twenty or thirty at a time. It's not surprising to line up for one hour sometimes. First come, first served. BTW, you also can try yummy ice jelly there.
Address: Building 2, Worker Village, Caojia Lane, Jinniu District, Chengdu (near Taisheng Bridge)
Transportation: Take bus 18, 42, 45, 53, 75, 154, or 166 and get off at Caojiaxiang Station
Price: RMB2 for each
Opening hours: 12: 30 – 17: 00
Glutinous Rice Dumpling Wrapped in Lotus Leaves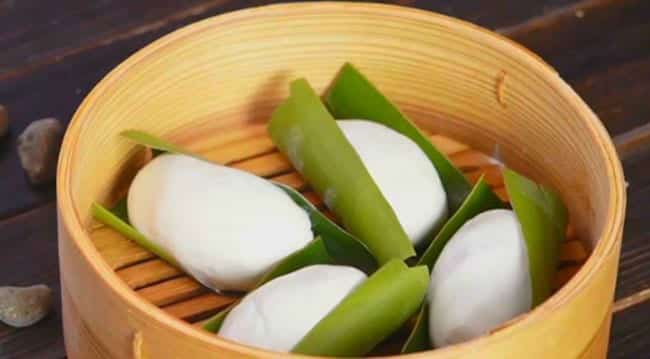 Speaking of Wang Po, her famous buckwheat noodles may cross most people's mind. But today we are talking about her glutinous rice dumpling wrapped in lotus leaves. The dumplings look so cute when it is taken out of bamboo steamer. Have a tiny bite and chew slowly. They are chewy but not easily stuck to your teeth. Please be careful, or else your mouth will be full of oil.
Address: Yulin Life Square, Section 4 of Renmin South Road, Wuhou District, Chengdu (near Yulin South Road)
Price: RMB2 for each glutinous rice dumpling and RMB10 per bowl of beef buckwheat noodles
Transportation: Take bus 59, 61, 76, 109, 115, 153, or 1006 and get off at Yulin South Road Station
Cold Rice Cake
Sweet cold rice cake served with brown sugar water is very smooth like jelly. The local people usually have this snack in summer as it is really refreshing and appetizing. You can try it at Wang Po's together with buckwheat noodles and glutinous rice dumpling wrapped in lotus leaves.
Fried Rice Ball with Brown Sugar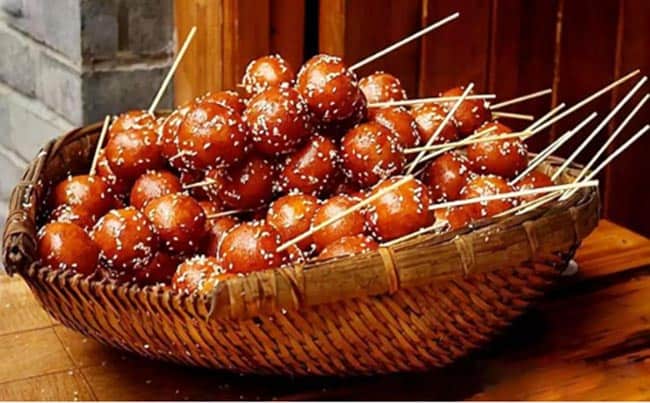 This small shop is situated in the narrow Mengjia Lane. It's hard to find the stall for people unfamiliar with the place. You can ask help from the locals. Its main ingredients are sticky rice, brown sugar and sesame. Fry the sticky rice balls in oil, coat them with brown sugar and white sesame, and string several balls on a bamboo stick. You'd better eat it while it's hot.
Address: No. 4 Mengjia Lane, Qingyang District, Chengdu (near Moon Village KTV)
Price: RMB2.5 per string (5 sticky balls per string)
Transportation: Take bus 1, 26, 334, or 335, get off at Nandajie Station and walk for about 200 meters
Spring Roll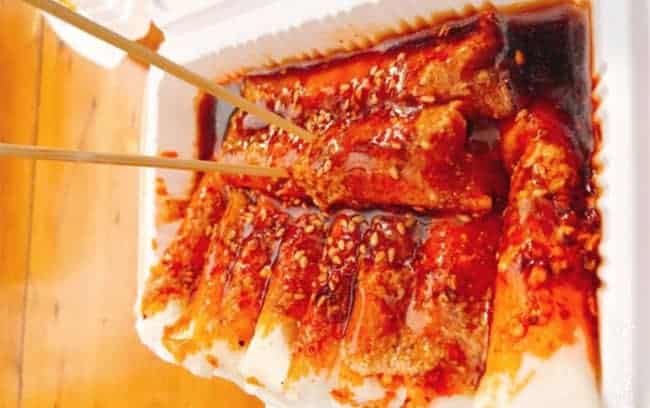 This stand has been there for many years and even made TV appearances. It only starts at three or four in the afternoon, and the yummy spring rolls are usually sold out after a few hours. The spring rolls look simple. The key is the totally homemade thin wrappers. Drizzled with the sweet sauce made by the owner herself, the spring rolls taste sweet but not cloying. If you prefer strong flavor, there are pepper and mustard available.
Address: South Gate Bridge, Xindu District, Chengdu
Price: RMB5 per box
Transportation: Take bus Xindu 12, Xindu k2, Xindu k3, Xindu k8a, or Xindu k8 and get off at Nanmenqiao Station
Ice Jelly
This really is a stall on wheels. The owner is an enthusiastic old lady who goes down the streets on a tricycle. Although she has no real store, the delicious ice jelly speaks for itself. A famous Chinese Variety Show Day Day Up once invited the owner in one of its episodes. All kinds of ingredients like Guiling jelly, glutinous rice dumplings, sago, haw flakes, crushed peanuts, etc. are used in her recipes for its popping texture and smooth taste. Fresh milk Guiling jelly is also a nice choice. You might also like it.
Address: University of Electronic Science and Technology, No.4, Section 2 of Jianshe Road, Chenghua District, Chengdu
Price: about RMB15 per person
Transportation: Take bus 6, 14, 42, 71, 72, 76, or 1010 and get off at East Jianshe Road Station
Crusty Pancake
Crusty pancake is called "Guokui" in Chinese. It is round bread usually stuffed with various meats. The shop is located on the route of Bus 154 which is well known as "foodie bus" because the line goes to many greasy spoons with simple decoration but cheap and delicious food. The most popular flavors are beef pancake and brown sugar pancake. Just bite into it and feel the melting brown sugar in your mouth. BTW, it is close to the previously mentioned Lu's Baked Egg Cake in Worker Village, so you can try both at a time. The snacks are very popular and sold in limited period. Better early than late!
Address: No.37 Maan South Road, Jinniu District, Chengdu
Price: RMB7 for each beef pancake and RMB2 for each brown sugar pancake
Transportation: Take bus 18, 42, 45, 53, 75, 154, or 166 and get off at Caojiaxiang Station
Rabbit Head
Chengdu people have a thing for spicy food because the place has a humid climate and it is believed that spicy food can help dispel dampness and is good for human body. This over 50-year-old shop has the most authentic spicy rabbit head. If you like spicy food, just give it a try and you will fall for it. If you can't take spicy food, it also provides special five-spice rabbit head. And there is no need to worry about cleanliness. Dare to try this spicy mouthwatering rabbit head?
Address: No. 5 Yushuang Road, Chenghua District, Chengdu (near Tiantai Hotel)
Price: RMB5.5 for each rabbit head
Transportation: Take bus 20 or 106, get off at Yushuang Road Station and walk for about 250 meters
Stewed Meat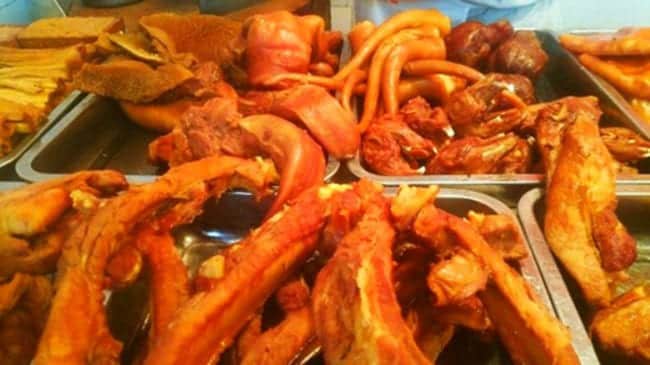 The owner learned to make the stewed meat from his father, and his father learned it from his grandfather. It has the most tasty pig intestines in Chengdu, fat but not greasy. Pig brain is also very popular. Some customers praise that the pig brain here tastes smoother than foie gras. It just melts in your mouth and the fragrance will leave on your lips for a long time. If you haven't eaten any pig intestine and pig brain in your life, you may feel intimidated. Once you have it, you may change your mind. Highly recommend you come earlier, or else you may wait for a long time or miss the most sought-after ones.
Address: No.18 Lianhua West Road, Jinjiang District, Chengdu (next to Song's Blind Massage)
Price: pig intestines RMB48 per jin and potatoes RMB10 per jin
Transportation: Take bus 182, 1087, or 1107 and get off at Lianhua North Road East Station and walk for about 200 meters
Opening hours: 14:30 – 18:00
Chuan Chuan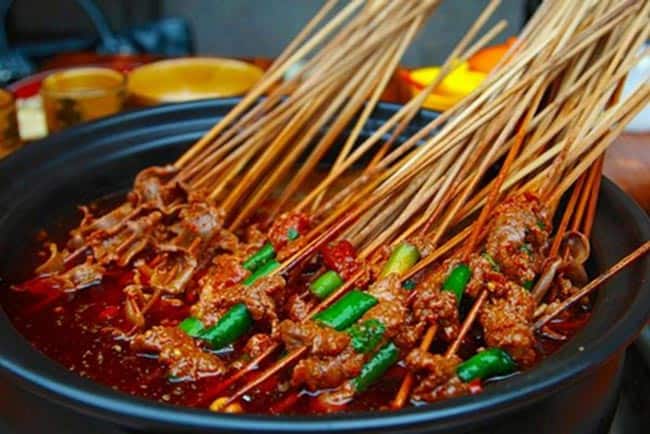 Chuan chuan is a kind of spicy hot snack. All ingredients are strung together on bamboo skewers. What's most important for this snack is the broth. The owner gets up very early in the morning to prepare the broth each day. There is no additive in the broth. Some regular customers even take the rest of the broth back home to cook noodles. Among all kinds of meats and vegetables, beef and pig intestine are basically must-have for all customers.
Address: No.34-36 Longjing South Street, Cuqiao, Wuhou District, Chengdu
Price: about RMB40 per person
Transportation: Take bus 1078 and get off at Cuqiao Middle Street West Station and walk for about 150 meters