Ejin Banner Travel Guide
Located in the Gobi Desert, Ejin Banner is the westernmost banner of Inner Mongolia, sharing borders with Mongolia to the north, the Gansu Province to the southwest, and the Alxa Right Banner to the southeast. The region boasts a diverse and expansive landscape, including grasslands, deserts, rivers, lakes, and oases. Ejin River, which originates from the Qilian Mountains and terminates in the Juyan Lake Basin, is also a prominent feature of the area.
Ejin Banner has a rich history and culture, having been part of the Xiongnu, Western Xia, Mongol Empire, and Qing Dynasty. The Mausoleum of Genghis Khan, a sacred site for Mongolian people and the cenotaph of the legendary emperor, is also situated in the area. With its natural beauty and cultural heritage, Ejin Banner attracts numerous tourists who seek to experience the ancient and enigmatic land.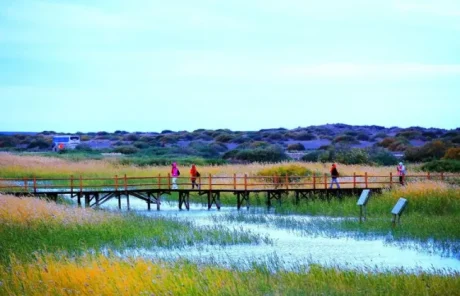 Chinese: 额济纳旗 é jì nà qí
Location: Westernmost End of Inner Mongolia
Population (urban area): 35,756
Why Visit Ejin Banner?
Ejina Populus Euphratica Forest offers visitors a chance to witness the most beautiful autumn scenery in China, with stunning golden trees creating a fairyland-like landscape from late September to mid-October.
Heicheng Ruins provide a glimpse into ancient history, with remains of a thousand-year-old city buried under the sand, allowing visitors to trace the footsteps of the Xiongnu, Western Xia, Mongol Empire, and Qing Dynasty.
Diverse travel activities can be enjoyed in the Gobi Desert, including sand sliding, camel riding, desert camping, and visits to the Yemingsha Scenic Area and the Xiangshawan (Resonant Dune Bay) Scenic Area.
Juyan Lake Wetland Park offers visitors a chance to admire the natural scenery and wildlife, with a large freshwater lake surrounded by sand dunes and grasslands that are home to many birds and fish.
Explore the Badain Jaran Desert, the third-largest desert in China, and enjoy desert activities such as camel riding and sand sliding.
Top Attractions in Ejin Banner
Top Things to Do in Ejin Banner
1. Visit the Ejin Oasis: Located in the heart of the Gobi Desert, the Ejin Oasis is a stunning natural wonder that boasts a lush green landscape, crystal-clear lakes, and diverse wildlife.
2. Explore the Populus euphratica forest: The Populus euphratica forest is a unique and endangered ecosystem that is home to the resilient and beautiful Euphrates poplar tree.
3. Discover the Huyanglin Petroglyphs: The Huyanglin Petroglyphs are a collection of ancient rock carvings that date back over 10,000 years and offer a fascinating glimpse into the region's rich cultural history.
4. Experience the Ejin Horo Cultural Festival: This annual festival showcases the vibrant culture and traditions of the Mongolian people and features colorful costumes, music, dance, and delicious food.
5. Go on a camel trek: Explore the vast and breathtaking landscape of the Gobi Desert on a camel trek, which will take you through towering sand dunes, ancient ruins, and remote villages, providing a unique and unforgettable adventure.
Ejin Banner Weather
The climate in Ejin Banner is characterized by a dry inland climate with minimal rainfall, high evaporation rates, abundant sunshine, significant temperature fluctuations, and occasional sandstorms. On average, the annual temperature is around 8.3°C, with January temperatures averaging around -11.6°C and July temperatures averaging around 26.6°C. Typically, temperatures are cold from November to March and warm from April to October.
Best Time to Visit Ejin Banner:
Late September to mid-October is considered the optimal time to visit Ejin Banner due to the comfortable weather and the stunning golden hues of the poplar forest. This season is highly sought after by tourists who want to experience the natural beauty and cultural charm of Ejin Banner. However, it's recommended to avoid visiting during Golden Week (October 1-7) as it can become quite congested with visitors.
Ejin Banner Transportation
How to Get to Ejin Banner
By air:
Ejin Banner Airport, located in Dalaihob Town, is the primary airport for the region, with flights available from various cities in China, including Xi'an and Hohhot. From the airport, visitors can take a shuttle bus or taxi to their accommodations or attractions. Alternatively, nearby airports such as Zhangye Ganzhou Airport or Jiayuguan Airport can be used, with visitors taking a car or bus to Ejin Banner.
By train:
Ejin Banner Railway Station is situated in Dalaihob Town, approximately 2 kilometers from Ejina Populus Euphratica Forest. Only one daily train is available from Hohhot Railway Station, with a travel time of approximately 14 hours and 42 minutes. Visitors can take a taxi or bus from the railway station to their accommodation or attractions.
By bus:
For travelers interested in taking a long-distance bus, Ejin Banner Bus Station is located in Dalaihob Town, around 3 kilometers from Ejina Populus Euphratica Forest. Buses are available from nearby cities, including Hohhot, Baotou, and Yinchuan. After arriving at the bus station, visitors can take a taxi or bus to their accommodations or attractions.
By car:
Renting a car with a driver or joining a tour with a private transfer service is the most convenient and flexible way to explore Ejin Banner. This option allows visitors to travel at their own pace, stop for photos or rest as needed, and visit various attractions. The roads in Ejin Banner are generally well-paved, but visitors should be cautious of potential sandstorms and adhere to traffic rules.
By bus:
Public buses are available to connect Dalaihob Town with some attractions, including Ejina Populus Euphratica Forest, Heicheng Ruins, and Strange Forest. While buses are frequent and affordable, they may be overcrowded and uncomfortable. Long-distance buses are also available to take visitors to nearby cities such as Jiuquan, Jiayuguan, and Zhangye.
By bike:
For those seeking an adventurous and active way to explore Ejin Banner, biking is an option. However, visitors should be prepared for the weather, terrain, and distance, as some areas may be hot, dry, sandy, or far from each other. Bikes can be rented in Dalaihob Town, or visitors can bring their own.