Ordos Travel Guide
Located in the southwest of Inner Mongolia, China, Ordos is a city-prefecture situated on the Ordos Plateau of the Yellow River. The region boasts a rich history and culture, as it is home to the sacred tomb of Genghis Khan, the renowned Mongolian conqueror. In addition to its historical significance, Ordos is a modern city with a thriving economy, particularly in the fields of coal mining and hi-tech industries.
Ordos is renowned for its diverse natural scenery and cultural attractions. Visitors can explore vast grasslands such as Xiangshawan and Xilamuren, where they can experience the nomadic way of life and partake in the Naadam Festival. The region also encompasses deserts such as Kubuqi and Badain Jaran, where visitors can enjoy sand sliding and camel riding. Additionally, Ordos offers a variety of historical and religious sites, including the Mausoleum of Genghis Khan, the Resonant Sand Gorge, and the Wudangzhao Monastery.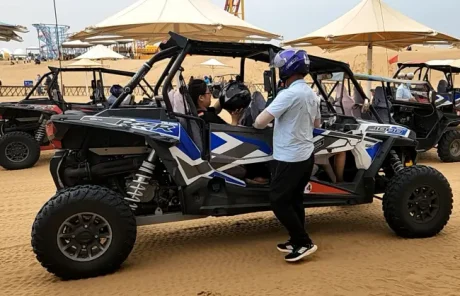 Chinese: 鄂尔多斯 è ěr duō sī
Location: Southwest Inner Mongolia
Population (urban area): 2,201,000
Why Visit Ordos?
Experience the diverse natural scenery of Inner Mongolia, including grasslands, plateaus, and deserts such as Xiangshawan, Xilamuren, and Kubuqi, and enjoy activities like sand sliding, camel riding, desert camping, and grassland hiking.
Explore the rich history and culture of the Mongols, with a particular focus on the legacy of Genghis Khan, by visiting his mausoleum, which is a sacred site for the Mongolian people, and learning about his life and accomplishments.
Witness the modern development and transformation of Ordos, a booming city with a high GDP and a thriving hi-tech industry, by visiting both the old and new districts, including Kangbashi, which was once known as a "ghost city" but has now become a lively urban center.
Enjoy the Naadam Festival, a traditional celebration that highlights the culture and sports of the Mongols, by watching the "three games of men" of wrestling, horse racing, and archery, as well as other folk performances and activities.
Savor the unique flavors of Mongolian cuisine and beverages, such as khuushuur, boortsog, airag, arkhi, roast lamb, cheese, and yogurt.
Top Things to Do in Ordos
Visit the Mausoleum of Genghis Khan, a sacred shrine dedicated to the founder of the Mongol Empire, where visitors can learn about his life and accomplishments and witness the traditional worship ceremony of the Mongolian people.
Enjoy a range of desert activities at Kubuqi Desert and Resonant Sand Bay, the seventh-largest desert in China, where visitors can hike, ride camels, slide down sand dunes, take a jeep safari and hear the sand make sounds like musical instruments.
Experience the nomadic lifestyle and culture of the Mongolian people at Ordos Prairie, a vast grassland with blue skies, white clouds, green grass, and herds of horses and sheep.
Explore the modern architecture and night views of Ordos City Center, a new urban area that showcases the development and prosperity of Ordos, allowing visitors to admire the modern architecture and take in the stunning night views of the city center.
Learn about the scientific and technological achievements of Ordos and China at Ordos Science and Technology Museum, a modern museum featuring interactive exhibits and displays that allow visitors to learn and have fun while discovering the latest advancements in scientific and technological fields.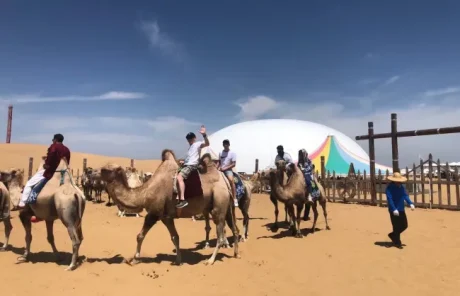 Ordos Weather
Ordos experiences a temperate continental climate, characterized by dry and cold winters and warm and humid summers, making it an ideal destination to escape the summer heat.
The average annual temperature in Ordos ranges from 5.3°C to 8.7°C, with the coldest month being January, with an average temperature of -13°C to -10.5°C, and the hottest month being July, with an average temperature of 21°C to 25°C.
With an average summer temperature of 19°C to 21°C, Ordos is much cooler than most parts of China, making it an excellent place to escape the summer heat.
The region receives an annual average rainfall of 348.3 mm, with most precipitation occurring between September and October, accounting for about 70% of the total annual rainfall. Visitors are advised to check the weather forecast before planning outdoor activities and bring appropriate clothing for the season.
Best Time to Visit Ordos:
The ideal time to visit Ordos is between May and October when the weather is warm and pleasant, the rainfall is moderate, and the desert scenery is stunning. This time frame is also perfect for avoiding dust storms that typically occur in the region and witnessing gulls flying from north to Bojiang Lake.
July is widely considered the best month to visit Ordos, with an average temperature range of 12°C to 35°C and low precipitation of 13.13 mm. Nonetheless, those interested in experiencing the nomadic lifestyle and culture of the Mongolian people on the Ordos Grassland can also visit during June to August when several festivals and events are held on the grassland.
Ordos Transportation
How to get to ordos
By air
Ordos Ejin Horo Airport is located in the Dongsheng district, about 40 km south of the city center, and offers flights to and from major cities in China, including Beijing, Shanghai, Guangzhou, Chengdu, and Xi'an. Visitors can reach the airport via taxi or shuttle bus.
By train
Alternatively, Ordos has two railway stations, Dongsheng West Station and Ordos Station. Dongsheng West Station, located in the Dongsheng district, is the older and busier station, offering trains to and from Beijing, Hohhot, Baotou, Yinchuan, Lanzhou, and other cities. On the other hand, Ordos Station, located in the Kangbashi district, is the newer and quieter station, with trains to and from Beijing, Hohhot, Baotou, Datong, Taiyuan, and other cities. Both stations can be reached by taxi or public bus.
By taxi
Taxis are a quick and convenient option, with a starting price of 6 yuan for the first 3 km and 1.4 yuan per km thereafter. The price may vary depending on the district and time of day.
By bus
Alternatively, public buses are a cost-effective and environmentally friendly mode of transportation. With over 40 bus routes covering many of the city's attractions, including the Mausoleum of Genghis Khan, Ordos Grassland, and Ordos Museum, visitors can explore the city at a fare of usually 1 yuan per person.