Lanzhou and Zhangye, two popular tourist cities on the Hexi Corridor of the Silk Road, boast a history of more than a thousand years and rich relics. Join our Lanzhou Zhangye tours to experience the Huanghe River Custom Tourist Line, visit the spectacular Bingling Temple, appreciate the beautiful Rainbow Mountain, and explore the Zhangye Large Buddhist Temple.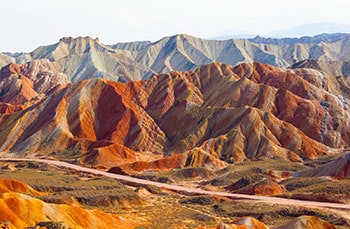 How to plan a best tour in 3 days? Zhangye boasts the incredible Danxia landscape, Rainbow Mountain, well-connected with Lanzhou by high-speed train of 4.5 hours' ride. This tour departing from Lanzhou including the Huanghe River Custom Tourist Line, Zhangye Giant Buddhist Temple as well as the Rain...
---
As two of the main cities of the old Hexi Corridor on Silk Road, Lanzhou and Zhangye are the not-to-miss places for anyone to Gansu Province boasting thousand-year histories as well as rich landscapes. This 4-day tour connected by a 4.5-hour high-speed train will definitely bring you a life-time exp...
---
Free Inquiry: