Located in the southwest corner of Zhangye City in Gansu Province, Giant Buddha Temple, aka Sleeping Buddha Temple, was built in 1098 during the Western Xia Dynasty (1038-1227), with a history of more than 900 years. It is a significant architectural relic on the Silk Road, and also a landmark building of the historic city of Zhangye. It is home to the best-preserved Western Xia Buddha Hall, where you can find the largest reclining Buddha made of clay in Asia, with a length of 34.5 meters (113 feet) and a shoulder width of 7.5 meters (24.5 feet). Zhangye Giant Buddha Temple is a Buddhist Art Museum with various unique and precious architecture, sculptures, murals, scriptures and cultural relics.
Recommended visiting time: 1 ~ 2 hours
Opening hours: 8:00-18:00 (April-October); 8:30-17:30 (November-March)
Tickets: CNY 40 (about 6.3 USD) per person for admission; Free for children under 1.2 meters (3.9 feet) and seniors over the age of 70.
Note: It is forbidden to take pictures of the Reclining Buddha.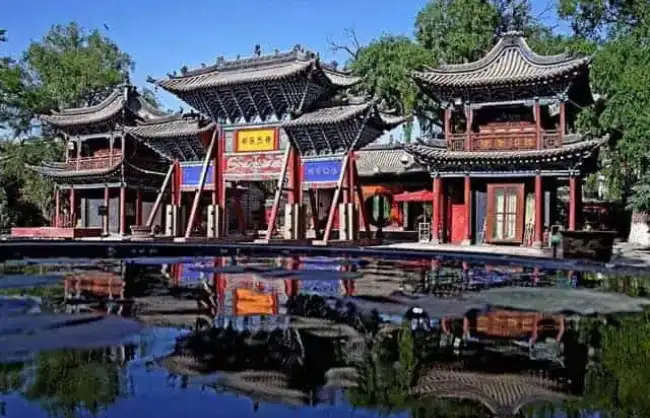 Historical Background
According to legend, the Reclining Buddha in Zhangye Giant Buddha Temple, once covered with emerald green glazed tiles was excavated by a prime minister in the Western Xia period. Later, in order to express his respect for Buddhism, the Giant Buddha Temple was built to worship this Buddha statue. During the Ming (1368-1644) and Qing Dynasties (1636-1912), the temple was restored many times.
Architectural Features
As the royal temple of the past dynasties, Zhangye Giant Buddha Temple has a typical palace architectural style. The architectural complex in the temple runs through the east-west axis, and the left and right halls are arranged symmetrically. The whole group of buildings are unique in shape and rigorous in layout. The main building – the Giant Buddha Hall, is an outstanding representative of the architectural art of the Western Xia Dynasty, which is composed of two-story pavilions, with neat and standardized plane framework, and various spatial combinations, embodying the majesty and noble spirit of the royal family.
What to See in Giant Buddha Temple?
There are six existing ancient buildings in Zhangye Giant Buddha Temple for tourists to visit, including the Giant Buddha Hall, Clay Pagoda, Sutras Exhibition Hall, Buddhist Art Exhibition Hall, Shanxi Provincial Guild Hall, and Golden Pagoda Hall. Among them, the first three are the most well-known, below are the detailed information of them.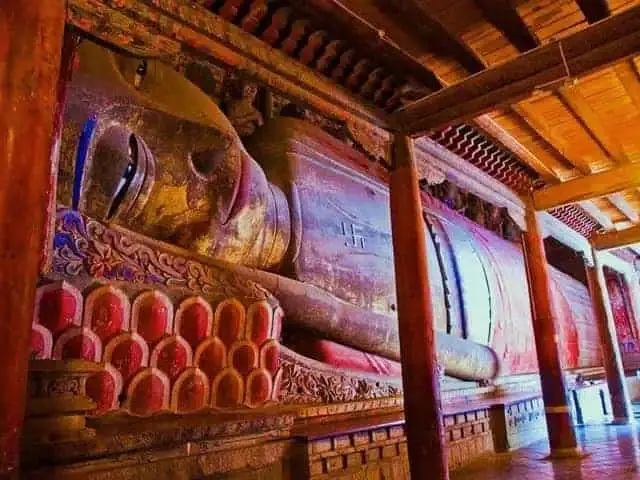 Giant Buddha Hall
The Giant Buddha Hall, a two-storey magnificent wooden building, is 24 meter long (79 feet), 33 meters high (108 feet), 49 meters wide (161 feet), with a total area of 1,770 square meters (19,052 square feet). On both sides of the hall gate, there are two brick sculptures of 6-square-meter, on which are engraved with the scenes of Buddha lecturing and various image of the Buddha with different expressions. Walking inside, you can see the largest existing indoor reclining Buddha in China, which is 34.5 m long, with a width of 7.5 m between its two shoulders. Its ears are 4 m long (13.1 feet), and can accommodate up to eight people sitting side by side. His eyes are half-closed and there is a calm smile on his face. Behind the Buddha stands 10 disciples, and on both sides of the hall are 18 Arhats. In addition, the walls of the hall are covered with colorful murals, depicting stories in the "Classic of Mountains and Rivers" – an ancient Chinese encyclopedia, and "Journey to the West" – a famous Gods-and-Ghosts novel written in the Ming Dynasty.
Sutras Exhibition Hall
Behind Giant Buddha Hall is the Sutras Exhibition Hall, where over 6,000 volumes of Buddhist sutras given by Zhengtong Emperor during the Ming Dynasty (1368-1644) are well-preserved, some of which, written in gold and silver powder, are the most valuable and still can be seen clearly.
Clay Pagoda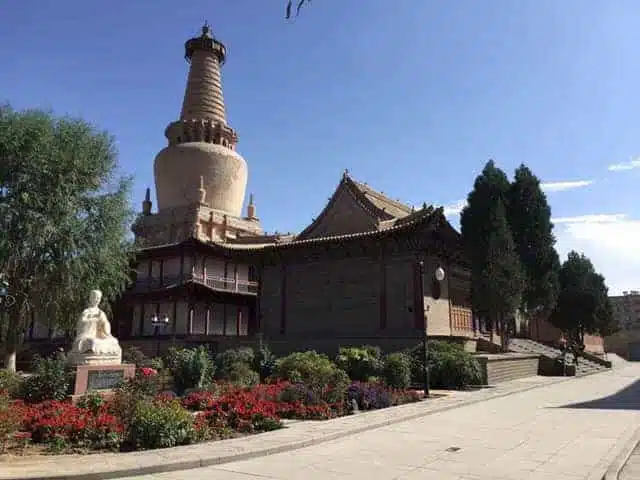 Also called the Amitabha Thousand Buddha Pagoda, Clay Pagoda is one of the Five Elements Pagodas in Zhangye, with a height of 33.4 meters. It has 13 stories, on the first and the second stories of which are 4 small pagodas, which is rarely seen architecture style in other Chinese pagodas. More uniquely, the Clay Pagoda is decorated with 36 tassel bells and 36 copper tiles on its top. The hall where the Clay Pagoda is located has been transformed into a small museum, which displays precious cultural relics such as scriptures, steles, bronze mirrors, jade carvings, and pearls, as well as ancient Chinese coins and Persian silver coins.
How to Reach?
Giant Buddha Temple is right in the downtown area of Zhangye City, so it's quite easy to get there from Zhangye West Bus Station. You can take bus No.11 direct to the scenic area. The journey takes 25 minutes and costs CNY 2 per person. Or you can just take a taxi for 5 minutes to the destination at a cost of CNY 5.
Zhangye West Railway Station is about 3.5 km (2.2 miles) west of the Giant Buddha Temple. From there, you can take BUS NO.1 and get off at the Business World Station. Then walk south for 100 meters (109 yards). Turn right at the first crossing and go on for 300 meters (328 yards) to the temple.