Situated at the northern foothills of the Qilian Mountains in western China, the Zhangye Danxia Geological Park is the most representative and the largest colorful Danxia landform in China's arid regions, encompassing an area of more than 536 square kilometers (207 square miles). Well-known for its gorgeous color across the mountains and rock formations, the Geopark has been described by National Geographic as one of the "Top 10 Geographical Wonders of the World". The Zhangye Danxia National Geological Park includes Binggou Scenic Area (Ice Valley) and the Colorful Danxia Scenic Area, which are about 12 km (7.5 miles) apart.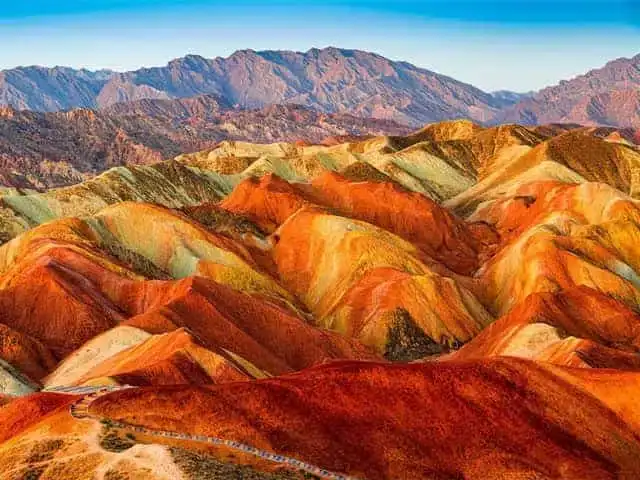 Location: 30 km (18.6 miles) south of Linze County, Zhangye City, Gansu Province
Recommended visiting time: half a day
Opening hours:
07:30 ~ 18:00 from May 1 to October 10; 7:30 ~ 17:00 from October 11 to April 30 Next Year
Tickets:
             Colorful Danxia Scenic Area:CNY 74 /11.5 USD (CNY 54/8.5 USD for Entrance + CNY 20 /3 USD for Sightseeing Bus)
             Binggou Scenic Area: CNY 60/9.4 USD (CNY 40/6.3 USD for Entrance + CNY 20/3.1 USD for Sightseeing Bus)
Free of charge for children under 1.2 m (3.9 feet)
Best Time to Visit
June to September of each year (Summer to Autumn), with the cool weather and rich water, is the best time to visit Zhangye Danxia National Geological Park. The mild temperature make it comfort to enjoy the amazing sunrise and sunset during this period. Plan a visit to the park after the rain, and you will have the opportunity to appreciate the unique beauty of Danxia with brighter colors.
How Was It Formed?
Zhangye Danxia landform was developed in about 200 million years ago from Jurassic to Tertiary. It was form ed by long-term weathering and erosion of red sandstone. Under the influences of the special geological structure, desert conditions, climate change, and wind power, the red gravels and mud stones eventually shaped into isolated peaks and steep rocks. Danxia landform is a masterpiece of nature, the multi-colored ridges of which seem to be a mixed palette. This is why thousands of both domestic and international tourists come to visit every year.
Viewing Platforms in Colorful Danxia Scenic Area
There are four viewing platforms in Colorful Danxia Scenic Area for tourists to enjoy the scenery and take photos. You can take a sightseeing bus to each of them, or you can also walk to every platform.
No. 1 Viewing Platform:
It is the largest viewing platform in the entire scenic area, and also the nearest one to the entrance, only a 10-minute walk away. It's almost at the same level as the ground, and you don't need to walk up too many steps to reach it, where you can appreciate a huge scallop-shaped sandstone, colorful hills, and mountains looking like monkeys watching the sea of fire.
No. 2 Viewing Platform:
It is the highest viewing platform with 666 steps, and it takes approximately 30 minutes to climb up. At the top, you can see a full picture of the Colorful Danxia Scenic Area, endowed with majestic mountains in peculiar shapes and magical colors of nature. Take a panoramic photo to record the spectacular scene, or enjoy the fantastic sunset. Actually, there is also a lower platform, which only takes a few minutes to reach, where you can capture the scenery of a mountain shaped like a sleeping beauty.
No. 3 Viewing Platform
Walk along the boardwalk for a few minutes, and you will get to the third platform, which provides the splendid view of "Seven-color Fan". All the footsteps here are painted with three alternating colors. In the afterglow, the undulating mountains take on a hue of red, orange and yellow.
No. 4 Viewing Platform
Built on a mountain ridge, the fourth platform allows the most stunning view of Colorful Danxia Scenic Area – soothing red waves, like a sea of fire, dotted with steep and abrupt white peaks. Standing on the ridge, you can feast your eyes on colorful gullies and hills. It is a perfect place to take photos of sunrise or sunset.
Best Tour Routes:
Entering from the west entrance, follow the route of No. 1 – No. 3 – No. 4 – No. 2; Entering from the north entrance, the route of No. 2 – No. 1 – No. 3 – No. 4 is recommended.
Binggou Scenic Area (Ice Valley)
Nestled in Sunan County, Zhangye City, with a total area of 300 square kilometers (116 square miles), Binggou Scenic Area takes sandstone landform relics as the main landscape, scattered with more than 20 scenic spots, such as the Blissful Palace, the Small Potala Palace and the Glazed Palace. Daxitian is the essential scenic area of the Ice Valley, where the Danxia precipices, stone pillars, pinnacles and hills are widely distributed. All of the narrow ridges in this valley point to the sky, which make it the "Red Stone Forest of the Great Northwest". The surging mountains look like temples and Buddha statues from a distance, making the Binggou Scenic Area a natural Buddhist shrine.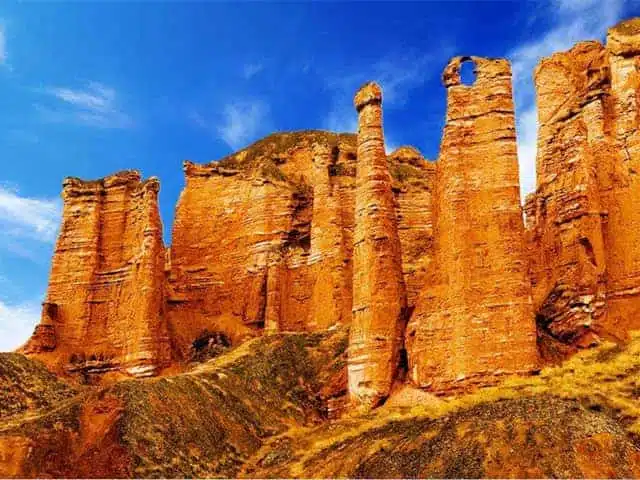 How to Get to Zhangye Danxia National Geological Park?
By Plane
You can take a direct flight from Lanzhou, Dunhuang, Xi'an or Urumqi to Zhangye Ganzhou Airport. From there, hire a taxi to the Geological Park, which is around 65 km (40 miles) away. It costs CNY 200-250 (31.5-39 USD) for a round trip.
Or you can take a taxi from the airport to the West Bus Station, which costs CNY 60 (9.5 USD) for the 35-minute journey. And then take a bus bound for Sunan County and get off at the west gate of Danxia.
By Train
If you start from Lanzhou, you can take the high-speed train to Zhangye West Railway Station. It takes 3 hours, with a cost of CNY 150 (23.5 USD) for a second-class seat. From the Railway Station, you can take a shuttle bus to the Danxia National Geological Park, which costs CNY 20 (3.1 USD) per person.
Travel Tips
Private cars are not allowed in the Geopark. If you don't want to walk, you can only take a sightseeing bus from one viewing platform to another.
The climate here is dry with strong ultraviolet rays. It is recommended to prepare sun-proof equipment such as sunhats, sunglasses, and scarves.