One Day Zhangye Danxia National Geological Park Tour
The Rainbow Mountain Scenic Area, The Ice Valley Mountain Scenic Area

Private transfers + Guide + Driver + Lunch + Entrance tickets

Yes
Tour Overview
As the symbol of Zhangye city, Zhangye Danxia National Geological Park including the Rainbow Mountain Scenic Area and the Ice Valley Mountain Scenic Area has attracted thousands of travelers from all over the world. This one day tour with inclusive of excellent English-speaking tour guide, experienced driver as well as all entrance tickets, just will take you to fully enjoy this amazing landscape.
In the morning, our English speaking tour guide and driver will pick you up from Zhangye downtown hotel and your exploration begins!
Today you will fully enjoy the highlight of Zhangye Danxia National Geological Park. The Danxia landform earns the most spotlight for Zhangye City. Rated as one of "10 Wonders of Nature in the World" in 2011 by National Geographic News, it does deserve the reputation. There are two main scenic area of the Zhangye Danxia with different features.
Firstly, come to visit The Rainbow Mountain Scenic Area which locates in Linze County, features in its bright color and is better to enjoy sunset which chosen by most travelers. Seen from the high platform, the rising layers of mountains in beautiful red with different saturation is bathed in rosy sunlight, depicting a gorgeous picture for the visitors who trudged a lot to here.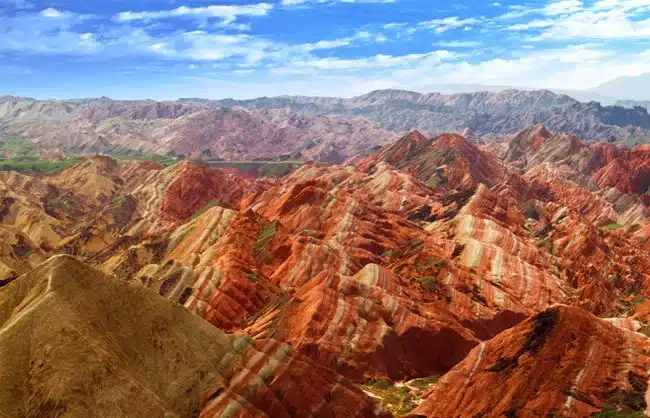 In the afternoon, move on to The Ice Valley Mountain Scenic Area, read Binggou Mountain in Chinese, earns its fame mainly with its graceful shapes. Usually, people come here for sunrise scenery. Although the color of hills here are not as bright as Rainbow Mountain, the unique form here easily excites people's imagination to enjoy the natural masterpiece in another way.
Finishing the sightseeing, transfer back to your hotel.