Saint Sophia Cathedral, located in Sophia square, daoli district, Harbin city, Heilongjiang province, China, is a Byzantine orthodox church built in 1907, which is the landmark building of Harbin. In history, there used to be many cathedrals in Harbin, but only a few remained because so many people destroyed them during the cultural revolution. Thus, Sophia cathedral becomes very precious and rare, and becomes a world-famous ancient building.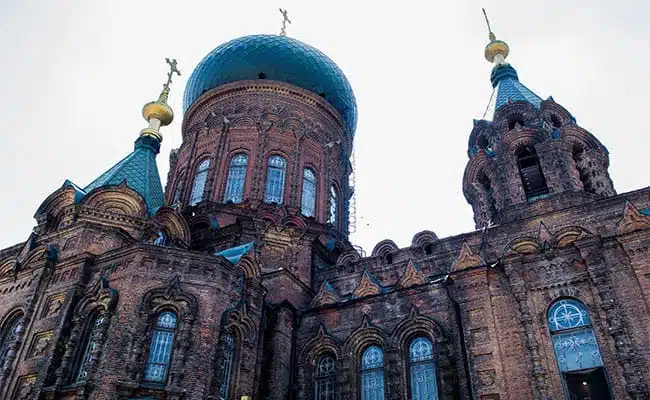 Basic Facts about the St. Sophia Cathedral:
Harbin St.Sophia Cathedral was built in March 1907. It was originally a military church built for the Middle East railway of the 4th infantry division of eastern Siberia of Russia. It is all wood structure covering an area of 721 square meters, with a total height of 53.35 meters, which is a typical Byzantine-style architecture.In 1911, a brick wall was built outside the wooden wall to form a brick and wood structure church. On September 27, 1923, St.Sophia Cathedral held the second foundation stone ceremony for reconstruction. Completed on November 25, 1932, it has become the largest eastern orthodox church in the far east area, which is famous for its exquisite architecture and rich historical and cultural connotations all over the world.
The entire architecture is in a Byzantine style, with a standard large dome in the main building, which looks magnificent and spacious. The church is designed as a Latin cross  from east to west. The walls are all made of red brick, with a large and full onion dome on the top, and the tent roofs in different sizes on the four sides. The four storiesare connected by stairs, with four doors to the front, back and right. The top of the front door is the bell tower, and the seven bronze bells are exactly seven notes, which can be heard in a cadenced melody.
Nowadays, St.Sophia cathedral is awell-preserved typical Byzantine architecture in China. The architecture, which was born nearly 100 years ago, is magnificent, simple and elegant, and full of attracting charms. The whole square embodies the beautiful melody of music and the light of architectural wisdom. The scenic area has a modern professional exhibition hall, with nearly a thousand beautiful pictures showing the history, present situation and future of the famous cultural city Harbin. With a scale of 1:600 and an area of nearly 400 square meters, the large-scale urban planning sand table usesadvanced sound, light, electricity, lifting and other high-tech means to depict the grand blueprint of Harbin in the future, where people not only can appreciate the elaborate ancient architecture but also have a chance to know deeply about Harbin.
How to Buy Entrance Tickets:
Price of Entrance Tickets: CNY15
Opening Time: 8:30-17:00
When is the best timeto visit?
As a landmark of Harbin, St.Sophia Cathedral is a place that is suitable for visiting all year around. And it is also a good place for visitors to enjoy the charming night view and take some beautiful photos.
Tips: Visitors had better avoid the official holiday in China, because many Chinese citizens choose to travel on official holidays to ease the pressure of their work. As a result, many Chinese tourist attractions are overcrowded and traffic jams are common. Therefore, visiting China at this time will bring tourists a less pleasant travel experience.
Official Holidays in China
| | |
| --- | --- |
| Chinese New Year | Around January or February |
| Winter vacation | January-February |
| Labor Day | May1st -3rd |
| Summer vacation(for students) | July-August31st |
| Mid-Autumn Festival | Around mid-September |
| National Day | October 1st-7th |
How to get to the St. Sophia Cathedral?
Bus
Visitors can take Bus No.1, 5, 13, 20, 53, 85, 114, 130, 131, 132, 133 or 206 and get off at the Zhaolin Jie Station.