Urumqi-Turpan Best Day Tour by High-speed Train
Private transfers + Guide + Driver + Lunch + Entrance tickets

Yes
Tour Overview
Turpan, connected with Urumqi by 1-hour high-speed train, is a perfect place for tourists who have extra days in Urumqi. Accompanied by the friendly local tour guide and driver, you will explore the best of Turpan city including the splendid Tuyugou Valley and Jiaohe Ruins, the well-designed Karez Well as well as the amazing Sugong Pagoda. Taking round way high-speed train will definitely low your cost down!
Highlights of this tour:
*Marvel at the amazing landscapes in Tuyugou Valley.
*Visit Karez Well and Jiaohe Ruins to trace back its history and unique story.
*Learn about the Buddhist culture in Sugong Pagoda.
*With private driver and English guide, as well as our 10+ years experience, you will love your tour and completely feel the magic of this wonderland.
Your Urumqi-Turpan best day tour officially starts today with a warm greeting from an English-speaking tour guide and a driver who will pick you up from the downtown hotel and transfer you to Urumqi train station. Upon arrival, the tour guide will help to collect paper train tickets and accompany you to board the train. And the exciting Turpan tour begins!
The train rides around 1 hour. Listen to your guide to give more background information of this amazing city on the train would be a good choice. Upon arrival at Turpan, the first scenic spot will be Tuyugou Valley. Tuyugou Valley Scenic Area locates at 55km away from southeast Turpan, composed by three major parts: Tuyugou Valley, Tuyugou Thousand Buddha Caves and Mazha Village. It's a melting pot of different religions, history and culture since the remote old days. As you know, mysterious tales always comes with "ancient", the old folk village and the Buddha grottoes with rich stories sublimates the surface natural beauty of the valley beyond doubt.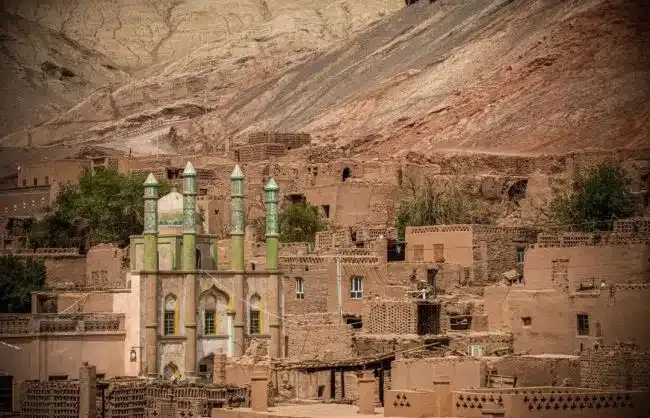 Afterwards, move on to Karez Well, which is a special Irrigation System distributed in Turpan area, sharing the same fame with Great Wall as "Great Human Engineering". With a little rainfall volume yearly, it's almost impossible for Turpan to use water in the surface to irrigate farmland.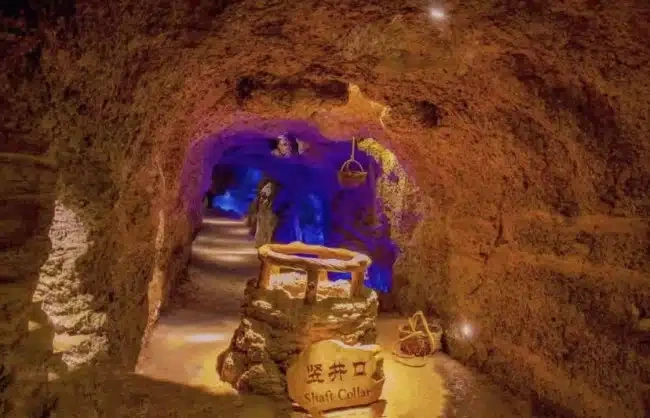 Next, continue your visit to Sugong Pagoda, which is the typical Islam architecture with the largest scale among all pagodas in Xinjiang, built by the local governor to show appreciation for Qing Government, today symbolizing national unity. The conical body of the Pagoda was engraved with beautiful paintings of strong ethnic flavor, vividly telling its old stories for the visitors. Behind the Pagoda stands the biggest Mosque in Turpan, consisting a harmonious picture in the scenic area.
Later, come to Jiaohe Ruins. If you ever watched the aerial photo of Jiaohe Ruins, you will find it roves in the vast Turpan basin just like a giant aircraft carrier. Located at a ship-like loessal mesas eroded by rivers for thousands of years, the ancient city later emerged with the coming of Cheshi people whose great wisdom could be deduced easily on their masterpieces: the dwellings, streets and city layout that they built on a clever use of the local geographic conditions, thus we could have opportunity to have a look to the relics of the largest city made of natural soil in the world with long history, about 1700 years.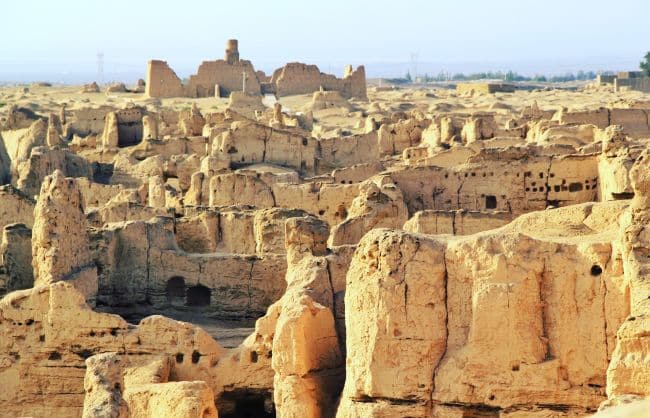 Last, taking evening high-speed train back to Urumqi. Upon your arrival at Urumqi train station, the driver will be waiting for you at the exit gate and drive back to your hotel.