The Ancient Mausoleums most Attractive to Ghoul in China
Throughout feudal dynasties in Chinese history, lots of emperors led the luxury life and after they died, their mausoleums can even be more luxury than the palace they lived during their lifetime. Bury with full honors and large quantity of mortuary objects were a distinct feature of Chinese burial culture. It was a rule that an emperor start his mausoleum construction the 2nd year after taking the throne. Some mausoleum construction can last till the death of the emperor. For example, Emperor Wudi of the Han Dynasty had been on throne for 54 years and his mausoleum construction lasted 53 years.
In Chinese history, numberless of tomb robbers risk their life to rob tombs for the precious mortuary objects. Among all tombs, emperors' mausoleums have the most mortuary objects. So the tombs of emperors become the top targets of some brave tomb robbers. And with these "heroes" hard work, most of emperor mausoleums were robbed in history. According to report there are only less than 5 emperors has not been robbed due to their intricate and infrangible structure. Nearby Xian there are 3 emperors' mausoleum that make the tomb robbers watering but can not approach: Mausoleum of Emperor Qinshihuang, Qianling Mausoleum, and Maoling Mausoleum.
Mausoleum of Emperor Qinshihuang – The First Mausoleum of Emperor in China
Mausoleum of Emperor Qinshihuang locates nearby Terracotta Warriors and Horses at north foot of Lishan Hill. When the construction work of mausoleum finished, it was 115 meters high and covered an area of 56.2 km2. In authoritative historical record Shiji there are some description of the mausoleum's construction "When the Emperor Qinshihuang unified China, more than 700 000 people were sent to built the mausoleum. The depth of the mausoleum is deeper than water bearing bed and copper were used to reinforce base that bears coffin. The coffin chamber was filled with objects the emperor used when he was alive. Crossbows were hidden in the tomb to shoot people who enter the tomb. Mercury was used to make rivers, lakes, and seas. And the Sun, the Moon, the stars and other landscapes were created in the tomb. Fish cream were used for lighting and the candles never die." The mausoleum construction cost 1/3 national taxation income. Terracotta Warriors and Horses is praised as the Eighth World Wonder. The fact is that Terracotta Warriors is just a part of mortuary objects of Mausoleum of Emperor Qinshihuang. When one doing a Terracotta Warriors and Horses Tour, he can see the mausoleum in distance in car or make a stop to see it in close distance.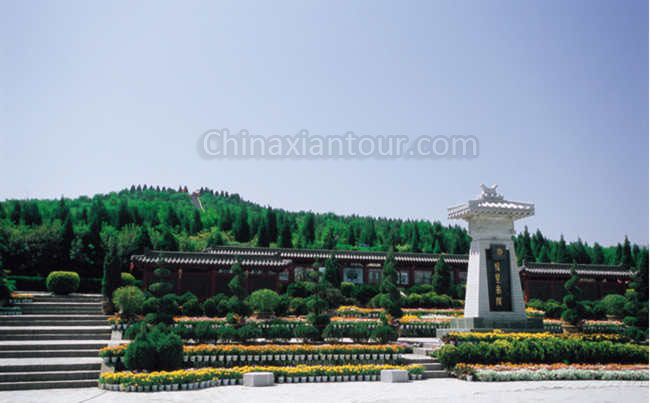 Maoling Mausoleum – Pyramid of China
Maoling Mausoleum of Emperor Wudi of the Han Dynasty locates 40km west to Xian City. According to record, Emperor Wudi started the mausoleum construction the 2nd year after taking the throne. And jus like Emperor Qingshihuang, he also used 1/3 of national taxation income to built his mausoleum. Since he had been on throne for over half century, by his death, there were no more space to place other mortuary objects than the ones he put in when he was alive. Nowadays measuring statics of Maoling Mausoleum are: 46.5 meters high, 231 meters wide from east to west, and 234 meters wide from south to north. Rent a car with guide in Xian one could find more facts of this mausoleum.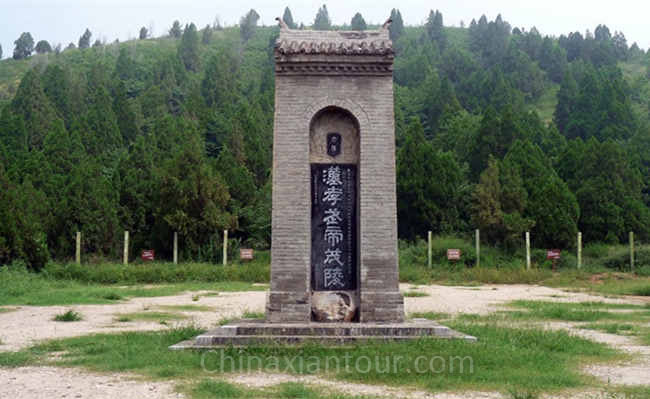 Qinaling Mausoleum – The Only Shared Mausoleum of Two Emperors in China
Qinaling Mausoleum was built on Liangshan mountain which is 85km west to Xian City. In the Tang Dynasty, emperors' mausoleums were usually built by dig a hole in a mountain peak. Looking from distance, Qianling Mausoleum like a sleeping beauty. The mausoleum covers an area of 240km2 and when the construction finished, 378 buildings were built in the mausoleum area. Among the 18 Emperor mausoleums of the Tang Dynasty, Qianling is the most grand one. And it is also the most unique one, because in the coffin chamber two emperors were kept: Emperor Gaozong and Emperor Wu Zetian. They are also husband-and-wife. Regardless other precious objects buried, it is said Lantingxu, a priceless photography work, was buried with the emperors. Some people believe Qianling Mausoleum will the 9th World Wonder when it is excavated. By now there is no any hole for robbing found in Qianling Mausoleum. According to record, the entrance of tomb passage of Qinaling was filled with huge stone bricks and the gaps among bricks was perfusion of molten iron. After establishment of New China, people bombed Liangshan Hill when building a highway. And unexpected thing happens, the recorded large stone bricks revealed from the earth cover. Then the bombed area was backfilled and more strict protection work was carried out. Though the Qianling Mausoleum was not excavated yet, doing a Qianling Mausoleum tour one will see the original stone figures were set along both sides of sacred road.