Terracotta Warriors and Street Dance
How many steps does it take to combine Terracotta Warriors with street dance?
"Wow! How could that terracotta warrior move?"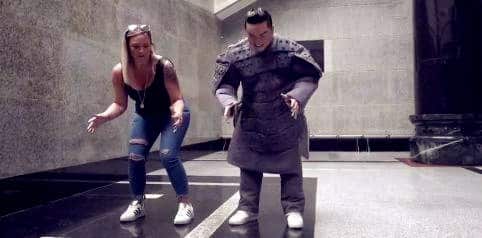 Recently, some netizen were surprised to find that the Terracotta Warriors were "resurrected" in the ruins of the Terracotta army in Xian. Far more than it, there was even a Terracotta dance style show!
According to some people in Xian, they came across a number of popular contestants of "This is the hip-hop dance" (a hot reality show in China) shooting hip-hop dance in the Terracotta Museum, the City Wall and the Big wild Goose Pagoda, ect. On the spur of the moment they also taught some foreign friends to dance.
It's totally beyond expectation that the combination of street dance and traditional culture would be able to play this way. One of the contestant said this experience is a novelty. The fusion of street dance with Chinese historical and cultural sites just renders a different path for carving out hip-hop culture.
This wonderful street dance cosplay has been held in the Terracotta Museum, which just made this 8th world wonder exploded again on the internet, attracting increasing travelers from the world for pilgrimage trip to Terracotta Warriors. Culture will always be isolated, they just meet sometimes, connected with other each and bring people a surprising feast incredibly.