Zhangjiajie is a real wonderland beyond doubt for all the travelers over the world, boasting not only the marvelous mountains in specular shapes but also more great landscapes around like Fenghuang Ancient Town and Fanjingshan Mountain. The in-depth Zhangjiajie tours with exploration to Zhangjiajie National Forest Park, Tianmen Mountain, Fenghuang Ancient Town, and Fanjingshan Mountain are recommended to those who have enough time for Zhangjiajie and want to experience as many sights as they can over this land.
Want to discover the most breathtaking landscapes? This 7 Days Amazing Nature & Culture Tour of Zhangjiajie -Fenghuang - Mt.Fanjingshan is absolutely prepared for you! Through this tour, you will visit Zhangjiajie National Forest Park, Bailong Elevator, Fenghuang Ancient Town, Mount Fanjingshan and ...
---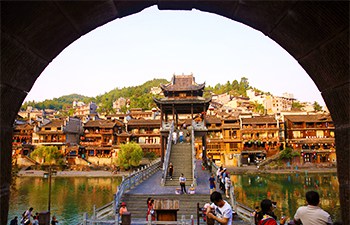 You will never know how extraordinary this place is going to be if you have never gone to there! This 5 days private tour package will lead you to visit two nearby scenic area: Zhangjiajie National Forest Park and Fenghuang Old Town. It will not only show you the real Avatar mountains inserted into ...
---
Have you ever heard the breathtaking nature of Zhangjiajie? You may have seen a lot of beautiful places on this planet, but Zhangjiajie definitely will take your breath away. It's one of the great places to admire nature in China and have different charm in every season. The amazing Avatar Mountain,...
---
Free Inquiry: