Fenghuang Ancient Town, also known as the Phoenix Ancient Town, is located in the southwest of Tujia-miao autonomous prefecture of Xiangxi and covers an area of about 10 square kilometers. It is a typical residence of 28 ethnic groups, including Miao, Han, Tujia and so on. The ancient town is a national historical and cultural city with ancient architectures of the Ming and Qing dynasties and beautiful natural scenery. The clear Tuo River slowly flowing through the city presents a quiet and charming landscape.
Basic Facts about the Fenghuang Ancient Town:
Fenghuang Ancient Townwas built in 1704, the 43rd year of the reign of emperor Kangxi of the Qing dynasty, itis one of the ten cultural heritages in Hunan province. With the advantageous geographical location, it is 27 km from Tongren Fenghuang Airport, 57 km from Huaihua Zhijiang Airport and about 280 km from Zhangjiajie Hehua International Airpor The ancient town was regarded as the most beautiful town in China by the New Zealand writer Rewi Alley, and it shares great reputation with Old town of Lijiang in Yunnan province and Ancient city of Pingyao in Shanxi province as Chinese ancient town.
The old east gate and the north gate of the city still exist after about 300 years.The Chaoyang Palace,Longevity Palace, Heavenly Kings temple, Yang Family Ancestral Temple, Former Residence of Shen Congwen, Formal Residence of Xiong XiLing, East Gate Tower, Chongde Hall and other old architectures are well-preserved. Nowadays, it is the best choice for visitors to walk along the quartzite street inside the ancient city, appreciate the ancient wooden stilted building (Diaojiao building) and immerse in the sound of Tuo river flowing or take some photos to record the unique experience.
The ancient town takes Huilong Pavilion as its central axis, connecting countless lanes through whole city. Huilong pavilion ancient street has been themost bustling street and market since ancient times. The ancient city is divided into the old and the new parts: The old city is near the mountains and clear Tuo river.The north gate of the old city was originally named as "Bihui Gate", and there is an old and narrow wooden bridge that can only be passed by two people. The bridge was the only way out of the city. On one side of the river, there is a modern and famous bar street for people to relax, where many pub singers sing folk songs or pop songs every night to ignite visitors' nightlife. In addition, it is very popular for visitors to enjoy the charming night view in the town.
When you visit Fenghuang ancient town, there are othermust-visit attractions–the Miao Village where visitors can experience authentic custom and know the traditional culture of Miao people. Here, visitors can not only enjoy the unique ethnic songs and dances of the Miao people and taste traditional food, but also buy some handmade silver products or embroidery and other souvenirs with ethnic characteristics.
How to Buy Entrance Tickets:
Prices of tickets: The ancient town is free for entrance, but if you want to visits certainscenic spots, you need to buya ticket.
Notes: The ticket includes nine scenic spots: Former Residence of Shen Congwen, Formal Residence of Xiong XiLing, East Gate Tower, Yang Ancestra Temple, Chongde Hall, Longevity Palace, Boat ride on Tuo River, Hongqiao Art Museum and Fenghuang Ancient City Museum. And the ticket is valid for 2 days, visitors can arrange their travel time appropriately in advance.
Opening time: all day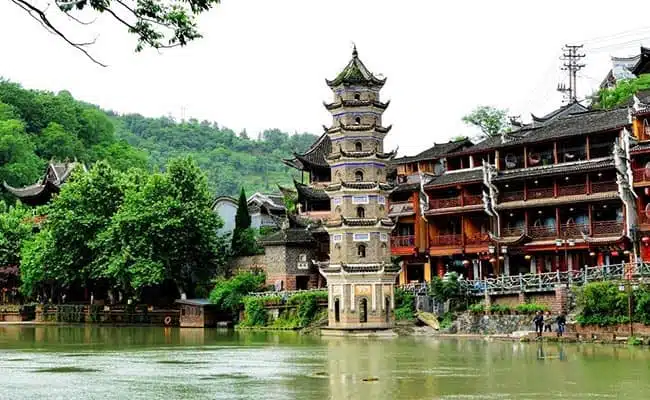 When is the best time to visit?
The best time to visit Fenghuang Ancient is April to October. During these months, the natural scenery is charming and the weather is pleasant.
Tips: Visitors had better avoid the official holiday in China, because many Chinese citizens choose to travel on official holidays to ease the pressure of their work. As a result, many Chinese tourist attractions are overcrowded and traffic jams are common. Therefore, visiting China at this time will bring tourists a less pleasant travel experience.
Official Holidays in China
| | |
| --- | --- |
| Chinese New Year | Around January or February |
| Winter vacation | January-February |
| Labor Day | May1st -3rd |
| Summer vacation(for students) | July-August31st |
| Mid-Autumn Festival | Around mid-September |
| National Day | October 1st-7th |
How to get to the Fenghuang Ancient Town?
From Changsha to Fenghuang Ancient Town
Changsha West Coach Station has buses to Fenghuang Ancient Town Bus Center four times a day. The whole journey will take 5.5 hours. The ticket fare is 145 yuan per ticket.
From Zhangjiajie to Fenghuang Ancient Town
Visitors can take bus to Zhangjiajie to Fenghuang Ancient Town, and there are three buses that take about 5 or 6 hours to Fenghuang Ancient Town are available as follows:
West Bus Station: 8:10, 10:40,15:30, 17:30  CNY130
South Bus Station: 9:30,15:30  CNY 130
Changzhutan Bus Station: 8:00,10:00, 14:00  CNY 145