Day 1
Huangshan Arrival (No Meal)
When you arrive in Huangshan, our driver will greet you at the exit of airport/train station by holding a name sign and transfer to your downtown hotel. Before getting off the plane/train, please double check your belongings to ensure you have collected all your stuff. The rest of the day is for your own arrangement. If you need any suggestions on your free time, we will be very happy to help you.
Friendly Tip: you can prepare something for the hiking in advance. You are highly suggested to prepare some snacks to keep your energy up and bring a jacket even in summer. And don't forget hiking pole, rain coat and rain boots regardless of the time of year considering the mountain is notorious for rainfall.
Accommodation: Overnight in Huangshan city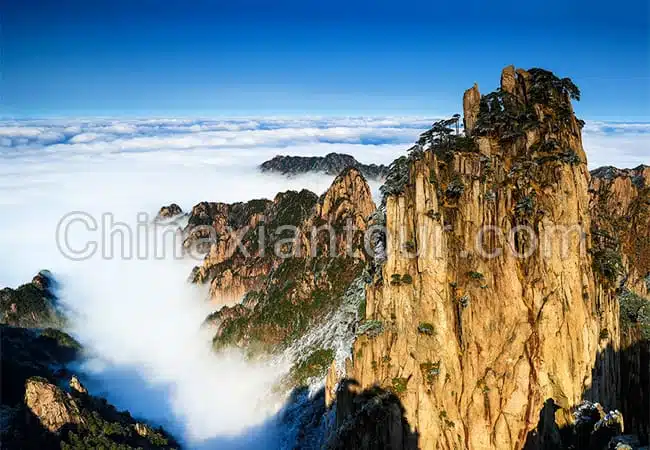 Day 2
Huangshan Mountain (B + L)
Attractions: Cloud Valley Temple, Mt. Huangshan
Your guide and driver will meet you at your hotel lobby after breakfast and drive about 1 hour to the Huangshan Mountain. Upon arrival, you will take the shuttle bus to Cloud Valley Temple and then take a cable car up the mountain. Then hike to enjoy the beautiful scenery at North Sea, Beginning-to-believe Peak, Cloud-dispelling Pavilion and West Sea Valley. There will be many staircases that go up and down, but all the tiredness of climbing will be gone when you see the breathtaking scenery. If you are still in good shape and time & weather permits, you can continue to Sky Sea Scenic Area to enjoy gorgeous sunset at Bright Summit and explore Flying-over Rock. Please do not watch your camera or phone while walking.
Tonight you will stay at a hotel on the mountain so as to catch sunrise next day.
Accommodation: Overnight on Huangshan Mountain
Day 3
Huangshan Mountain and Hongcun & Xidi Ancient Villages (B + L + D)
Attractions: Huangshan Mountain,  Hongcun Ancient Village, Xidi Ancient Village
Today you will get up in the early morning to witness the incredible sunrise. When the Huangshan Mountain is still sleeping under starry sky, we will leave the hotel to occupy a vantage point and quietly wait for the thrilling moment. With the passage of time, the color of sky will change slowly. The sun finally show its head and the peaks are bathed in dazzling gold.
After you enjoy the sunrise, we will go back to hotel and have breakfast. Then move on to explore Lion Peak which got its name from the look like a crouching lion. You will visit Dawn Pavilion and see an interesting rock called "Stone Monkey Watching Sea".
Next we will hop on cable car and descend the mountain to visit Hongcun and Xidi ancient villages. More than 800-year-old Hongcun Village is a typical representative of Hui-style building, mainly in black, white and grey colors. It was listed as World Cultural Heritage Site by UNESCO in 2000. You will see many original residences from Ming and Qing dynasties here, among which Chengzhi Hall is an architectural masterpiece and enjoys the name of "Folk Forbidden City". It has a lot of complex wood carvings with great artistic value. We will also stroll along the South Lake and absorb in the picturesque scenery.
Then move on to explore the ancient houses and 99 cobblestone-paved maze-like lanes in Xidi Ancient Village. When you arrive at the village, a magnificent archway, Hu Wenguang Memorial Archway, will stare at you at the entrance. The archway, built in the Ming Dynasty, is over 400 years old and has become a landmark of the village and a witness of the village's history. You will marvel at the delicate stone carvings on it and how sturdy it is, still in good condition after so many years.
After saying goodbye to the village, we will drive back to Huangshan downtown and stay one more night in Huangshan.
Accommodation: Overnight in Huangshan city
Day 4
Huangshan-Zhangjiajie (B)
Today you will travel from Huangshan to Zhangjiajie by flight or train with the transportation arranged on your own. Because there is no direct flight and train running between the two places, you need to transit via another city. Uusally you are suggested to take a high speed train to Shanghai from Huangshan and then take flight to Zhangjiajie from Shanghai, or take high speed train from Huangshan to Changsha and then another high speed train from Changsha to Zhangjiajie.
The land transfer between your hotels to the train stations or airports is included. Please inform us your transportation information and we will arrange driver for the transfer accordingly.
Friendly Tip: If you would like to the transportation between Huangshan and Zhangjiajie included, please share your idea with us by "Free Inquiry".
Accommodation: Zhangjiajie local 4 stars hotel
Attractions: Zhangjiajie National Forest Park, Yellow Stone Village, Golden Whip Stream, Zhangjiajie Grand Canyon
After breakfast, the guide and driver will pick you up at hotel lobby and start today's adventure with Zhangjiajie National Forest Park. It's the first national forest park in China and was included in World Natural Heritage List in 1992 for the queer forest of quartz sandstone peaks. You will see the pillars rise hundreds of meters into the sky, stroll along tranquil valleys and feel rejuvenated by the fresh air. We will take cable car up to Yellow Stone Village. With an altitude of more than 1200 meters, it's the largest and best observation deck to overlook the quartz sandstone peak forest. You can hear the story of Zhang Liang being saved by Huang Shi from your guide while you are walking, and you may come across cute monkeys on the way.
Next you will move on to Golden Whip Stream, one of the most beautiful sites in Zhangjiajie. The stream winds its way through the hills and valleys and got its name because of passing by the Golden Whip Rock. Just listen to the murmurs of the stream, stroll along the valley and stop to watch the fish swimming in the crystal clear water.
The last stop is the longest and highest Glass Bridge in the world with a length of 430 meters. You can have a panoramic view of Zhangjiajie Grand Canyon walking on the transparent glass floor. You may be scared to step on the bridge at first, but once you take the first step, you will enjoy the magnificent view of flying waterfalls, lush forests, and running streams.
After all the activities, the guide and driver will take you back to your hotel.
Accommodation: Overnight in Zhangjiajie
Day 6
Zhangjiajie Sightseeing and Zhangjiajie Departure (B+L)
Attractions: Hallelujah Mountain, Bailong Elevator, Tianzi Mountain
Meet your guide and driver at your hotel lobby in the morning and check out as you will leave Zhangjiajie directly after today's tour. Please pack your belongings in advance.
We will drive to Yuanjiajie first, the inspiration for Hallelujah Mountain in the super famous movie Avatar. You can experience Bailong Elevator, the highest and heaviest outdoor elevator in the world. You will be amazed by the speed of the elevator, only 1 minute and 58 seconds up to Yuanjiajie. When you step out of the elevator, a magical landscape painting will unfold in front of you. The massive quartz-sandstone pillars are just towering over you or next to you.
Then we will go to explore Tianzi Mountain. There is a saying that you will not want to see any other mountains after visiting Tianzi Mountain. One of the spectacular sights is the sea of clouds after rain if you are lucky. You will witness rugged rocks and a forest of stone peaks which looks like a group of warriors listening to orders.
At the end of the tour, your guide and driver will transfer you to the train station/airport for your departure train/flight. Our service will end here. Wish you a pleasant journey.