Zhangjiajie Grand Canyon, located in the Cili county of Zhangjiajie, is close to renowned Wulingyuan Scenic Area. It is a landform museum of Zhangjiajie, integrating mountains, rivers, and caves. People can enjoy the all kinds scenery of Karst landform. In the valley, visitors can see monkeys jumping and birds singing, and the reflection of green and steep mountains the clear water. The density of vegetation here also changes with the seasons, which looks like a charming landscape painting.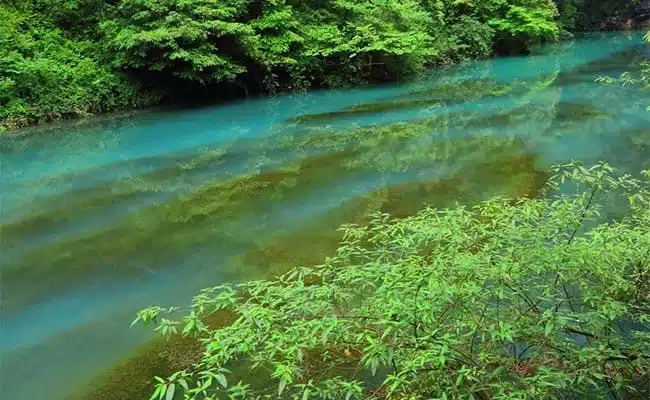 Basic Facts about the Zhangjiajie Grand Canyon:
There is a quiet and clear brook flowing in the valley, along the side of it is a wooden tour path for visitors to walk. Zhangjiajie Grand Canyonnot only has the traditional beautiful natural scenery, but also gathers the historical and cultural landscape such as the ancient battlefield called "thousand people's graves" and the bandit cave reflecting the historical characteristics of western Hunan. The valley is rich in vegetation and clear streams, which just like a paradise for visitors to relax.
The scenic area is equipped with unique Nokeri slideway which is 600 meters long for visitors to have a fun or save energy. And the most renowned scenic spot here isthe glass bridge, which is the highest and longest glass bridge in the world. This glass bridge, built on the peak of the both sides of Grand Canyon, spans over the canyon with 430 meters long, 6 meters wide and relative height of about 400 meters. The bridge floor ispaved with transparent glass laid and the whole project didn't use steel bracket, so people can appreciate the breath-taking scenery through the floor when they stand on it. In August 2018, a new bungee jumping platform of 260-meter (853-foot) high was built on the glass bridge. Once open, it will be the highest bungee jumping platform in the world.
A Strip of Sky and Sky Ladder Plank Roadboth are popular scenic spots of Zhangjiajie Grand Canyon. Located at theentrance of Zhangjiajie Grand Canyon tour path, A Strip of Sky is a cliff wall of canyon. It looks like a gate of Zhangjiajie Grand Canyon to welcome to everyone. Although the "gate" is very high, it is very narrow and small, so visitors may walk slowly t Visitor can walk down to the bottom of the canyon by a walking path which is more than 700 meters long and about 300 meters of vertical elevation difference. The slope of "the Sky Ladder Plank Road" is very steep and the wooden plank is very narrow. The plank road looks like a ladder helping people to get to paradise. Walking along it for about 3 minutes, visitors can get a panoramic view of A Strip of Sky.
How to Buy Entrance Tickets:
| | |
| --- | --- |
| Admission Fee(Zhangjiajie Grand Canyon+Glass Bridge) | CNY 219 |
| Admission Fee only for Zhangjiajie Grand Canyon | CNY 94 |
Opening time: 07:30-18:00
Prices of other charge in the scenic area:
| | |
| --- | --- |
| Slide way | CNY22 |
| Cable car to Glass Bridge | CNY 35 |
| Rope line | CNY 30 |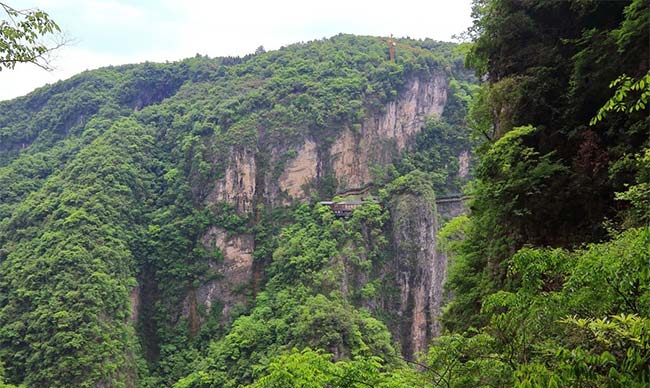 When is the best time to visit?
It's like spring all year around due to its unique mid-subtropical humid monsoon climate, so four seasons here are all suitable for sightseeing. But the best time to visit is April to October, especially April and October, because natural scenery is most beautiful in these two months.
Tips: Visitors had better avoid the official holiday in China, because many Chinese citizens choose to travel on official holidays to ease the pressure of their work. As a result, many Chinese tourist attractions are overcrowded and traffic jams are common. Therefore, visiting China at this time will bring tourists a less pleasant travel experience.
Official Holidays in China
| | |
| --- | --- |
| Chinese New Year | Around January or February |
| Winter vacation | January-February |
| Labor Day | May1st -3rd |
| Summer vacation(for students) | July-August31st |
| Mid-Autumn Festival | Around mid-September |
| National Day | October 1st-7th |
How to get to the Zhangjiajie Grand Canyon?
From the downtown
Visitors can take bus to Wenya Hot Spring at Zhangjiajie Central Bus Station, which can directly reach to Zhangjiajie Grand Canyon.
Visitors can also take bus to Wulingyuan Station, and then take bus bound to Zhangjiajie Grand Canyon or Cili county.