Tianmen mountain, known as Yunmeng mountain or Songliang mountain in ancient times, is the highest mountain in Yongding district of Zhangjiajie with the 1518.6 meters high of the main peak. It is 8 kilometers away from southern suburbs of Zhangjiajie, Hunan province, which is honored as "the soul of Zhangjiajie" and "the first sacred mountain in western Hunan". Nowadays, it is a well-known World Geopark and national forest park attracting a great number of visitor home and abroad.
Basic Facts about the Tianmen Mountain:
Tianmen mountain tourist area covers an area of 96 square kilometers and the 2 square kilometers of the peak area, which is a typical karst landform with steep and magnificent cliffs and mountains. The primeval secondary forest is well-preserved, and the plant resources are abundant. Tianmen mountain has a profound cultural heritage. There existrelics of Patron of agriculture, Chisongzi and Guiguzi as well as a large number of poems and legends about Tianmen mountain. And since the Tang dynasty, Tianmen mountain temple has strong incense with precious Shakyamuni relics.
Covered by cloud forest almost all year around, Tianmen Mountain has unique and breath-taking scenery of countless change of the sea ofclouds. There are other wonders such as the "holy light of the Buddha of Tianmen", "sunglow of Tianmen", mirage and so on. Withmany charming and magnificent natural landscape and profound history, it is also known as the "Hanging primitive garden".
The tourism traffic facilities of Tianmen mountain such as Tianmen cable car, Heaven-linking Avenue and glass skywalk all have a great reputation in the world. The plane passes through Tianmen Cave, Wing Outfit Flying World Championship and people climb over the Tianmen Cave by hand all make the Tianmen Mountain more famous and attractivefor visitors.
Tianmen Mountain cable car, the longest mountain tourism cable car in the world, connects the city of Zhangjiajie tothe peak of Tianmen mountain. The length of it is 7,455 meters and the horizontal elevation difference is 1,279 meters. As the world's first aerial mobile viewing gallery, visitors can not only enjoy the city scenery, but also rural scenery and magnificent natural landscapes. The single journey takes about 35 minutes, and it is regarded as one of the four wonders of Tianmen Mountain.
Heaven-linking Avenue, located in the deep valley in the middle of Tianmen mountain, winding in the mountains and cliffs, is the only highway to Tianmen Cave. With a total length of 10.77 kilometers and an elevation drop of nearly 1,100 meters, the 99 curves that are almost 180° rotation looks like a giant dragon circling around the mountains. The construction of it began in 1998 and it was fully completed in 2005,costing more than 100 million yuan due to the unique geology and climate, and it is famous for its amazing and great and honored as "the first wonder of highway in the world".
There are two glass skywalkson the top of Tianmen Mountain. The western glass skywalk is 60 meters in length and 1.6 meters in width, which is built on the cliff at 1,430 meters high above sea level. And the surface is made of high-strength tempered glass, so it is absolutely safe. Walking on it, people may feel like floating on the sky. For visitors who are brave and adventurous enough, it is must-go experience.But if you are acrophobic, there is also a stone path for you to hike. And the eastern glass skywalk, located on the cliff wall, is 150 meters long and 1.8 meters wide. When you walk on it, you can have a panoramic view of Tianman Cave.
Tianmen cave is a legendary representative of the highest natural cave through the mountain in the world. Hanging over an elevation of more than 1300 meters, Tianmen cave is 131.5 meters high, 57 meters wide and 60 meters deep, and it isa famous scenic spot in Tianmen mountain. Through the ages, whether it is the emperor or the ordinary people regard it as a sacred place for praying. If you want to visit it, climbing stairs called heaven-reaching ladder to heaven by footis the only way. There are 999 stairs in all, symbolizing the supremacy and permanence of heaven. If you want to save time and energy, taking the escalator that runs through the mountain is the best way. The elevator running through the mountain is the first escalator installed in the mountain tunnel in the world and it runs inside it all the way from the bottom to the top of the mountain, and the total length of escalator is 897 meters with 12 sections.
How to Buy Entrance Tickets:
Notes: The ticket includes transportation fares inside the scenic area. (transportation: shuttle bus, single-way and the upper escalator from Tiammen Cave to the mountaintop.)
Opening time: 08:00-17:00
Prices of other charge in the scenic area:
| | |
| --- | --- |
| Lower escalator to Tianmen Cave | CNY 32 (single way) |
| Shoe cover at glass skywalk | CNY 5 |
| Peak forest cable car on the top of the mountain | CNY 25 |
How to tour in Tianmen Mountain?
There are three tour routes for visitors to choose.
Route A: take the cable car at the Down Station of cable way to the mountaintop–tour the "Hanging Garden"–take the escalator to Tianmen Cave–take the tourist bus to the mountain gate–take the shuttle bus back to the Down Station of cable way
Route B: take the shuttle bus at the Down Station of cable way to mountain gate — take tourist bus to Tianmen Cave — take the escalator to the mountaintop — tour the "Hanging Garden"– take the cable car back to Down Station of cable way
Tour route at the mountaintop in winter: take the cable car at the Down Station to the mountaintop–tour the "Hanging Garden"–take the cable car back to Down Station of cable way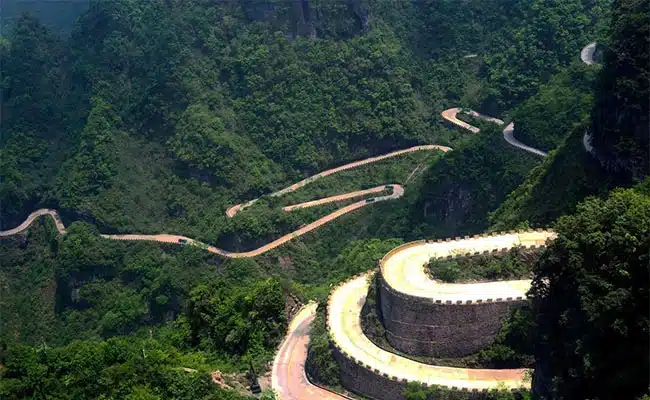 When is the best time to visit?
Tianmen Mountain is like spring all year around due to its unique mid-subtropical humid monsoon climate, so all the four seasons are suitable for sightseeing. But the best time to visit is April and October, because natural scenery is most beautiful in these two months.
Tips: Visitors had better avoid the official holiday in China, because many Chinese citizens choose to travel on official holidays to ease the pressure of their work. As a result, many Chinese tourist attractions are overcrowded and traffic jams are common. Therefore, visiting China at this time will bring tourists a less pleasant travel experience.
Official Holidays in China
| | |
| --- | --- |
| Chinese New Year | Around January or February |
| Winter vacation | January-February |
| Labor Day | May1st -3rd |
| Summer vacation(for students) | July-August31st |
| Mid-Autumn Festival | Around mid-September |
| National Day | October 1st-7th |
How to get to Tianmen Mountain?
From the downtown
Visitors can take Bus No.1, 4, 5, 6, 7, 10 or 102 and get off at Tianmen Mountain Cable Car Station.
From the the Zhangjiajie Hehua International Airport
Visitors can take Bus No.4, 5 or 6 and get off at Tianmen Mountain Cable Car Station.
From Zhangjiajie Railway Station
Visitors can also take Bus No.5 or 6 and get off at Tianmen Mountain Cable Car Station, which just takes about 5 minutes.
More Information
Booking Method
Step 1: You can directly book online or please feel free to share your tour plans or thoughts at

[email protected]

, our travel consultant will contact you within 12 hours.
Step 2: A small amount deposit will be required to book a tour. After deposit received, a detailed service voucher will be sent to you to confirm the booking.
Step 3: Balance due will be required 7-15 days ahead of your travel date.
If you have any further question, please feel free to contact us!
Email: [email protected]
Cellphone number: +86 15129005119
WhatsApp / Wechat ID: 008615129005119
Facebook: @xianholidaystravelagency
Our Tour Guide
The core of our service is excellent travel guides. Over 20 years, we have built up a considerable professional guide team that is knowledgeable, attentive and flexible. The most experienced and reliable guides will be arranged for your unique China tour. Our passionate guide team is full of contagious enthusiasm and keen interest to share culture and history in a pleasant manner. We are always glad at your service to lead you to explore a real China and experience authentic local life in China.
Our Driver and Vehicle
The first mission of our service is to ensure you feel safe and comfortable during your travel. The vehicles we use are air-conditioned, clean and well-maintained. Our drivers are all licensed drivers with many years of driving experience. Moreover, we offer free baby seats for families with little kids.
Meals
Food is a very important part of Chinese culture. You won't want to miss the opportunity to taste the real local Chinese food!
Buffet breakfast will be included in the hotel if you would like accommodation to be arranged by us. Having lunch at local restaurants close and convenient to the attractions you will visit, you would enjoy the local dishes in each city. Chinese style, Vegetarian or Muslim meals are all available. If you have any other diet requirements or allergies, please feel free to let us know, we will try our best to organize it.
For daily dinner, you are suggested to have it on your own when you are exploring each city in your own time, this way would be more flexible for you to choose food as per your interest and preference.
Free Inquiry: