Danba Travel Guide
Situated in western Sichuan Province, China, within the Garzê Tibetan Autonomous Prefecture, Danba County captivates with its distinct culture and language, attributed to the Jiarong Tibetans, a branch of the Tibetan ethnic group. Revered for its unparalleled natural beauty and rich historical heritage, Danba has earned recognition as one of China's most enchanting rural destinations, as acknowledged by Chinese media.
Among the prominent attractions in Danba, the ancient watchtowers stand out as exceptional stone structures that served both defensive and communication purposes in bygone eras. Some of these towers boast a remarkable age of over a millennium and reach towering heights of up to 60 meters. Additionally, Danba embraces numerous traditional Tibetan villages, including Jiaju, Supuo, and Zhonglu, where visitors can immerse themselves in the local customs and way of life. Moreover, Danba serves as an ideal starting point for exploring the awe-inspiring Four Sisters Mountains, a nationally recognized scenic area featuring four majestic, snow-capped peaks.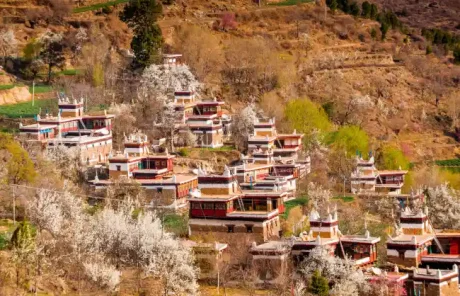 Chinese: 丹巴 dān bā
Location: Western Sichuan Province
Population (urban area): 50,000
Why Visit Danba
Experience the unique culture and lifestyle of the Jiarong Tibetans, a distinctive branch of the Tibetan ethnic group known for their language, religion, and architecture.
Admire ancient watchtowers, stone structures that served as defensive and communication facilities in the past. Some towers are over 1,000 years old and reach heights of up to 60 meters.
Explore beautiful Tibetan villages like Jiaju and Zhonglu, ranked among China's most stunning villages by Chinese National Geographic Magazine. Discover their colorful houses, orchards, and terraced fields.
Enjoy the natural scenery of mountains, lakes, forests, grasslands, and hot springs. Take a hike in the pristine and untouched Dangling area, home to numerous unclimbed peaks over 5,000 meters.
Natural Bonsai of Danba East Valley
Jiaju Tibetan Village:
Nestled amidst the breathtaking beauty of nature, Jiaju Tibetan Village is a captivating destination that will transport you to a world of vibrant colors and cultural richness. With over 140 houses adorned in a kaleidoscope of hues, the village paints a picturesque scene against the backdrop of orchards and terraced fields. Immerse yourself in the Jiarong Tibetan culture and lifestyle as you stroll through the narrow lanes, interact with friendly locals, and witness their traditional customs and rituals.
Zhonglu Tibetan Village:
Prepare to be enchanted by the timeless beauty of Zhonglu Tibetan Village, where ancient traditions and awe-inspiring landscapes converge. Wander through the village's stone and wood houses, intricately designed with traditional architectural elements, and soak in the stunning vistas of majestic mountains and serene valleys. With each step, you'll be captivated by the tranquility and charm that emanate from this hidden gem.
Danba Suopo Towers:
Prepare to be amazed by the sheer magnitude of Danba's Suopo Township, home to an extraordinary concentration of ancient watchtowers. As you venture along the banks of the Dadu River, you'll encounter a mesmerizing sight—84 towers standing tall, each holding tales of the past within their sturdy walls. Marvel at the architectural mastery and strategic positioning of these towers, a testament to the ingenuity and resilience of the Danba people throughout history.
Natural Bonsai of Danba East Valley:
Step into a world of natural wonders at the enchanting Natural Bonsai of Danba East Valley. Here, you'll be greeted by a spectacle of whimsical rock formations, sculpted by the forces of nature to resemble delicate bonsai trees. Meander along winding paths as you soak in the tranquil ambiance, surrounded by cascading waterfalls, babbling streams, and verdant forests. Whether you're an avid hiker seeking adventure or a photography enthusiast in search of stunning vistas, this idyllic spot offers a haven of beauty and serenity.
Danba Weather & Best Time to Visit
Danba showcases a pleasant subtropical highland climate characterized by distinct seasons and ample sunshine. The average annual temperature hovers around 14°C, accompanied by an average annual precipitation of approximately 800 mm.
The prime time to explore Danba is during the spring, summer, and autumn seasons, particularly from late March to early May and late September to early November. Spring unveils a vibrant spectacle as orchards burst into bloom and mountains dress in lush greenery. Autumn graces the region with a breathtaking display of golden hues, adorning villages, and valleys. Summer blesses visitors with a tranquil ambiance, delightful weather, and flourishing landscapes.
Winter, on the other hand, is the coldest and least favorable season to visit Danba. Frequent snowfall and sub-freezing temperatures create challenging conditions. Slippery roads and blockages caused by snow may hinder travel, while certain attractions could be temporarily closed. Nevertheless, winter offers a unique perspective of Danba, transforming its watchtowers, mountains, and villages into a captivating winter wonderland.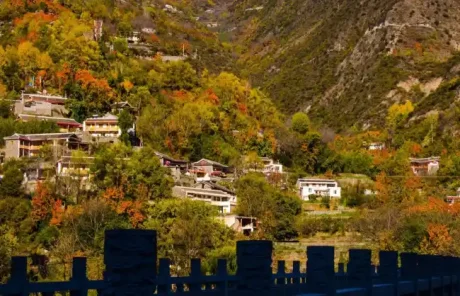 Danba Transportation
How to Get to Danba
There are various transportation options available to reach the captivating destination of Danba, depending on your starting point and preferences. Here are some commonly chosen methods:
From Chengdu to Danba
The most convenient way to reach Danba from Chengdu is by bus. Departing from Chengbei Bus Station and Chadianzi Bus Station, three daily buses are scheduled for Danba. The bus fare is approximately 130 yuan per person, and the journey takes around 6-7 hours. For a potentially quicker journey, you also have the option of taking a shared taxi from Chengdu to Danba, which may cost between 200-300 yuan per person.
From Mount Siguniang to Danba
A popular and hassle-free option is taking a shared taxi from Mount Siguniang to Danba. Shared taxis can be found near the entrance of Mount Siguniang Scenic Area, offering a convenient and scenic journey of approximately 2 hours at a cost of around 50 yuan per person. Alternatively, a bus service is available from Rilong Town to Danba, with departures at 7:00 am and 3:00 pm daily. The bus ticket price is approximately 30 yuan per person, and the travel time is around 3 hours.
From Kangding to Danba
Traveling from Kangding to Danba can be done by taking a bus from Kangding Bus Station. Buses depart at 7:00 am and 3:00 pm daily, with a ticket price of approximately 38 yuan per person. The journey duration is around 3 hours. If you prefer a potentially faster option, shared taxis are also available from Kangding to Danba at an estimated cost of 100 yuan per person.
Exploring the picturesque county of Danba is primarily facilitated by car, as there is currently no public transportation available within the area. To navigate the region, you have two options: hiring a private car with a dedicated driver or opting for a shared taxi alongside fellow travelers or local residents. Shared taxis can typically be found near notable landmarks such as Caihong Bridge or Xihe Bridge in Danba Town. Alternatively, you can approach your accommodation for assistance in arranging a shared taxi. The cost of a shared taxi varies depending on the distance and the number of passengers, but generally proves more economical compared to a private car.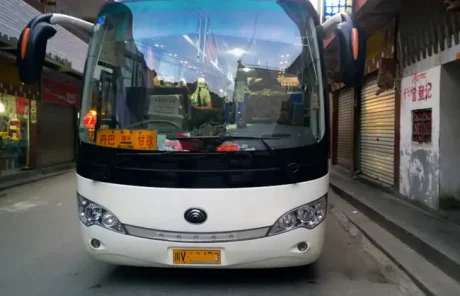 Other Popular Destinations in Sichuan
Leshan
Huanglong