Kangding Travel Guide
Kangding, also referred to as Dartsedo in the Tibetan language, stands as a county-level city and serves as the administrative center of the Garzê Tibetan Autonomous Prefecture within the province of Sichuan in Southwest China. Positioned within a steep valley, Kangding rests at an approximate altitude of 2,560 meters and is inhabited by a population of around 134,000 individuals. Throughout history, Kangding held significant importance as a trade hub facilitating commerce between the Chinese and Tibetan communities, situated along the renowned Tea Horse Road. Furthermore, it served as the capital of the Kingdom of Chakla and witnessed numerous conflicts between Tibetan and Han factions.
Kangding allures travelers with its captivating amalgamation of Chinese and Tibetan cultures, as well as the breathtaking natural landscapes that envelop its vicinity. The city boasts four Buddhist monasteries, including the renowned Paoma Monastery situated atop Paoma Mountain. This sacred site holds immense reverence among Tibetans and serves as a popular destination for hiking and horseback riding enthusiasts. Kangding also gained recognition for its sentimental love song, which resonates across the nation. As a favorable location for acclimatization, Kangding provides an excellent starting point before venturing towards higher-altitude attractions such as Seda, Gongga Shan, or Tagong.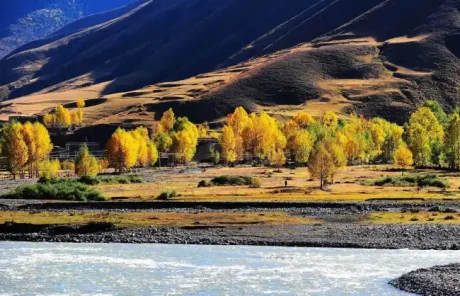 Chinese: 康定 kāng dìng
Location: Western Sichuan Province
Population (urban area): 127,000
Why Visit Kangding
Cultural Fusion:Kangding offers a unique opportunity to experience the seamless blend of Chinese and Tibetan cultures.
Majestic Scenery:The stunning natural landscapes surrounding Kangding, including mountains, valleys, and hot springs, are a treat for the eyes.
Historic Significance:As a historical trade center on the Tea Horse Road, Kangding carries the legacy of past interactions between Chinese and Tibetan communities.
Spiritual Exploration:With its numerous Buddhist monasteries and sacred sites, Kangding provides a serene environment for spiritual contemplation.
Adventure Hub: The availability of outdoor activities like hiking, horse riding, and trekking make Kangding an ideal destination for adventure enthusiasts.
Top Attractions in Kangding
Top Things to Do in Kangding
Kangding presents an array of captivating attractions that allow travelers to immerse themselves in the natural and cultural wonders of western Sichuan and Tibetan regions. Here are some unique experiences awaiting you in Kangding:
Explore the Enchanting Mugecuo Scenic Area:
Embark on a journey to the Mugecuo Scenic Area, a haven for nature enthusiasts seeking breathtaking lakes, cascading waterfalls, lush forests, invigorating hot springs, and picturesque grasslands. This region also holds cultural significance as the birthplace of the renowned Kangding Love Song.
Marvel at the Majestic Mount Gongga:
Behold the grandeur of Mount Gongga, the highest peak in Sichuan province, often referred to as the "King of Sichuan Mountains." Its snow-capped summit and glistening glaciers stand amidst pristine forests and alpine meadows, creating a truly awe-inspiring sight.
Discover the Tranquil Tagong Grassland:
Set foot on the expansive and serene Tagong Grassland, considered sacred by Buddhists, with the majestic Yala Mountain as its centerpiece. Here, you can witness the lifestyle of Tibetan nomads, encounter herds of yaks and horses, and explore ancient monasteries that add a spiritual touch to the landscape.
Indulge in the Beauty of Xinduqiao Town:
Lose yourself in the captivating charm of Xinduqiao Town, often hailed as the "photographer's paradise." Capture the vibrant green grasslands, meandering streams, majestic mountains, and traditional Tibetan houses that paint a picture-perfect scene. Immerse yourself in the local Tibetan culture and savor the unique lifestyle of the region.
Immerse in Spiritual Serenity at Kangding Monasteries:
Pay a visit to the four Buddhist monasteries that grace the landscape of Kangding. From the revered Paoma Monastery to the tranquil Jingang Monastery, the serene Ngachu Monastery, and the sacred Lhamo Tse, each offers a glimpse into the rich architectural marvels, artistic treasures, and religious ambiance.
Kangding Weather & Best Time to Visit
Kangding, situated within the Garzê Tibetan Autonomous Prefecture along the renowned National Road 318, boasts a unique climate characterized by a continental plateau climate in the west and a subtropical monsoon climate in the east. The average annual temperature hovers around 12 °C, with the rainy season spanning from mid-May to late September.
The optimal time to visit Kangding largely depends on individual preferences and travel plans, as each season unveils distinct features and allure. Here are some general recommendations to consider:
Spring (March to May): Embrace the season of rejuvenation as Kangding adorns itself with vibrant greenery and blossoming flowers. The temperatures range from a mild 5 °C to 18 °C, although sporadic rain and fog may necessitate packing rain gear and warm clothing.
Summer (June to August): Experience the peak tourist season in Kangding, where visitors flock to escape the heat and revel in the area's natural splendor. Enjoy cool and pleasant temperatures ranging from 10 °C to 22 °C. However, keep in mind that this is also the wettest season, marked by frequent rain and thunderstorms that may impact travel plans and road conditions.
Autumn (September to November): Delight in the captivating autumn scenery that graces Kangding, perfect for photography and sightseeing. Marvel at the kaleidoscope of colors as the temperature remains moderate and dry, ranging from 3 °C to 17 °C. Clear blue skies and fresh air enhance the overall experience.
Winter (December to February): Experience the tranquil beauty of Kangding during its low tourist season, as the region becomes adorned with a serene blanket of snow. Although the weather turns cold with temperatures ranging from -6 °C to 10 °C, this presents an opportunity to immerse in the snow-covered landscapes and engage in cultural festivities, offering a unique glimpse into Tibetan traditions.
Tips for Traveling in Kangding
Carry essential documents like your passport and visa at all times.
Respect the local customs and traditions, particularly when visiting religious sites.
Dress modestly and appropriately, especially when interacting with the local Tibetan population.
Stay hydrated and protect yourself from the sun at high altitudes.
Keep emergency contact numbers and the address of your accommodation handy.
Kangding Transportation
How to Get to Kangding
By Air: 
Kangding Airport, located 40 kilometers from the city center, offers flights to and from Chengdu, Chongqing, and Xi'an, with a travel time of around 40 minutes and ticket prices ranging from 500 to 800 CNY, subject to weather-related disruptions.
By Bus: 
Multiple bus stations in Chengdu, including Xinnanmen Bus Station, North Railway Station Bus Station, and Chadianzi Bus Station, provide bus services to Kangding, with a travel duration of 6 to 7 hours and ticket prices ranging from 100 to 150 CNY, primarily departing from early morning until late afternoon.
By Private Car:
Opting for a private car or joining a tour with Chinaxiantour is ideal for international travelers seeking a comfortable and flexible journey, with a driving time of approximately 4.5 to 5 hours from Chengdu to Kangding, allowing opportunities for scenic stops along the way.
On Foot: 
Exploring Kangding on foot allows you to immerse yourself in the local culture and admire the picturesque scenery. Take a leisurely stroll along the Zheduo River, visit the bustling town square and market, or embark on a hike to Paoma Mountain or the high-altitude meadow.
By Bus: 
Kangding boasts several bus stations offering convenient transportation to surrounding areas like Xinduqiao, Tagong, Mugecuo, and Gongga Mountain. While buses are affordable and frequent, they may be crowded and less comfortable.
By Taxi: Taxis are available in Kangding, although they might not use meters, so it's important to negotiate the fare before getting in. Taxis can transport you to nearby attractions such as Jingang Monastery or Kangding Airport.