Located in northeastern Inner Mongolia, China, Hulunbuir Grassland is a vast and stunning region named after two lakes, Hulun Lake and Buir Lake. Widely regarded as one of the world's top four grasslands, it's also the largest and most unspoiled grassland in China, with a rich biodiversity boasting over 120 types of pasture and more than 3,000 rivers and 500 lakes.
Aside from its natural beauty, Hulunbuir Grassland holds significant historical and cultural importance as the birthplace of Genghis Khan, the founder of the Mongol Empire. Visitors can immerse themselves in the unique lifestyle of Mongol nomads, who herd cattle and sheep and live in white yurts. They can experience various activities such as horseback riding, fishing, boating, wrestling, and horse racing, as well as indulge in local delicacies like the lamb feast and dairy products.
Location: Hulunbuir City, Inner Mongolia Autonomous Region, China
Opening time: All day and all year round
Ticket price: Free (extra pay is required for horse riding and other activities)
Time Needed: 2 to 5 days
Best time to visit: May to October, especially from June to September, when the grassland is lush and green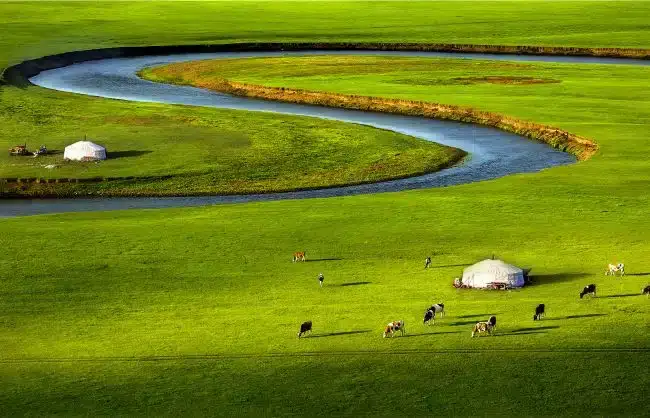 What to See and Do in Hulunbuir Grassland
1. Enjoy the Boundless Green Scenery of the Grassland:
The Hulunbuir Grassland is an expansive and stunning region with lush green grass, rolling hills, and a diverse range of flora and fauna. Visitors can take a leisurely stroll or a bike ride to explore the vast expanse of the grassland and enjoy the stunning views. The grassland is home to a variety of wildlife, including wild horses, deer, and foxes, making it a great destination for nature lovers and wildlife enthusiasts. The grassland is also home to numerous rivers and lakes, including Hulun Lake and Buir Lake, which offer a peaceful escape from the hustle and bustle of the city.
2. Experience the Cultural Activities of the Mongol Nomads:
The Mongol nomads have a rich cultural heritage, and visitors to the Hulunbuir Grassland can experience their unique lifestyle and traditions.
Horse riding is a popular activity on the grassland, and visitors can rent horses and go on a guided tour of the grassland.
Wrestling is another popular traditional sport, and visitors can watch or even participate in local wrestling tournaments.
The lamb feast is a traditional Mongolian dish, and visitors can try it at a local restaurant or at a yurt.
Bonfire parties are also a common tradition on the grassland, where visitors can gather around a fire, enjoy traditional Mongolian music and dance, and even roast marshmallows.
Staying in a yurt is a great way to experience the nomadic lifestyle and learn about the customs and traditions of the Mongol nomads.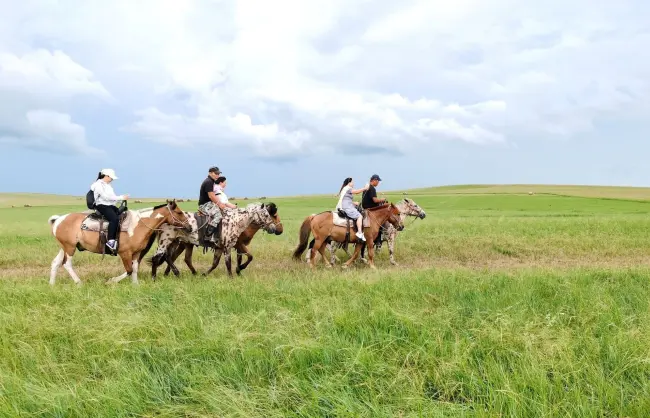 3. Engage in Outdoor Activities:
The Hulunbuir Grassland offers a range of outdoor activities for visitors to enjoy. Fishing is a popular activity, and visitors can try their luck at catching fish in the rivers and lakes of the grassland. Boating is another great way to explore the lakes, and visitors can rent boats or take a guided tour. Biking is a popular activity on the grassland, and visitors can rent bikes and explore the beautiful scenery at their own pace. Birdwatching is also a popular activity, as the grassland is home to a variety of bird species, including cranes and swans.
4. Visit

Hulun Lake

and Buir Lake:
Hulun Lake and Buir Lake are two of the most beautiful lakes in China and are located within the Hulunbuir Grassland region. Visitors can take a boat tour of the lakes, try fishing, or simply enjoy the stunning views of the lakes and surrounding grasslands. The lakes offer a peaceful retreat from the hustle and bustle of the city, and visitors can relax and enjoy the natural beauty of the region.
5. Watch a Sunrise or Sunset:
The sunrise and sunset on the grassland are breathtaking, and visitors can enjoy the stunning views as the sun rises or sets over the vast expanse of the grassland. Watching the sunrise or sunset is a great way to relax and appreciate the natural beauty of the region. Visitors can also take stunning photos of the landscape during these times of day, capturing memories that will last a lifetime.
Best Time to Visit Hulunbuir Grassland
The optimal time to visit Hulunbuir Grassland is from May to October, with the best months being from June to mid-September. This duration offers the lushest scenery of the grassland, with an abundance of flocks and herds, wild animals, flowers, rivers, and lakes. During this period, visitors can engage in a variety of activities such as horseback riding, fishing, boating, wrestling, and horse racing.
July and August are the two months when the grasslands are most suitable for these activities, but they are also the peak season, which means that visitors may face more crowds and higher prices. Those who wish to avoid crowds can visit in May, June, or September when the weather is still pleasant and the grassland is still green.
For visitors interested in the autumn colors of the grassland and the forests, late September or early October is the perfect time to visit when the grasses turn yellow, and the leaves change into a beautiful red hue (You May Like: 12 Breathtaking Places to Visit in China in Autumn). However, colder weather and fewer activities must be expected during this period.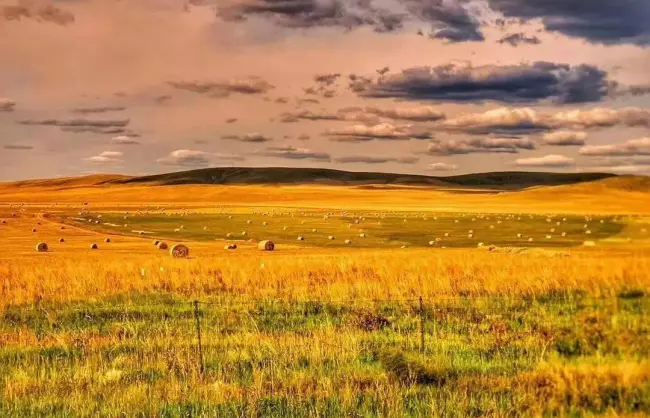 Attractions nearby Hulunbuir Grassland
How to Get to Hulunbuir Grassland
By Flight: Hailar Dongshan International Airport is the primary airport in Hulunbuir City, providing flights to and from Beijing, Hohhot, Harbin, and other nearby cities. Visitors can choose to take a flight to this airport to reach Hulunbuir Grassland. The airport is located approximately 8.5 kilometers from Hailar downtown, which is around a 20-minute drive by car.
By Train: Visitors can take a train to Hailar Railway Station, which is the main train station in Hulunbuir City. The station offers trains to/from Beijing, Hohhot, Harbin, and other nearby cities. The train station is roughly 5 kilometers and 15 minutes away from Hailar downtown by car. Moreover, it is around 40 kilometers and 50 minutes by car from the Morigele River.
By Car: Visitors can drive to Hulunbuir Grassland from nearby cities such as Manzhouli, Ergun, or Genhe. The driving distance and time vary depending on the route and traffic conditions. For instance, it takes approximately 3 hours to drive from Manzhouli to Hulunbuir Grassland.